Things You'll Need
Vacuum

Bucket

Water

1/4 cup detergent

Soft mop

3 percent hydrogen peroxide

Soft cloths (2)

HG golvpolish: satin gloss finish (or comparable item)

Paint roller

Paint roller pan
Warning
Never use a brush or anything that could scratch the tiles; stick with gentle cleaning tools.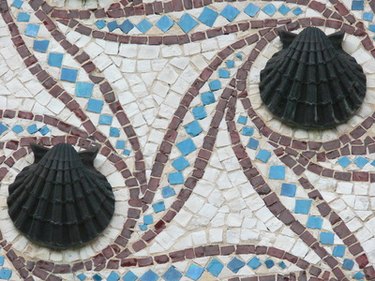 Mosaic floors have several benefits to the homeowner; perhaps the most popular being that you can easily customize them yourself, creating original patterns and designs. Such tiles are also durable, inexpensive and don't require a great deal of maintenance. However, because mosaic tiles generally consist of different tiles around 2 inches by 2 inches in size, the floor usually shows some grout between them. This means that before you can polish such a floor, you need to clean the tiles first.
Step 1
Vacuum up all the dust and dirt from the surface of your floors. Fill a bucket with warm water and add 1/4 cup detergent and mix it well.
Step 2
Dip a soft mop in the water and mop the entirety of the floor, being sure to get into the corners. Rinse out the bucket and fill it with a solution of one-half warm water mixed with 3 percent hydrogen peroxide.
Step 3
Dip the mop in the new solution and scrub the entire floor. This solution will help clean the grout between the tiles. Let the solution soak onto the floors for about 30 minutes. Wipe down the floors with a soft cloth.
Step 4
Pour HG golvpolish into a paint roller pan and dip a new paint roller into the solution, covering the entire surface area of the roller, without saturating it. Roll the paint roller across the surface of the mosaic tiles, covering them evenly.
Step 5
Allow the polish to soak into the tiles for five minutes. Wipe off the surplus polish from the tiles with a soft cloth.
---
Lane Cummings is originally from New York City. She attended the High School of Performing Arts in dance before receiving her Bachelor of Arts in literature and her Master of Arts in Russian literature at the University of Chicago. She has lived in St. Petersburg, Russia, where she lectured and studied Russian. She began writing professionally in 2004 for the "St. Petersburg Times."