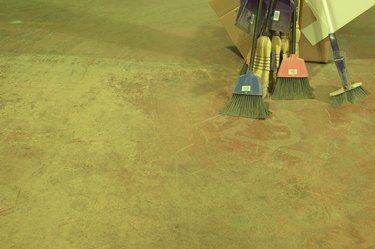 Concrete floors are stained with an acid that gives the floor a natural stone appearance at a fraction of the cost of real stone. Apply a couple of products on your stained concrete floors to get the shine you desire. Stained concrete floors are easy to clean and keep shiny.
Step 1
Sweep your floor. Use a dustmop to avoid damaging the surface of your stained concrete floor.
Step 2
Mop your floors. Use a damp mop for occasional cleanup. Scrub any residual dirt with a soft-bristled brush and a mixture of water and dish detergent. You may need to add ammonia to the mixture if you are unable to remove the dirt with gentler methods.
Step 3
Seal your floors. Your stained concrete floors should have been sealed when they were first installed, but if they have lost their shine it may be time to seal them again. High traffic areas and outdoor flooring should be sealed every 2 to 3 years. Roll a solvent based sealer on top of your clean floors to add more shine. Apply two coats of sealant and let dry for 8 hours.
Step 4
Wax your floors. Use only the product and amount of waxing specified by your stained concrete installer. You may need to add up to four coats of wax.
Step 5
Avoid scuffing your floor. Place floor mats beside each entry door. Avoid walking on the floors with heels and place furniture movers under your furniture before sliding them on your floors.
Step 6
Maintain your shiny floors. Continue to dustmop and damp mop to remove dirt, grime and spills. Use a pH neutral floor cleaner that helps retain the shine.