Terra-cotta floor tile is warm, earthy, handmade and beautiful. It comes from clay quarried and shaped in the Mediterranean and in Mexico, where it is also known as saltillo tile. The variegated colors -- from a soft palette of stone and earth tones in Europe to a more vibrant orange-red clay in the Americas -- are especially well-suited to Tuscan villas, Provencal farmhouses, Spanish Colonial and hacienda-style homes. But terra-cotta is remarkably adaptable and may be used with a number of decor styles. It's a treat to look at, but cleaning it can be a challenge.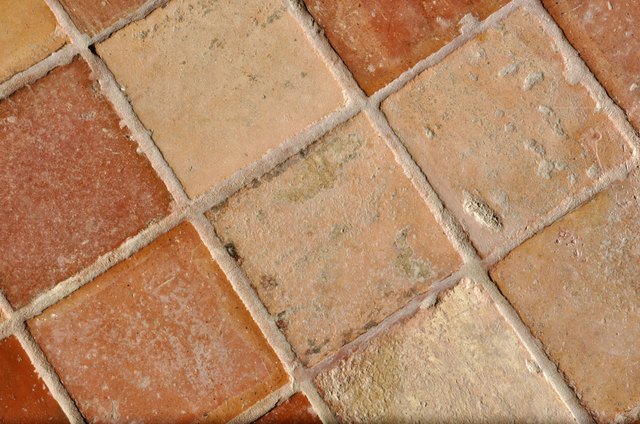 credit:
dutourdumonde/iStock/Getty Images
Stay on top of maintenance to reduce the amount of work it will take to restore a stained or damaged terra-cotta tile floor. Dirt particles abrade the surface, removing the finish and scraping the tile, so sweep the tile frequently; mop it with a soft mop and warm water or water and vinegar, and install a walk-off entry mat to catch dirt on shoes before it collects on your quarry tile floor. Always soak up spills and oily splatters immediately to avoid liquid penetrating even a microscopic break in the protective finish, or the unsealed permeable tile
Use a Toothbrush on Grout
Scrub darkened grout vigorously with a toothbrush or grout brush and a good floor or grout cleaner. Restoring the grout to a cleaner, lighter color does wonders to make the floor gleam and shine.
Use Elbow Grease and a Wet-Vac for Timeworn Tile
Scrub timeworn tile with a good tile soap, using serious elbow grease and a wet-vac to take up all the dirty, soapy water. Rinse the tile several times with clear water to get all the dirt up, and vacuum up the water each time. You may need to let it dry out for several days before sealing the tile against future grime. Regular grime and oily stains come up with non-ionic detergent and a soft-bristle brush.
Heavily soiled or badly stained tile may require steam cleaning with a solution of diluted muriatic acid.
Treat Clean Tile With Boiled Linseed Oil
After cleaning, apply boiled linseed oil, which makes tiles watertight, enhances an aged look by slightly darkening the color and imparts an attractive sheen. It's an impractical choice for a high-spill, heavy-wear room such as a kitchen, but it can work to protect floors from dirt in a bedroom, hallway or sunroom and add a charming look.
Application: Using a paintbrush, work warmed linseed oil into cleaned tile and grout, being careful not to skip any area. Let it soak in for about 20 minutes, and brush in any sections with an oil sheen on the surface. Leave the floor to season for at least eight hours. Then repeat the process; let the oil penetrate for 20 minutes and wipe off any excess with a clean rag. If you decide to seal an oil-treated floor, use an oil-based protective sealer.
Before sealing and directly after cleaning, rinse tiles with a 50-50 mix of acetone and water - the acetone evaporates quickly and thoroughly. Once the tile is bone-dry, apply at least two coats of a water-based, high-gloss synthetic sealer, which is shinier than traditional finishes but very durable and easy to mop down in high-traffic areas. Or choose a mat-sheen, thick, urethane penetrating sealer that bonds with the tile to resist stains.
If your tile is a labor of love or you have the requisite household help, you can indulge your floors in the lovely aged patina of a waxed finish. After a linseed oil soaking, the tiles are covered in warm wax, allowed to dry and buffed to a shine. The initial application of several coats, with drying times, can take weeks, during which time you can't walk on the floor. A waxed floor needs regular buffing and topping off with another application of wax.