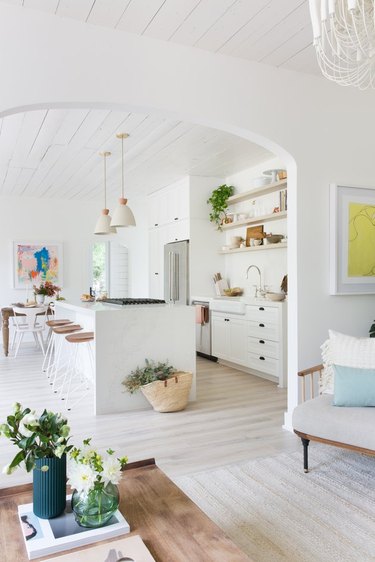 Whether you're into midcentury modern style or the minimal all-white look, the vibe of your kitchen can definitely make a difference in your home. But we also know that sometimes you've got to stick to a budget. There are a few cost-effective ways to make your kitchen stylish yet affordable, like DIY projects. Or, you can consider alternatives to bigger elements, like your flooring. Laminate kitchen flooring, for example, can cut down on costs while still looking aesthetically pleasing.
An Overview of Laminate Kitchen Flooring
So what exactly makes something laminate flooring? There are four basic layers you should know about: backing (or base) layer, core (or substrate) layer, pattern (or image/decorative) layer, and the wear layer. The backing and core layer basically set the strength and durability of the flooring. The decorative layer is the photographic/image layer which gives the illusion of whatever finish you choose. The final layer is for protection from wear and tear.
Installing Laminate Kitchen Flooring
Most laminate flooring is created with a tongue-and-groove system, meaning that you don't need to use glue for installation. The Home Depot recommends that you consider underlayment if your flooring doesn't already come with it. Normally this means a foam underlayment is necessary; one with a vapor barrier can be especially helpful. You'll need to make sure your subfloor is clean; you might also need a vapor layer if the room has high humidity.
You'll need to take careful measurements of your space and cut down the planks with a tool like a handsaw. You'll also need to trim the underlayment. These are just a few of the major steps involved; some retailers offer detailed guides on installation, or you can even choose options like in-home measurement.
Cost of Laminate Kitchen Flooring
Prices for laminate flooring can start around $0.99 per square foot at retailers like Lowe's. If you opt for flooring that includes water-resistant qualities, expect higher prices, like $2.48 per square foot. You can also opt for in-home measurement or installation services, which will add more costs to the process.
Pros of Laminate Kitchen Flooring
The cost-effectiveness of laminate flooring is its biggest draw. And with so many aesthetic styles available, you can find something to mimic the hardwood floor of your dreams. Laminate kitchen flooring is also easy to clean, which proves important when you are often making a mess in the kitchen.
And when it comes to installation, there are plenty of resources out there to help if you want to take a DIY approach.
Cons of Laminate Kitchen Flooring
Moisture is an important thing to keep an eye on when it comes to laminate kitchen flooring. It can damage easily from kitchen spills or water, so that means you'll have to stay vigilant. It can also help to buy water-resistant laminate flooring, but that will often cost more.
In addition, the sound of someone walking on laminate kitchen flooring differs from vinyl or other floors. Be sure to take this into consideration, especially if there is high traffic in your home's kitchen. The flooring can also affect the value of your home, since it is a low-cost alternative to other flooring options.
Laminate Kitchen Flooring Inspiration
Looking for inspiration? Here are some ideas for how to style your new floor with your kitchen area.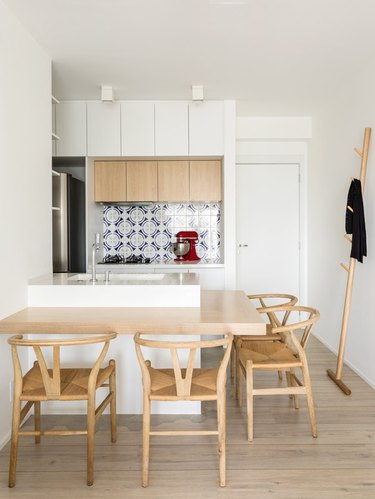 For a minimal and airy vibe, combine a light laminate floor with all-white kitchen cabinetry. Add greenery and hanging pendants to emphasize the open space.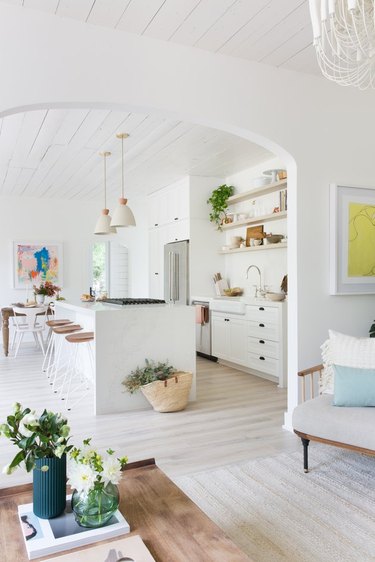 If you're gravitating toward a darker floor, consider decorating in a more pared-down manner. Combine all-white cabinetry and appliances with a dark backsplash for a modern twist.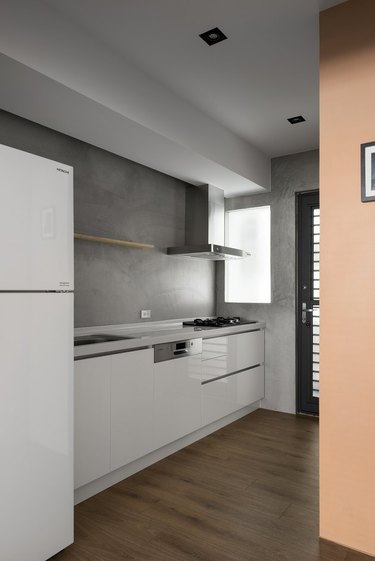 Herringbone kitchen laminate flooring can look especially chic. This Parisian home uses Oberflex flooring and makes it the star of the space. Consider a natural finish and hardware-free cabinets for a sleek look.
Where to Buy Laminate Flooring:
You can find laminate flooring at this big-name retailer, in everything from gray to natural coloring. You can also find scratch-resistant options and flooring that works with radiant heating.
Lowe's offers options like low-gloss and wide plank laminate flooring. Waterproof laminate starts at $2.48 per square foot.
With everything from Pewter Oak to Desert Horizon Elm, Lumber Liquidators carries a range of aesthetics when it comes to laminate flooring. Prices start at 64 cents per square foot.
You can find a variety of shades of laminate at Floor & Decor, and even a herringbone water-resistant laminate. The product listings can also be sorted into residential versus residential/commercial uses.