Thinking about overhauling a bathroom or kitchen? Terrazzo flooring, countertops, and backsplashes are delightful options for creating swank, colorful spaces in your home. The material, made of a composite of ground-down chunks of marble, glass, and other stones, can be pricey, but boy-oh-boy, terrazzo in any form is downright gorgeous. Check out these ideas:
1. Use a contrasting terrazzo inlay to create a dynamic bathroom scheme.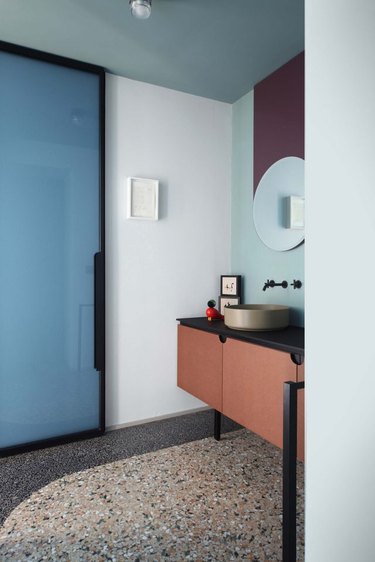 2. Pair terrazzo countertops with a bold hue.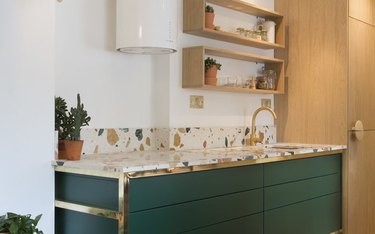 We especially appreciate the rest of the details of this design, from the brass casings to the tiny backsplash.
3. Use terrazzo in multiple places.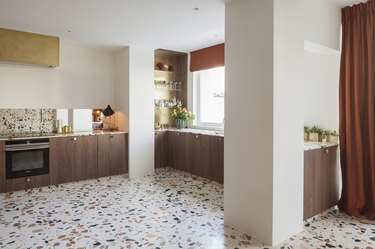 Dzek, a company that creates architectural materials, is the inventor of marmoreal — a terrazzo-like surface that uses larger chunks of marble. In this home, they weren't afraid to triple up, using it on the floors, countertops, and backsplash. And it's killer.
4. If you're considering cement floors for your open-concept home, think terrazzo instead.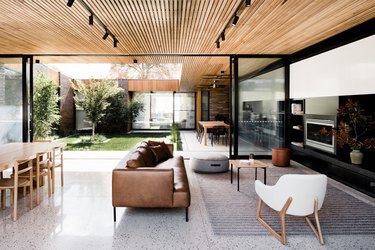 Cement flooring is a popular option in newer open-concept homes. But a gray-ish terrazzo can create a unifying effect that feels just a touch more elevated.
5. Terrazzo up the walls.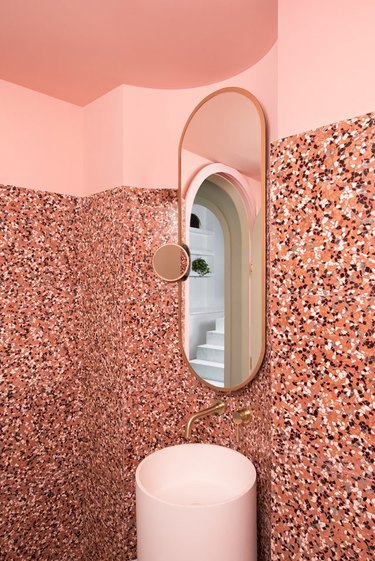 This bathroom can be found in a Wes Anderson-inspired cafe, and we are really feeling the whimsical vibe that pink terrazzo walls can create.
6. If you're fancy, try a terrazzo wet bar.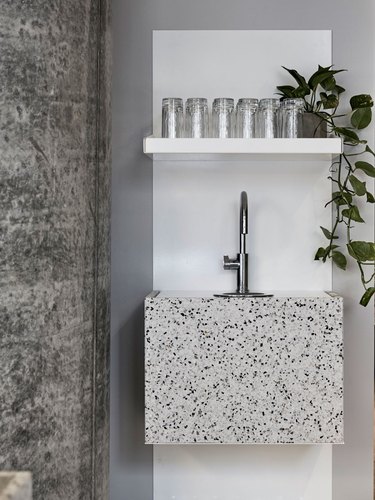 7. Set your bathroom sink basin on a terrazzo countertop.
8. Install a small countertop to create a bar space.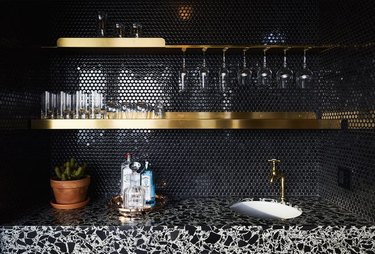 That combo of black penny tile, terrazzo, and brass is ::ma_kes chef-kiss hands::._
9. A terrazzo staircase on a small passageway? Yes, please.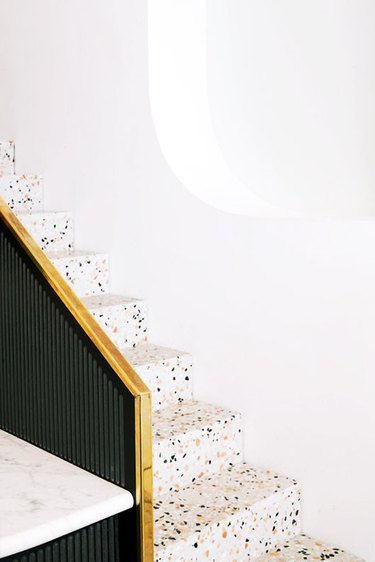 Well, look. One can dream.
10. Match your room's hues to the shades in your terrazzo blend.
The blue curtains and chairs and the sienna walls perfectly pick up the colorful chunks in this kitchen floor and wall.
11. Think layers.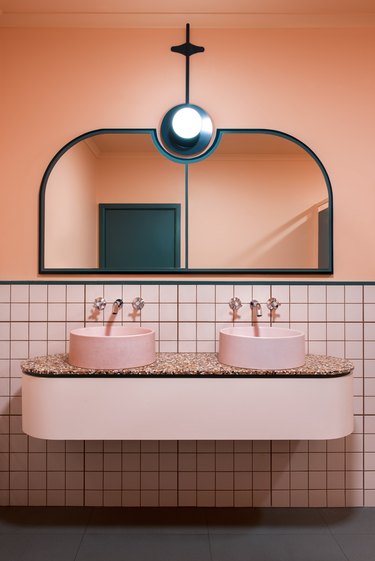 At the Melbourne-based Mount Erica Hotel, you'll find a guest bathroom that sandwiches terrazzo between pink hues.
12. If you're trying out the dark kitchen trend, use a lighter terrazzo floor to build on the design.
13. Creating custom cabinetry? Think about topping it with terrazzo.
It's one way to use the material in your home that won't require buying tons to cover a huge surface area.