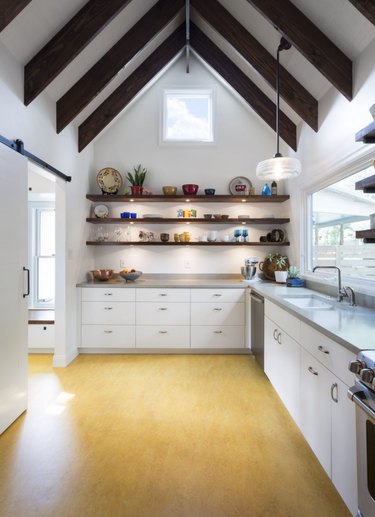 Don't let images of vintage diners with black and white checkered floors dissuade you from considering linoleum as an attractive and practical kitchen flooring option. True, it has been around for awhile (more than 150 years), but many of the qualities that made it one of the most sought-after flooring materials for 100 years are still relevant today. And with a slew of colors and patterns to choose from, there is renewed interest in linoleum for use in a range of interior design styles far beyond retro. Read on to discover why it's an attractive option for kitchen floors.
What is linoleum?
Linoleum was developed in the 1860s and is comprised of many renewable materials like linseed oil, tree resins, recycled wood flour, and cork dust, which are all mounted on jute or canvas backing — making it an original eco-friendly building material (feel good bonus!) that is easily recycled. It was one of the most popular flooring choices in the late 19th and 20th centuries due to its high resiliency and innate water resistant properties, which are ideal for hardworking moisture-prone rooms like kitchens and bathrooms. It's also antimicrobial, durable, and relatively low-maintenance. Despite all of these positive attributes, people began to tire of linoleum and it fell out of favor in the 1940s with the availability of more affordable vinyl. This was an entirely different product, despite the fact that the two terms are often used interchangeably.
There are many reasons why people are once again turning to linoleum as a viable kitchen flooring option, namely, its low environmental impact, ease of care, and budget-friendly price point. At $2.50-$3.50 per square foot, it's a pretty hard price to beat.
Linoleum is sold in large (and heavy) rolls that are best left for professional installation, however, newly developed tile and plank formats that click and lock together are a great option for a confident DIYer. It's available in a wide variety of colors, from neutrals to yellows to red, as well as patterns that closely resemble wood and even marble. The color and pattern permeate through linoleum from top to bottom (as opposed to vinyl and laminate, which have a thin veneer), so dents and scratches are less noticeable.
Let's talk maintenance.
Linoleum is highly durable, and with proper care and maintenance, linoleum floors can last up to 40 years. In fact, most manufacturers offer a 25-year or more warranty on linoleum products. The most important step in extending its longevity is making sure you purchase linoleum that has a protective coating applied by the manufacturer to prevent a process called "ambering." This occurs when the surface darkens or yellows when exposed to direct sunlight. This protective layer does double duty by also repelling dirt and preventing surface scratches. Otherwise, your kitchen flooring will need to be cleaned and waxed every two to three years to protect them from the sun, scratches, and water.
Linoleum requires very little elbow grease on a day-to-day basis and can be dust-mopped daily and cleaned once a week with water and mild non-abrasive cleaners specified for linoleum. Like wood, linoleum is not waterproof and can be damaged by excessive water exposure, so small amounts of lukewarm or cool water are all that are needed for cleaning. Spills should be wiped up right away to avoid staining, but because linoleum pigment runs all the way through, stubborn stains and scratches can be buffed out.
Pros
Linoleum has a long list of things going for it: at $2.50-$3.50 per square foot, one of the biggest draws is its price. It's a low-maintenance product and when properly cared for, it can last practically a lifetime. It's made from renewable and raw materials and is highly recyclable, making it an environmentally sound product. Its inherent properties work to halt the breeding of many microorganisms. Floors can be refinished if stained or scratched. Linoleum is naturally fire-retardant and holds heat, making it a great choice for colder climates.
Cons
Linoleum is not waterproof and can be damaged by prolonged exposure to water and direct sunlight if not properly sealed. It can scratch and dull if not cared for properly. Some people might find the range of patterns available limited. Linoleum doesn't carry with it a high-end cache.
Linoleum Kitchen Flooring Idea #1: Make a bold color statement.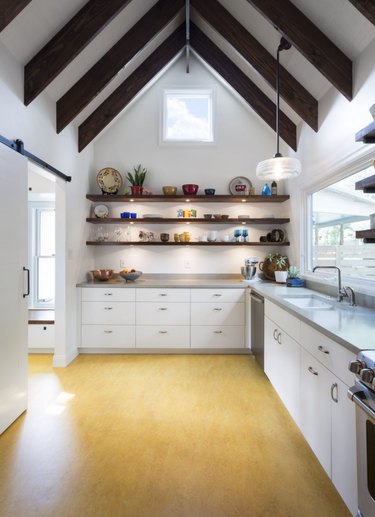 Embrace the mustard color craze by using the sunny hue on your kitchen flooring like the team over at Hello Kitchen does in this otherwise muted cook space. A vaulted ceiling with stained wood beams adds weight and interest to the streamlined room from above, while open wood shelving brings in plenty of warmth.
Linoleum Kitchen Flooring Idea #2: Add texture.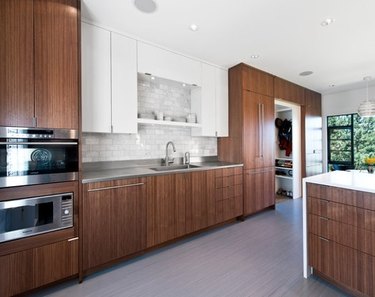 The team over at Board and Vellum used linoleum with a light wood pattern to infuse added texture to the floors of this cook space, without competing with the visible wood grain in the wall-to-wall cabinets. Glossy subway tile backsplash and a bank of white uppers brighten up the modern design.
Linoleum Kitchen Flooring Idea #3: Channel the coast.
Create a subtle nautical vibe with navy linoleum floors like Mattingly Thaler Architecture does in this traditional white kitchen. Blue mosaic tile integrated into the white subway tile backsplash echo the floor color and personalize the space. A small butcher block island is a practical work surface that adds rustic charm.
Where to get linoleum.
Many linoleum distributors have replaced their supply of linoleum with more affordable vinyl. Remember: they are not the same, so make sure you are buying what you want. Vinyl does not offer many of the qualities that make linoleum attractive, particularly its inherent "green" properties.
One of the most recognized linoleum brands is Forbo. It has created a propriety version called marmoleum, which is available in a vast array of colors and patterns. It offers tile and plank formats that can be installed without glue. Due to the product's high quality, a wide variety, and strong protective finish, its prices are a bit higher.
Armstrong Flooring is a reputable brand among architects worldwide because it sells predominantly to commercial projects, but its products are more than suitable for residential use. Its selection includes four patterns and a range of colors, finished with a high-grade protective layer.