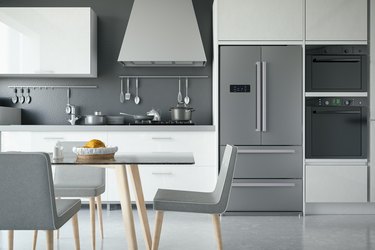 Making the decision to cover your current linoleum flooring with new linoleum can refresh the look of your floors without creating a need to demolish or remove existing materials. However, it's not as simple a process as simply laying down new linoleum. There are several steps that must be taken to ensure your new flooring will remain flat and keep the subfloor safe over time.
Importance of Careful Preparation
Keep in mind that if you don't measure properly at the outset, you might create a problem with the entire floor design and ruin your linoleum tiles in the process. Additionally, it would also be a mistake to lay the linoleum immediately before allowing it to acclimate.
You'll need to carefully clean your linoleum subfloor before getting started. This is essential to remove, dirt, dust and any debris that may cause bumps. Allow the floor to thoroughly dry before continuing. Then, you'll want to make sure that it's in good condition, otherwise, the existing imperfections may be evident through your brand-new floor.
Laying Linoleum Over Linoleum
Draw out your center points so that you have a solid map of quadrants to work with. Fill in one quadrant until you almost reach the wall, then continue in the other quadrants.
You'll then go follow the walls and lay linoleum tiles, marking with a pencil anywhere the linoleum will need to be cut so that it can fit flush against the wall. You'll be able to cut it down with a utility knife at the end of the process. Once you have everything in place, remove the paper from the back of the tiles, exposing the adhesive that will hold them in place. Alternatively, you can use an adhesive glue to attach the linoleum to the subfloor, depending on the type of materials you're using.
Installing a Linoleum Floor
It's also possible to install a new linoleum floor after removing your existing linoleum floor, provided there's a subfloor that remains. You can accomplish this removal with a chisel or hammer. Once you've removed the existing floor and properly disposed of it, sweep and mop up any debris, allowing the area to sit overnight until it fully dries before you place new material.
From there, you'll need to level the floor with concrete or an embossing leveler to make sure it's smooth before you lay down the linoleum. The next step is acclimating your floor to a specific temperature, ideally a room temperature of a minimum of 68 degrees. Keep the flooring at this temperature for at least 24 hours before you start installing the new linoleum.
Before beginning to apply adhesive, "dry fit" the linoleum tiles in place. Then, lay down the adhesive and spread it evenly with a trowel so it doesn't look lumpy. Place the tiles as desired and cut them using a utility knife so they fit flush against the wall. Lastly, use a heavy roller to smooth over the freshly laid linoleum tiles to ensure they're flat and secure.