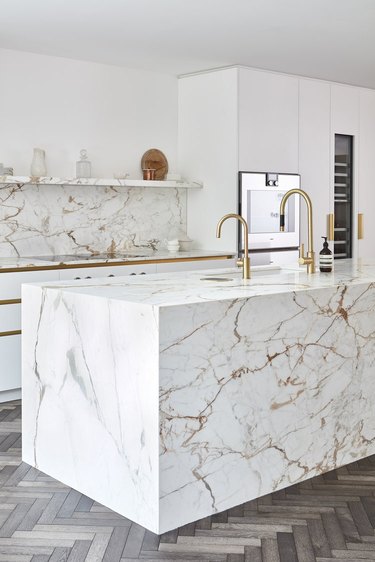 Getting back to style — the diverse tones, textures, and grains of marble can bring a modern aesthetic to your kitchen island. It's a pretty timeless material too. Want proof a marble kitchen island can work anywhere and tips for accomplishing the look?
Here are our favorite examples.
1. Keep it simple.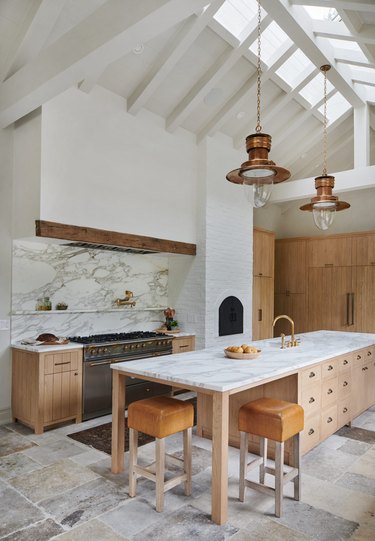 You don't have to go all out with your marble application. In fact, the material looks beautiful when paired with other natural finishes and simple wood cabinets. The kitchen island, in this space designed by Amber Interiors, combines a light rustic wood base with a Calacatta marble counter. Unlacquered brass fixtures complete the look, and those elevated brick floors take everything up a notch.
2. Wrap it up.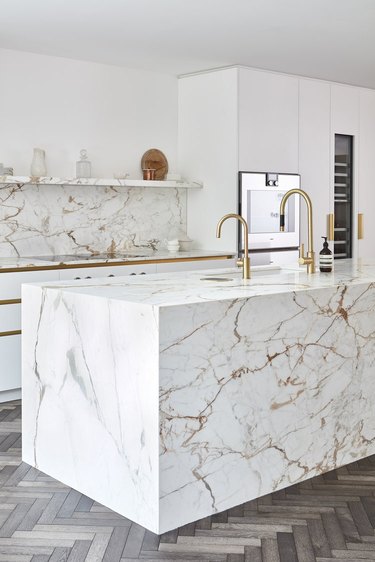 The temptation to go all out is real. This show-stopping waterfall marble kitchen island is wrapped in a heavily veined Paonazzo marble. It isn't something you'll forget anytime soon. The designers at Blakes London drew inspiration from the deeper brass tones in the marble detailing and had the kitchen faucet colored to match.
3. Match your counters and backsplash.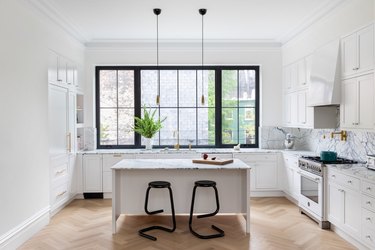 Marble and a fresh white kitchen go together like bees and honey. So feel free to emulate this look in your home. Case in point: This kitchen island designed by Elizabeth Roberts features Paonazzo marble. The coordinating counters and backsplash break up the white cabinetry perfectly.
4. Let it hang.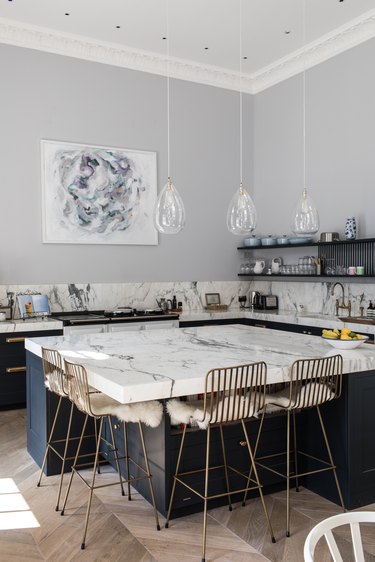 Be still our beating hearts! This super luxe kitchen in Laura Butler Madden's home is definitely kitchen goals. The chunky marble island worktop hangs over one corner, making for a cozy and unique seating arrangement. And those gold bar stools are next level.
5. Consider color.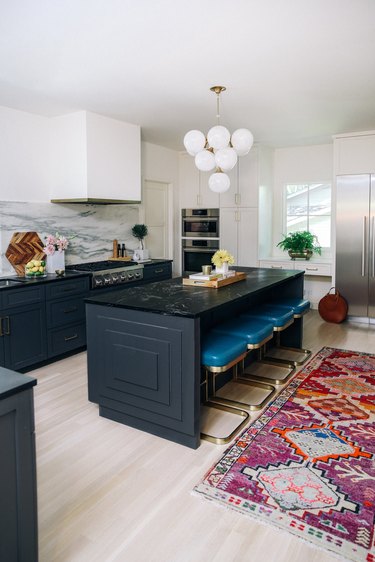 Not all marble has soft veins of gray winding through pristine white. In fact, you can find marble in most shades of the color spectrum if you search hard enough; just be prepared to pay the price. Sarah Wittenbraker's deco-style kitchen island makes use of rich black marble. It's moody with lightning bolts of ivory.
6. Complement with brass.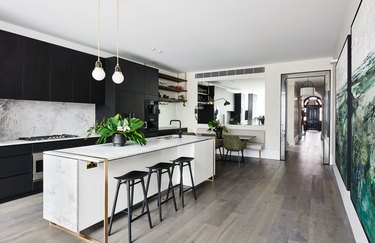 7. Make it chunky.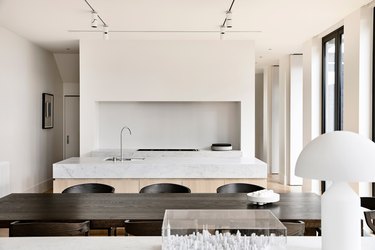 Yes, we love any thick countertop. But we think this effect works particularly well for kitchen islands. It adds weight and decadence to the overall look. Take your inspiration from this Scandi kitchen design by Conrad Architecture. The marble and oak color palette is minimal but chic.
8. Go against the grain.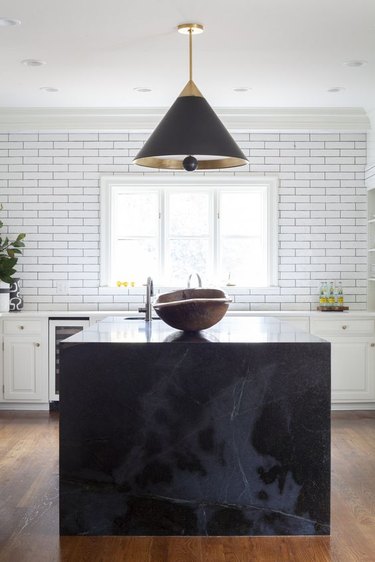 When you're selecting your marble, chances are you want a strong pattern that stands out. However, a softer grain can look just as beautiful (and will likely be on the cheaper side), so don't rule it out completely. The subtle black and gray marble used on this waterfall kitchen island looks incredible against the white subway tiles and modern pendant light.
9. Consider a small space island.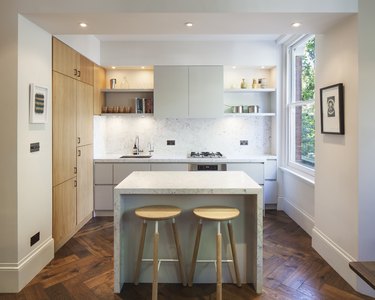 Short on space? Don't fret. A marble kitchen island isn't only for grand open plan areas. In fact, they can be highly functional in a smaller kitchen, too. The De Rosee Sa design team incorporated this kitchen island breakfast bar with a Bianco Goia marble top and mitered edges.