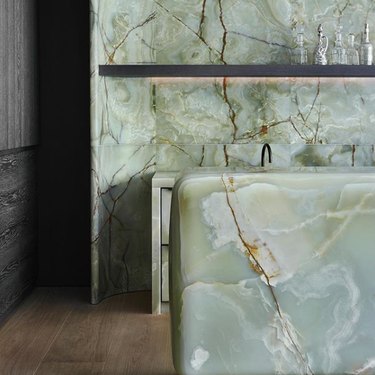 We ask a lot of our kitchen countertops: We want them to not only be highly functional, but also make a real visual statement. Most people are looking to put their own unique stamp on their kitchens, but with Pinterest and Instagram, these days it's pretty hard to "discover" anything new when it comes to interior design materials. We've sung the virtues of engineered stone, detailed glorious marble, and dove into the benefits of laminate and wood. But now we're digging into onyx, a material we've been seeing more of lately. Could this gorgeous stone be right for you and your kitchen countertops? Read on to find out.
What is Onyx?
Onyx is a rare stone, formed when limestone dissolves and is redeposited as a new kind of stone. Because it's calcium-based, it's inherently quite soft, porous, and fragile. For this reason, unlike other natural stone like granite and marble, quarrying onyx slabs is challenging and slab sizes are considerably smaller.
Despite its undeniable beauty, onyx as a kitchen countertop material is not for the faint of heart: Its soft properties make it susceptible to scratches and etchings, and it needs to be professionally sealed prior to installation, cleaned with a special cleaner daily, and refinished periodically to keep up its appearance. And even when following this protocol, it's still prone to stains and cracks. In fact, when it's installed, it often needs to include a fiberglass backing compound to strengthen the slabs and keep them together.
Two of onyx's characteristics that make it so appealing are its pronounced veining and translucence, which allows light to pass through. It can be backlit for a striking result — consider using it as a backsplash for the best of both worlds: protecting it from daily wear and tear while letting its beauty take center stage. Onyx is available in a range of colors from golds to greens and pinks to blues so it works in a variety of interior design styles, but really shines as a luxe accent in elevated homes.
Extremely high-maintenance
Very fragile, soft, and porous
Scratches, etches, and stains easily
Expensive
Difficult installation
Rare, for a one-of-a kind statement
Dramatic
Striking
Cost of Onyx Countertops
The traits that make people fall in love with onyx (its rarity, translucence, and beauty) also make it the most costly countertop material. Prices range from $40 - $240 per square foot depending on the quality and color. Installation costs are also higher than other stone due to the fragility and the additional steps that must be taken to protect it. Pro tip: If you decide to move forward with onyx countertops, ensure that your installer has expertise installing this specific material.
Onyx Countertop Maintenance
Just to reiterate: Onyx is a high-maintenance material that requires ongoing attention and upkeep. Even with the most diligence, it won't stay pristine if you plan on using your countertops. So, if you're a busy household, enjoy cooking, or do a lot of entertaining, be wary of using onyx as a work surface. With all that being said, there's no denying it's a gorgeous countertop material with unique properties that make it a home-run with those looking for a striking alternative to more common stone options.
Onyx Countertop Ideas
1. Opt for sheer elegance.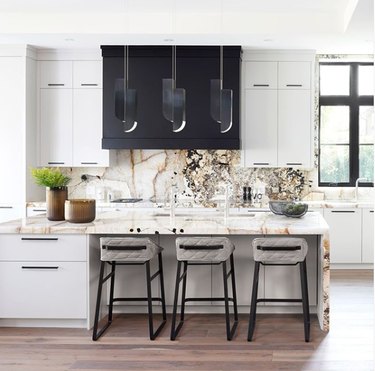 A high-contrast onyx countertop idea creates movement and interest in this sophisticated cook space. Toronto-based CMI design uses flat front cabinetry, contemporary pendant lights, and minimal accessories to keep the focus where it should be — on the gorgeous stone.
2. Lighten up a dark palette.
Lighten up a dark, moody kitchen and balance black cabinets by opting for a lighter countertop. This cook space accomplishes the task beautifully with white onyx. The distinct rust veining adds drama and a welcome pop of color, too.
3. Balance masculine cabinetry.
Lighten the look and feel of a bank of wood cabinets with a natural onyx countertop that transitions seamlessly into a backsplash, while an integrated shelf adds dimension. Marie Flanagan creates a timeless moment that showcases onyx's beauty without overwhelming the space.
4. Go big.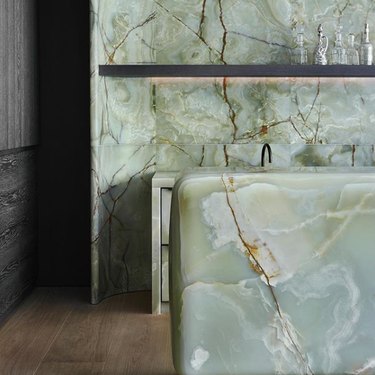 When you're really looking to make a statement, it pays to use an abundance of a single material as Liaigre did in this unique European stunner. Sage green onyx with bold veining is equal parts art and design when it's applied to all surfaces including the countertops, backsplash, and drawer fronts. An under-lit single shelf and bronze faucet add a bit of depth.