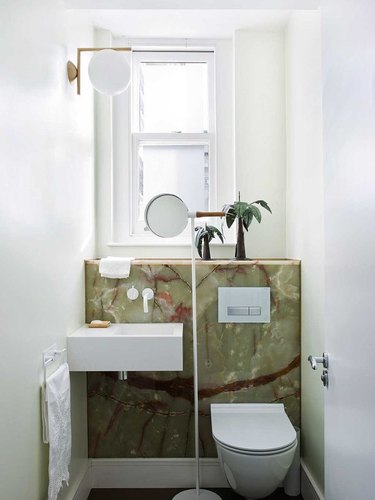 Let's face it: When it comes to bathroom design, you're probably tired of seeing the same Carrara marble slabs flooding your Pinterest feed. If you've been looking for an up-and-coming material that's poised to take over, we might just have the answer. Onyx is quickly becoming a rising star in the world of interiors, and — while it does come with a price tag that matches its exoticism (ranging from $40 per square foot to $250 per square foot!) — the results are simply divine.
The rare material is available in a range of hues from golden yellow and mint green to dusty pink and smoky gray. And, thanks to the translucent nature of its coloring, it can also be backlit for dramatic effect, making its installation options more varied than marble. At the moment, we're seeing the design world sway toward the semiprecious variety of agate with its varying range of colors and deep swirling patterns. Ready for some fresh inspiration to pin? Keep scrolling to discover five jaw-dropping bathrooms complete with onyx countertops, backsplashes, and more.
1. Think neutral.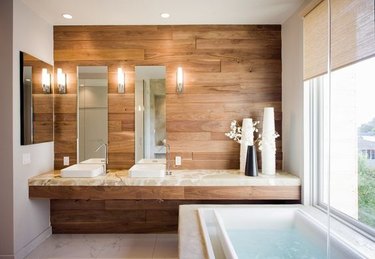 Designed by Mark Brand Architecture, this San Francisco refuge takes warm and cozy to the next level. While the walnut plank accent wall, marble floors, and soaking bath are striking, the onyx countertop really amps up the luxe factor. It even glows with the flip of a switch. When can we move in?
2. Add luxurious details.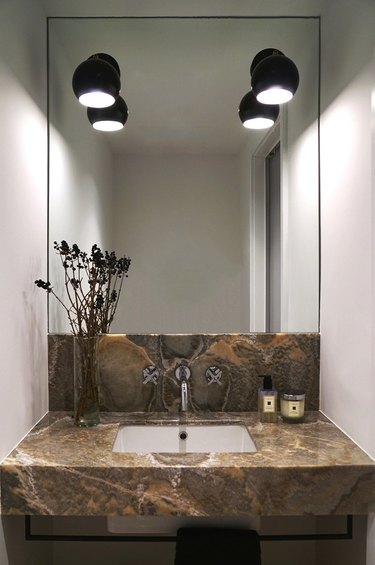 Did someone order room service? This first-floor guest bathroom designed by Atelier Armbruster looks fit for a five-star hotel. The space has been kitted out with a custom, smoky gray onyx vanity that exudes luxury. An inset sink and mirror-mounted sconces complete the glamorous aesthetic.
3. Embrace minimalism.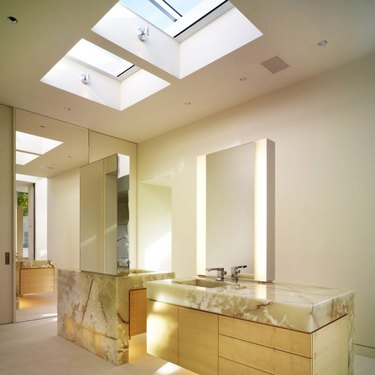 This minimalist bathroom, created by Los Angeles–based architecture firm Lehrer Architects, is a study in clean lines. The skylights above bring in warm natural light that makes the onyx countertops glow.
4. Go for a statement piece.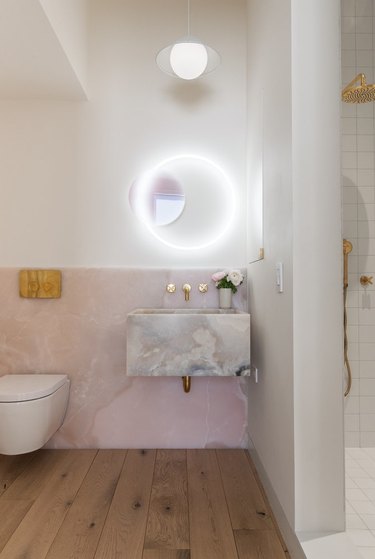 A deep rose pink onyx sink is the focal point of this bathroom, designed by Elizabeth Roberts. We're getting Juno Calypso vibes, don't you agree? This bathroom is positively glowing, thanks in large part to the delicate nature of the floating onyx vanity and the extended pastel pink paneling that further accentuates the other natural colors in the stone.
5. Concentrate your efforts.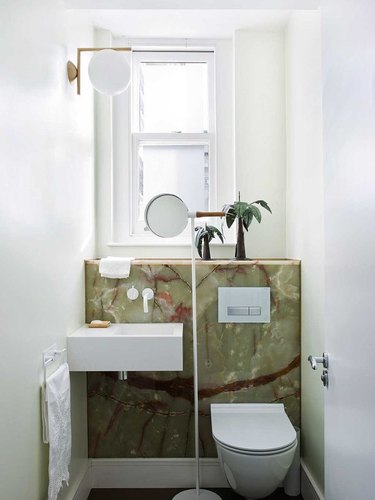 Small spaces can be dramatic too and the proof is in this bathroom designed by Anagag. This washroom features a floating sink and toilet mounted onto book-matched slabs of green onyx with red veining. The slabs are backlit and topped with a narrow onyx countertop to round out the look.