You're on the verge of remodeling your kitchen into the space of your dreams. What's definitely on your decor list is adding an island. What's next is all-white cabinets. But, do you want to go all matchy-matchy and keep the island area white as well? Take a beat or two; maybe the answer is not so much a solid yes. We've seen a look that's on trend but still timeless that you may want to consider. Wait for it: Go gray with your kitchen island and white with your cabinet space. Pretty cool, huh?
Of course, you'll need to think about the shape and scale of your island and what kind of countertop or backsplash makes your heart beat. But in the meantime, we've got some inspiration on how to approach going gray.
1. Small and Mighty
Your space may be limited, but this doesn't mean you can't make a statement like this cozy and chic look from Roost Interiors. Going with a slightly darker paint color gives this pretty island just the right amount of pop.
2. Gorgeous and Gray
We can all agree gray is an elegant color, proven here in this kitchen by Evelyn Benatar. Just using a subtle shade against a dark floor and installing a modern chandelier has us doing a chef's kiss to all of this.
3. Counter Intuitive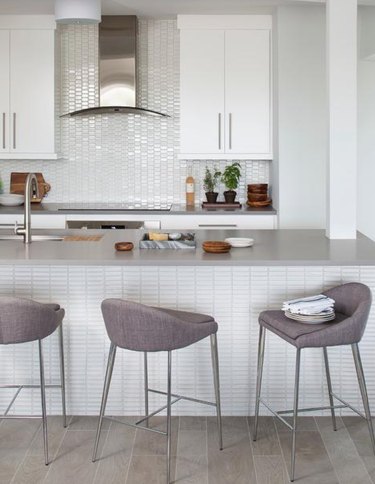 Instead of going gray with your base, try working it into your island counter top like this sleek kitchen from Krista Watterworth. We're also loving the smooth flow of gray stools and floor a lot.
4. Moveable Feast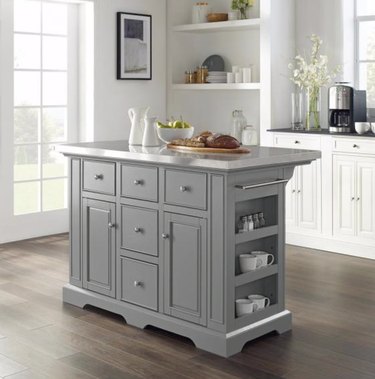 Not ready to commit to a custom island or just don't have the budget for one? This stylish and moveable piece from The Home Depot comes in the perfect gray tone, providing an instant upgrade to your kitchen.
5. Rustic Chic
We know that farmhouse style has everyone flipping out. Just check out this charming take from WB Interiors that provides the perfect focal point, with its rich gray hue plus a wood counter that's giving us all the vintage feels.
6. All Day Gray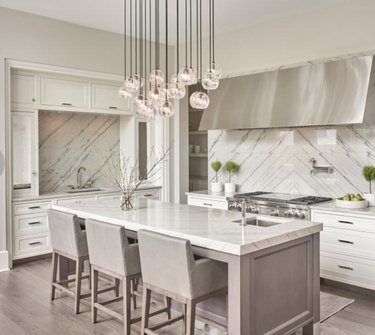 Sure, you've gone with white cabinets, but why not go gray almost everywhere else? This island makes us want to dine in for days and days with its marble counter and matching stools.
7. Reclaim It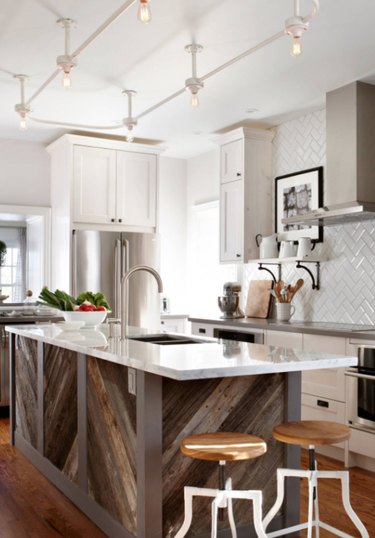 There may be 50 shades of gray, but the same goes for the types of wood you can introduce to the heart of your home. This island with a reclaimed wood base, featuring gray undertones and accents, adds unexpected and endless charm.