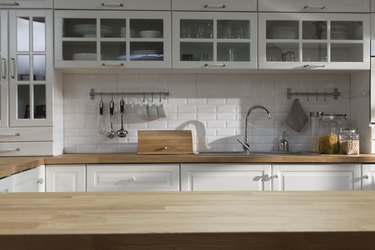 When it comes to buying a kitchen or dining table for your home, you have a lot of options. Aside from choosing a style, material, shape and color scheme, you'll also have to decide whether you want a table that's counter height or standard height, both of which have their own sets of pros and cons.
Standard-Height Table Advantages
Belfort Furniture notes that a standard-height table stands between 28 and 30 inches tall. Since this is the most popular option for kitchens and dining rooms, you'll have a lot of different styles to choose from, which is easily a plus. This table is considered a more formal option and can be ideal for nightly family dinners or for hosting holiday gatherings. Many standard-height tables are also designed as occasional tables.
For many, this option offers comfort and can fit extra people, if need be, by pulling up folding chairs or other standard-height chairs that you might have in your home. Additionally, if you have a family member who's disabled – in a wheelchair for example – it's much easier to have that person join in. It's also a safe option for children, as the chairs are lower.
Standard-Height Table Disadvantages
As far as negatives go, this table will usually take up a larger footprint in a kitchen or dining room and may end up making the room look smaller than it actually is. These tables tend to be larger and can be more difficult to move, which is another downside.
Counter-Height Table Advantages
A counter-height table stands between 34 and 36 inches high. If you're looking to purchase a table for an eat-in kitchen, this option might be best for you. By having a counter-height table, you can extend your kitchen space by using the table top as an extra preparation area. Additionally, a counter-height table tends to be more comfortable for people who are tall and need extra leg space.
Many homeowners choose to use this kind of table to double as a kitchen island, placing the table in the center of their kitchen. This makes it easier to socialize with people who might be standing or cooking in the kitchen.
Counter-Height Table Disadvantages
Some people will find that counter-height tables are uncomfortable to sit at, primarily because the chairs are much higher, preventing a person's feet from resting on the ground. For this reason, you could experience back pain after sitting at a counter-height table for prolonged periods of time.
These tables are also more dangerous for families with children as the chairs are higher than a standard dining chair. Since these tables are less popular, you'll have limited choices while shopping and may have a harder time finding a table that fits your space and style.
Bar-Height Tables Offer a Third Option
A bar-height table is even taller than a counter-height table, standing between 40 and 42 inches tall. Bar tables are generally smaller, so they're perfect if you don't have much space to work with. Sometimes, if you don't have an eat-in kitchen, a bar-height table can provide a spot to eat that isn't in the formal dining room. Eastwood Homes also notes that bar-height tables define the space between a kitchen and the rest of a house.
Additionally, this table can come in handy during parties as guests can stand and rest their plates and drinks on it while socializing. This type of table poses the same disadvantages as a counter-height table because of its height.