Kitchen islands are packed full of extra storage space. This allows homeowners to store extra dishes, cookbooks and even food. While this extra storage space may be a good thing for cooking and other preparation, large kitchen islands can also be difficult to remove. If you have a kitchen island that you would like to remove or replace, you will need to know the best way to demolish and extract the island from your home. A few tips will help to get you started.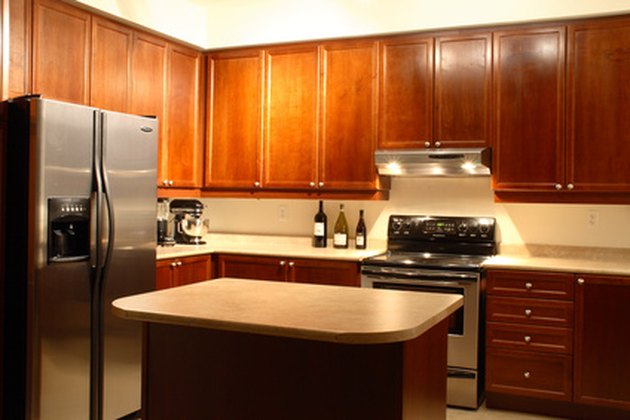 Step 1
Empty pots, pans, food, and other storage items from the kitchen island. Remove any drawers from the island.
Step 2
Use a pry bar and a hammer to remove any molding that may be on the kitchen island. Moldings are typically used for décor and to cover places in the island where two pieces have been joined together.
Step 3
Disconnect the water and/or power connects for sinks or stove tops that are located in your kitchen island. As always, exercise caution by turning off the power and/or water before disconnecting power and water lines.
Step 4
Remove the island countertop. Different types of countertops are attached differently. If you have a solid stone countertop, you will need extra help to remove the countertop. Laminate countertops can typically be unscrewed and easily removed.
Step 5
Remove the island itself. This may require you to unscrew several pieces of the island so that it can be removed in several parts.