Renovating your kitchen can be one of the most exciting — and most expensive — projects that any homeowner (or renter!) can take on. And while a renovated kitchen can be infinitely more enjoyable to spend time in than an out-of-date, poorly functioning space, major changes often come with major price tags. If you're struggling to stay on budget and feeling unclear about where you can trim down some costs, fear not: We got you! Read on for some of our recommendations about items that are splurge-worthy versus where to save a few bucks (or more!).
Save: Forego the custom cabinetry.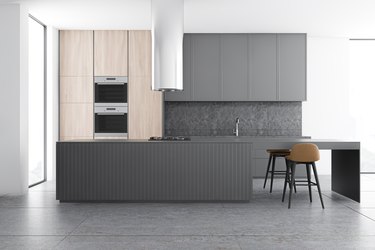 There's something about calling an item "bespoke" or "custom" that automatically makes it sound like it's worth twice what it otherwise would be. But in the case of kitchen cabinets, we need to state the truth: There's nothing wrong with using standard cabinetry shells and then using filler pieces to take care of funny corners or dead space that almost inevitably emerges. In fact, IKEA is known for their very affordable cabinet frames, and we love it when they're paired with cabinet fronts and doors from other companies that specifically fit IKEA frameworks. Using cabinet doors from companies like Reform, Semihandmade, and Kokeena, among others, along with IKEA shells, is a great way to give your kitchen the appearance of custom, designer cabinetry at an affordable price.
Splurge: See countertops as an investment.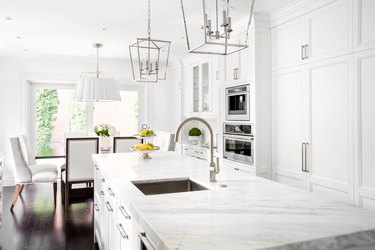 Another big-ticket item in a kitchen renovation can be the cost of natural stone or manufactured stone countertops. And while it's absolutely possible to achieve a beautiful new kitchen with laminate or wood countertops, for many, stone (or manufactured stone) is a sign of quality and endurance. Because countertops bear the brunt of every day use, from hot pots to sharp knives, it's generally acknowledged that spending a little bit more on countertops that will stand the test of time is a good place to spend some money.
That's not to say that there aren't economical ways to keep your "splurge" that are still on-budget. It can help to have flexibility in the exact type of stone or color range you're interested in. For example, if you call around to a few different stone yards, you'll likely find one that has something readily available or a remnant they're trying to get rid of at a lower price point than other pieces. You might also want to consider different materials for different parts of the kitchen, like stone on the counters but wood on the island, which can create a nice bit of contrast.
Save: Reconsider brand-new appliances.
We know that the idea of second-hand appliances can sound questionable, if not downright unappealing, but more and more retailers (and renovators!) are realizing the benefits of reselling and purchasing nearly new appliances. Not only is this a great way to keep these items from heading to the landfill, but it's also an easy way to obtain a high-end oven or fridge, which can easily cost thousands of dollars, for a fraction of the cost. Retailers and resellers like Restore/ Habitat for Humanity, Craigslist, and even eBay often have appliances from known brands, so find options that are located close to you. Since the purchase usually doesn't include installation and, in most cases, a warranty, make sure you do your research beforehand about the size, age, and functionality of the piece. And remember that a test run never hurts!
Splurge: Spend for a sturdy garbage can.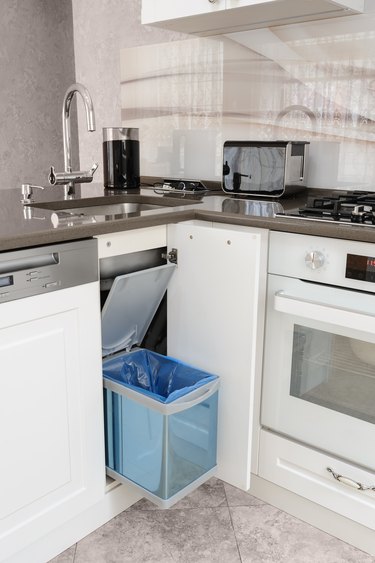 We know it's not glamorous, but we are fans of any way to make the dreaded chore of taking out the trash even just a little bit more pleasant. A rugged, aesthetically pleasing garbage can has the ability to make this task easier, especially if the can is designed for quick and easy removal and replacement of new trash bags. Little details like slow-closing lids can also make them quieter, and we love fun colors and sculptural designs that make the trash can function more like a fun kitchen accessory than a smelly receptacle.
Save: Opt for a simpler backsplash.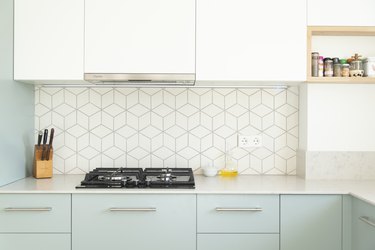 If you're going to splurge on new countertops, we recommend saving on their counterpart: the backsplash. While the look of continuous stone running from the countertop up the wall can be beautiful and cohesive, that extra square footage can add a hefty tag to your bottom line. Instead, opt for more price-conscious options, like tile or even back-painted glass for your backsplash. Some might also be interested in other less typical materials, like stainless steel for an industrial edge, or Venetian plaster for a more artistic vibe, but no matter what you choose, it should be able to stand the test of time and some rigorous cleaning.
We also recommend being judicious about where you actually need the backsplash, and how high it should go along a wall. Even if you're purchasing relatively inexpensive tile, if you're envisioning it continuing up to the ceiling in some areas, that means not only additional tile, but also a higher cost of labor.