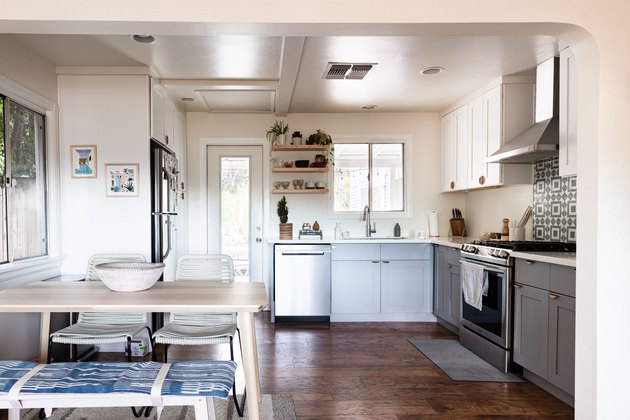 There's nothing quite like the look and feel of a brand-new kitchen with upgraded appliances and an updated new look, but you don't have to shell out big bucks on a full kitchen renovation just to fix your cooking area. In fact, a few minor updates and a little elbow grease can help you DIY your way into a kitchen that looks and feels all new. You might be surprised how different the room can look when you do a simple kitchen remodel that adds nothing more than new paint, cabinet doors and appliances.
Assess Your Needs and Wants
You might imagine your dream kitchen with an open floor plan, butcher block countertops, glass-front cabinetry, a double oven, a massive kitchen island, stainless-steel appliances and vintage pendant light fixtures. However, if you are planning on doing a DIY kitchen remodel and don't have a massive budget, these changes simply aren't practical. While you might start by dreaming about what you would want if money was no issue, you need to take time to make a list of things that you realistically need to change about your own kitchen.
Once you know what absolutely has to go, think about the best way to change them while considering what you can realistically do yourself. Maybe your torn-up linoleum floor needs to go, but installing tile isn't in the scope of DIY projects you feel comfortable tackling. In that case, perhaps you could handle installing laminate flooring instead. Do you know you need more storage space but aren't up to the challenge of installing kitchen cabinets yourself? Then perhaps some shelving or storage units could help.
Keep in mind that there are some things you might not be able to DIY. For example, your wiring might need to be upgraded, but unless you happen to be experienced with electrical work, you'll probably need to hire an electrician. Though you'll want to minimize the number of projects for which you have to hire a professional, sometimes there's no way to avoid specialized work like plumbing and electrical. Sometimes, you can make this work more affordable by doing some of the grunt work yourself, such as removing drywall or cabinets to provide access to plumbing or electrical lines.
Create a Kitchen Remodel Budget
When doing a full kitchen remodel, experts recommend that your budget be equal to 5 to 15 percent of your total home budget. In fact, the average cost of a kitchen remodeling project is $24,173, but if you're planning to do it yourself and are trying to save money, this may seem too high. Low-end kitchen remodel budgets for DIYers tend to start at $4,000, but you can make a handful of important changes for even less.
Figure out what you can realistically spend on your kitchen remodel without breaking the bank and then deduct 20 percent of that number and set it aside as a reserve for unforeseen circumstances. After all, if a pipe breaks while you're working on your sink, you're going to need extra money available immediately for emergency plumbing services.
Once you've decided on your maximum budget, look at your list of changes and start pricing items, focusing on the highest-priority items first. Remember to always purchase products that are high-enough quality to last, but you don't need to purchase top-of-the-line products either. Try to strike a balance between quality and aesthetic appeal and focus more on your personal preference than trends that will likely go out of style before you remodel again.
Keep in mind that installing new kitchen cabinets is not only difficult but also expensive. In fact, new cabinets represent one of the biggest expenses in kitchen remodeling projects, so unless you desperately need new cabinets, it's best to instead spruce up your existing cabinets with a new coat of paint, hardware and trim or by refacing the cabinets with wood veneer and replacing the drawers and doors.
Preparing for a Kitchen Remodel
One of the most important planning steps is finding out whether you need a permit for the project. Once you've determined all of the work that will be done, contact your city's building department to ask about permit requirements. For many kitchen makeovers, a permit is not required, but if you have to add electrical circuits or make plumbing changes, you will likely need a permit.
Don't start work until you have all of your supplies and materials in hand. Clear out any cabinets on which you'll be working and protect everything on which you're not working by covering it with a drop cloth. If you're installing something like a dishwasher, changing your sink or otherwise doing any basic electrical or plumbing work yourself, or if you are doing something like replacing drywall that may put you dangerously close to live wiring, be sure to turn off the water, electricity or gas supplies to your kitchen or whole home if necessary.
The DIY Kitchen Remodel
In a traditional kitchen remodel, it's best to complete the work in the following order: demolition, plumbing, electrical, drywall, paint, flooring, cabinetry, countertops, lighting, appliances, sink, backsplash and hardware. When doing a DIY kitchen remodel, though, you'll want to skip ahead to the steps on which you will actually be working, most likely starting with paint.
Step 1: Painting the Walls
Start by cleaning your walls to ensure they are ready for a new layer of paint. Next, cover the edges of all cabinets, ceilings and floors with painters' tape. Fill in any holes with spackle and then sand down the edges as well as any areas where the old paint has bulged or cracked. Before you pour out your paint, the Environmental Protection Agency recommends turning on fans to help drive any paint fumes outdoors. Use roller brushes to cover the walls with a solid, slow, up-and-down motion. Then, use a small brush for edges.
Step 2: Adding Flooring
Laminate and engineered hardwood can often be installed on top of your existing floor if it is in good condition; otherwise, you will need to remove your existing flooring first. Once you have removed your existing floor, you will need to prep your subfloor by cleaning, repairing and smoothing it or install an underlayment, such as cement board for tile.
Laminate and glazed ceramic tile are two of the most popular materials for kitchen floors since they look good and offer natural water resistance to protect your floor from water damage and stains. If you are using unglazed tile, hardwood or other materials that are not naturally water-resistant, be sure to seal the flooring before moving on to the next step of your kitchen renovation.
Step 3: Cabinets
Whether repainting or refacing your cabinets, start by removing the drawers and doors. When painting, you'll want to clean, repair and sand the cabinets just as you did when painting the walls and then tape off the walls and counters to protect them. Next, use a primer to paint the outside of the cabinets and remove the hardware from doors and drawers before painting them. Follow the primer with a layer of paint. When dry, reinstall the hardware and put the drawers and cabinets back in place.
To reface the cabinets, glue plywood on the exposed sides and then use a utility knife to cut peel-and-stick veneer so it is 2-inches longer and 1/2-inch wider than the front parts of the cabinet, working with the vertical lines followed by the horizontal lines between these lines. Peel the back off the veneer and then stick it to the cabinet using a wooden block to force air bubbles out from under the strip. Use a utility knife to cut off the excess veneer. Repeat this process until the front is covered and then apply the veneer to the plywood applied to the sides. Finally, install new cabinet doors and drawers that match the new veneer.
Step 4: Painting Countertops
Replacing countertops is expensive, but if you want a new look, you can always try repainting them. Rust-Oleum and other companies sell paints specifically made for countertops. Start by taping off cabinets, walls and sinks to protect them from this particularly hard-to-remove paint and clean your counters well. Wear gloves and use a ventilator. Use a foam roller to apply a layer of paint, following up with a second layer the next day.
Step 5: Updating Your Sink
A new sink and faucet don't have to cost a fortune and can provide a lot of bang for your buck. This is a good place to spend a little money to update both the look and function of a kitchen. If you're not replacing the countertops, choose a new sink that installs like the original (drop-in, undermount, apron, etc.) as well as a similar size. This eliminates the need to modify the countertop for the new installation. Often, it's easiest to install the faucet on the sink before installing the sink.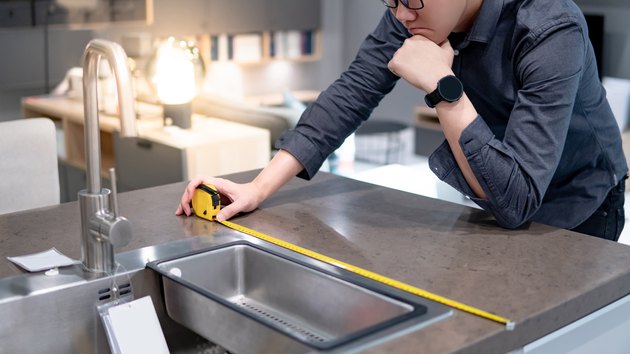 Step 6: Install Backsplash
Peel-and-stick backsplashes are much easier to install and can be more affordable than traditional tile options. Simply clean your wall with an all-purpose cleaner and then use a pencil and ruler to measure your wall and mark where the tiles need to go. When you've finished planning the layout, just peel off 1/3 of the backing, line it up and stick it to the wall. Then, peel off the rest of your backing and push the tile firmly to the wall. To cut the tiles for edges and to fit around things like outlets, use a cutting mat and a box cutter.
---
Jill Harness is a blogger with experience covering architecture, design and decor trends from around the globe. As she lives in what would politely be called a "fixer upper," she is particularly interested in writing about DIY projects and repairs. Most of her home design writing can be found at www.homesandhues.com. You can find out more about Jill's experience and learn how to contact her through her website, www.jillharness.com.
View Work