Things You'll Need
Home-design books

Kitchen-remodeling magazines

Kitchen-resource websites

Sketch pad

Graph paper

Building permit

Materials list
Tip
If your garage is a double-car structure, create a bar eating area and media space along one wall. Design the space to serve as a family area and kitchen combined, if you have room.
Warning
Never start converting a garage until an electrician has evaluated your heat pump capacity. You might need to buy a bigger heat pump to keep the new space from overloading the old unit. Don't forget to install vents and ductwork for heating and air into the garage area. This can often be done from ceiling areas overhead versus the concrete flooring area.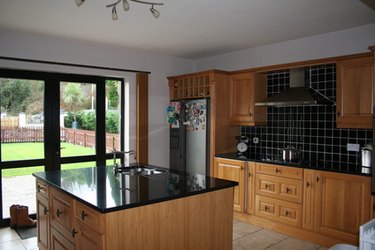 A garage space is typically large enough to create a good-size kitchen. The home's floor plan should be in good shape with the new changes, if the garage is already near your existing kitchen. When you turn a garage into a kitchen, you can utilize your old kitchen space as a dining area, study or additional bathroom for the home. Locating a new kitchen in your garage typically saves time as well as actual building costs, given that the walls, foundation and ceiling are already in place.
Step 1
Go over kitchen ideas in home-design books and in building magazines. Review websites as well to research cutting-edge kitchen remodeling ideas. Sketch a very rough draft of the kitchen you envision building. Measure the garage space to figure out how cabinets, appliances, and windows and doors could be placed. Design the new kitchen around the triangle allocated for the sink, stove and refrigerator placement. Lay out the kitchen with actual cooking and related family needs in mind, first and foremost.
Step 2
Use graph paper to develop a detailed plan. Envision how you will connect the kitchen to the rest of your home. Incorporate an exit or walk-out door in case of a kitchen fire, too. Call a building contractor for an initial consultation. Obtain a building permit once you have a plan to present to local building authorities. Get a list of building codes and restrictions as well.
Step 3
Create a materials list of basic building supplies and amenities you will need. List all appliances, cabinets, windows and doors, drywall and paint, electrical needs, plumbing needs and flooring. Talk this over with the contractor and engage an electrician and plumber to offer their estimation of costs. Put together a budget you know will cover project expenses. Set aside funds or get a line of credit at the bank to cover unexpected costs, just in case you have a few surprises.
Step 4
Remove the garage door and frame in the room on all sides for the new kitchen. Add electrical wiring, plumbing lines and drain lines next. Coordinate plumbing and drain lines with a new concrete pour, if needed. Install drywall, cabinets, appliances and lighting next. Finish all wood trim and details of the kitchen. Paint the entire area and finish all details before installing finished flooring.
Step 5
Connect the garage area to the main house via a hallway or small room addition. Decide if you want an open archway connecting the new kitchen to your existing space, or construct a door that will close between the two areas. Connecting the new kitchen to your living space can be done at any point during the building process, but saving it until last can keep construction dust down in the main part of your home.
---
Judi Light Hopson is a national stress management expert and psychology issues writer. Her column on relationships, co-written with a nurse and a psychologist, is distributed by McClatchy Newspapers to over 300 major publications worldwide. Ms. Hopson has written for employee assistance programs that serve over 15% of America's Fortune 500 companies. links provided below.