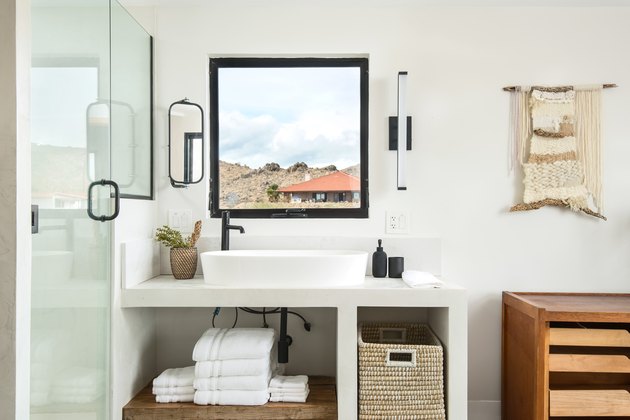 When hiring bathroom remodeling professionals, rule number one is to trust your gut. If a contractor comes to give you an estimate and you get hinky vibes from him, don't hire him. This person and his crew are going to be spending a few weeks in your home with you, and it's going to be pretty uncomfortable for everyone involved if you don't like each other. If your gut says no, listen.
Trusting your gut is important, but fortunately, there are more scientific ways to choose a remodeling contractor for your bathroom. It's also important to check references, verify credentials and compare written estimates carefully.
How Many Bathroom Remodeling Professionals?
If you're planning to DIY your bathroom renovation, hiring a pro for help with your weak areas isn't a huge undertaking. You can easily call in a plumber if you prefer leaving your pipes to a pro or find a tile setter if you've chosen a porcelain tile floor that will be hard to cut. Things get a lot more complicated, however, when you want a completely professional bathroom remodeling team.
In this case, it's much easier to hire a general contractor and let her take it from there. Trying to manage your remodel on your own will mean finding, vetting and scheduling a surprisingly large number of contractors, including drywallers, tile setters, plumbers, electricians, painters and more. You'll also need to pull your own building permits and schedule inspections.
Your life will be much easier if you find a good general contractor and let her worry about everything and everybody else. Your contractor can bring in her own people or hire reputable subcontractors as needed to tackle certain jobs. She can also oversee the scheduling to make sure the electrician, for example, doesn't come after the drywall is hung rather than before.
Research Home Remodelers
When you start looking for a contractor, ask friends and family members who have had work done about whom they used. Even if stories about good contractors prove hard to find, anyone who has worked with a contractor he didn't like will quickly tell you his horror story so you know whom to avoid. If your friends don't provide much assistance, contact the National Kitchen & Bath Association for a referral. Once you have a few names, start checking them out.
Before you pick up the phone to call any bathroom remodeling professionals, HGTV recommends contacting the Better Business Bureau to see if there are complaints against them. Contact your state government as well to learn your area's licensing requirements and verify that the contractor is licensed.
When you do start calling contractors to ask for estimates, verify that they're licensed and insured. Ask them to bring proof when they come to do your estimate as well as at least three references from the last year. It's important to get current references, as even a reputable company's work can go downhill if management changes or top employees leave the company.
Scrutinize Bathroom Renovation Estimates Carefully
There is no need to overwhelm yourself with too much information, but you should always get a written estimate from around three to five bathroom remodeling professionals before making your choice. Look at the estimates carefully and make sure everything you want is included. Check the details to ensure that the estimate accurately lists items you picked out, like the faucet or the shower tile.
If one estimate stands out above the rest because it's significantly lower than the others, investigate why. According to Angie's List, the bathroom remodel cost is between $9,600 and $11,000. If your bathroom is small and you choose stock and builder-grade materials, you can possibly get the costs down to around $2,500. High-end finishes, however, can take you to about $23,000.
If three estimates come in at around $10,000 but one is only $5,000, be suspicious. Did that contractor ditch your mahogany vanity for one made of medium-density fiberboard? Does his estimate include faucets and fixtures? You clearly don't want to pay more than you have to pay, but it's true that you get what you pay for. If an estimate looks too good to be true, it probably is.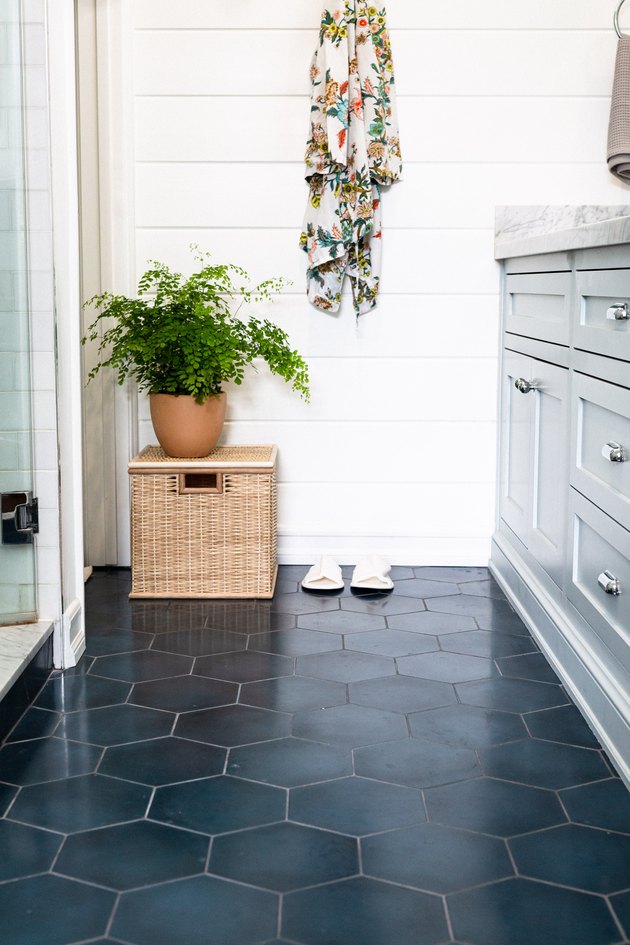 Cautions When Hiring Bathroom Remodelers
A good contractor will happily provide current references, but that isn't enough. Homeowners get references but often skip checking them. After all, the guy isn't going to give you the name of an unhappy customer, right? You'll never know if you don't check. What references have to say may surprise you.
Once you've chosen a contractor, don't assume the contract she presents you is correct and then blindly sign it. Read it carefully and make sure everything in it is clear and is as you expect. Yes, it's a boring read, but it's also an important one. Make sure it covers all the details, including the proposed timeline for getting the job done and how she plans to rectify any work with which you're not happy.
It's also crucially important that you never, ever pay for the entire job up front. It's normal for a contractor to ask for a deposit before work begins, but never pay for all the work before it's completed. Your contract should specify how much money is due and when. Paying a specified amount after reaching certain project milestones is acceptable, but your contractor should never walk away from an unfinished job with the entire payment in her pocket. A reputable one won't even try.
---
Home is where the heart is, and Michelle frequently pens articles about ways to keep yours looking great and feeling cozy. Whether you want help organizing your closet, picking a paint color or finishing drywall, Michelle has you covered. If she's not puttering in the house, you'll find her in the garden playing in the dirt. Her garden articles provide tips and insight that anyone can use to turn a brown thumb green. You'll find her work on Modern Mom, The Nest and eHow as well as sprinkled throughout your other online home decor and improvement favorites.
View Work