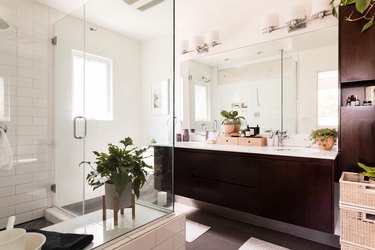 Of course, your bathroom needs to function, but nobody says it can't look good doing it. When it's finally time to get the bathroom remodel of your dreams, you'll need to decide who you want to do the work for you. Tread carefully when doing so. Choosing the right contractor or remodeler not only means that you'll love the finished product but also that it won't be a nightmare getting there.
Need advice on hiring a bathroom remodeling pro? Here's everything you need to keep in mind.
What a Bathroom Remodeler Does
Although they can be general contractors, bathroom remodelers are typically a bit more specialized. A general contractor can help you with quite a bit, including gutting your bathroom, upgrading all the fixtures, and bringing everything up to the current building codes. A bathroom remodeler, however, takes things a step further and is indispensable during a bathroom renovation that involves changing the room's layout.
A full bathroom remodeling project may involve adding a vent that goes to the outside or removing a closet or small bedroom to make the bathroom larger. In cases like this, accurate blueprints and architectural approval are often necessary. Your remodeler may also have the skills to be able to act as your general contractor. If so, they will be the one to vet, hire, and schedule any subcontractors your job demands — and there are a lot of them during a bathroom remodel.
Your contractor will find a drywaller, bathroom tile setter, plumber, electrician, painter, and other necessary specialists for you, saving you a massive amount of time. They will also oversee their scheduling, making sure that the electrical work, for example, is done before the drywall is hung.
Perhaps the best part of working with a contractor or remodeler, though, is the lack of red tape. A good contractor already knows the local building codes and can keep your remodeling project compliant without the huge learning curve you would have if you were to DIY the renovation. Your bathroom remodeling contractor will also take care of pulling the required permits and scheduling the necessary inspections for you. The more your contractor interacts with local government officials, the less often you have to deal with this chore.
A contractor can't give you what you want in a bathroom design if you don't know your vision, so you'll have to do some of the legwork. If you're working with a bathroom remodeler, they will help you choose the countertop, plumbing fixtures, lights, shower tiles, and other items that you want for your remodel. They will generally walk you through the entire process, making sure the items you choose — like faucets, tubs, and vanities — will fit the space and new design plan comfortably.
If your remodel is more of a remove and replace, you can probably choose most of the fixtures yourself and tell your contractor what you would like. However, if you're not sure of an exact model or item, find the colors, finishes, and materials you like for your fixtures and show them to your contractor or remodeler. Having some examples of your tastes helps bathroom remodeling professionals get things that will work for you and match the finished look you're seeking.
Admittedly much less fun than shopping for new bathroom goodies is budgeting for them. You need to know the scope of your project and how much you can spend before you get too far into the process. It's easy to dream big but much harder to finance those dreams. A contractor who knows your budget can help you stick to it and guide you toward more affordable yet stylish upgrades if necessary.
Independent Contractor vs. Remodeling Firms
When searching for a contractor for you remodeling project, it's important to understand the pros and cons of the different types of professionals.
Many people prefer to work with an independent general contractor. This is often the little guy working out of their garage. Because they are the business, many contractors in this category work quite hard and take a lot of pride in their work. They're also likely to be a bit cheaper than large remodeling firms with more overhead.
There are some disadvantages, however. For one, a general contractor isn't likely to be schooled extensively in design. If you want to update what you already have, a general contractor is helpful. Changing your bathroom's entire layout may require the additional services of a bathroom remodeler.
A small firm may not have any backup either. If the contractor gets sick or has a family emergency during your job, they are likely to disappear for a few days, and the work will likely stop for a while. Independent contractors sometimes take on several projects at once as well, which can encourage them to rush through jobs. Money is also an issue; sometimes, small firms need more money up front to buy supplies.
Some homeowners prefer working with larger remodeling firms. Larger firms can quickly get a team together to work on your project and may have enough manpower to work exclusively on your project until it's done. Remodeling firms also tend to be more full service, capable of providing full design services, including designing an entirely new layout for your bathroom if that's what you're interested in.
Larger firms also typically maintain an office with set business hours, making it easier to contact them when necessary. Large firms can feel impersonal, however, and making a change may require going through multiple people.
Independent Bathroom Designer
During your bathroom remodel, you may also find yourself working with an independent bathroom designer. A designer can help you pull all the pieces of your bathroom remodel together, often working with a contractor to make sure the finished project matches your vision. Designers don't do the actual construction work, and if they are independent, they probably aren't part of a firm that does. They may, however, be able to recommend a good contractor since they work with many.
Choosing the Right Bathroom Remodel Contractor
When hiring bathroom remodeling professionals, rule number one is to trust your gut. If a contractor comes to give you an estimate and you get bad vibes, don't hire them. This person and their crew will spend a few weeks in your home with you, and it's going to be pretty uncomfortable for everyone involved if you don't like each other. If your gut says no, listen.
To shop for a contractor, begin by asking friends and family members who they used for similar work. Even if stories about good contractors prove hard to find, anyone who has worked with a contractor they didn't like will quickly tell you his horror story so you know who to avoid. If your friends don't provide much assistance, contact the National Kitchen & Bath Association or a local real estate agent for a referral. Once you have a few names, start checking them out.
Before you pick up the phone to call any potential contractors, contact the Better Business Bureau to see if there are complaints against them. When you do start calling contractors to ask for estimates, verify that they're licensed and insured. Ask them for proof as well as at least three references from the last year. It's important to get current references, as even a reputable company's work can go downhill if management changes or top employees leave the company.
It's also acceptable to ask a general contractor which subcontractors they work with and how they vets them. Sometimes, the general contractor oversees a project but isn't on the job site every day. This means even if you like the contractor, you could find yourself disliking members of the work crew. Some contractors make sure they hire only bonded subcontractors.
When meeting with your contractor, ask about their experiences and background. It's also perfectly fine to ask what steps they'll take to keep the job site clean and safe. When the meeting is over, you should have a timeline of how long your project is expected to take. You should also know if your contractor expects to encounter any problems on your job site. Some issues are unexpected, of course, but a good contractor may see potential red flags, like old knob and tube wiring hiding in your basement or an already overloaded breaker box.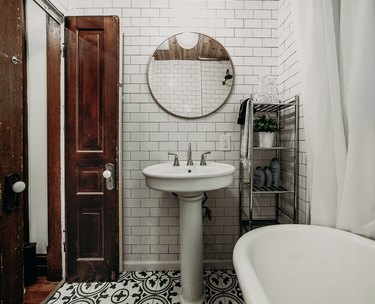 The Cost of Hiring a Bathroom Remodel Contractor
Bathroom remodel costs are usually based on the size of the job. Most contractors charge 10 to 20 percent of the total project cost, which includes a markup on materials and any subcontractor labor. Whatever you expect to pay, make sure you put it in writing. Your contract with your contractor should always clearly state what you owe and when.
It's not unusual for a contractor to ask for a deposit before the work begins. Sometimes, there is a payment schedule that is completed when the contractor meets certain requirements or finishes a certain portion of the job. Whatever the arrangement you and your contractor make, never pay in full before the job is finished. It's also smart to avoid paying with cash.
Bathroom Contractor Licensing
Although a license isn't always needed for minor repair work and painting, most states require general contractors to obtain a license. Even if your state doesn't have a licensing requirement, your city or town might. There is also no consensus on who issues these licenses, so you may have to ask around at your local government office. The term "remodeler" can mean different things to different people as well, and someone branded a "remodeler" may not need a license even if a contractor does, so be careful.
In Florida, for example, the Florida Department of Business and Professional Registration oversees contractor licensing. In Minnesota, the Department of Labor and Industry regulates the licenses. If a license is required, make sure that your contractor has one. Verify that the contractor holds liability insurance, workers' compensation insurance, and property damage insurance as well.
A good contractor will happily provide current references in addition to paperwork regarding his license and insurance, but that isn't enough. Homeowners get references but often skip checking them. After all, the pro isn't going to give you the name of an unhappy customer, right? You'll never know if you don't check. What references have to say may surprise you.
Once you've chosen a contractor, don't assume the contract with which they present to you is correct and then blindly sign it. Read it carefully and make sure everything in it is clear and is as you expect. Yes, it's a boring read, but it's also an important one. Make sure it covers all the details, including the proposed timeline for getting the job done and how he plans to rectify any work if you're not happy with it.