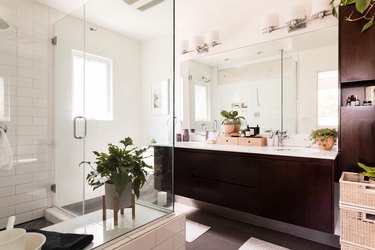 A major bathroom remodel is second only to kitchen remodeling in terms of complexity, cost (per square foot), and overall difficulty. This home improvement project involves most of the major trade specialties — plumbing, electrical, HVAC, cabinetry, tile, drywall, and painting — as well as the ability to fit all the elements into this tight space and make it look great while maintaining its functionality. In short, bathroom remodeling is not a job for the average DIYer.
If you're in the HIY (hire-it-yourself) majority, you've come to the right place. Finding a good general contractor for a bathroom remodel may seem daunting to most homeowners, and there are plenty of opportunities to make mistakes. But if you follow some time-tested rules and develop a clear picture of what you want, you're sure to find a top-notch bathroom contractor (or remodeling company) who can meet your needs — and at a fair price.
Here are 10 tips to finding and hiring a bathroom remodeling contractor who will help make your renovation dreams come true.
Finding the right contractor starts with focused research. Look for contractors in your area who specialize in bathroom remodeling, and check their websites, social media pages, and reviews. Look for information about their years of experience, licensure, insurance, and relevant industry certifications. If they do have some negative reviews or official complaints, find out what the complaints involved and how any related problems were resolved.
Finally, ask if the contractor has a showroom or completed projects to demonstrate their work quality, the level of bathroom renovations they've done, and their personal style. Just because someone is experienced doesn't necessarily mean they're a good fit for you.
Bathroom Remodeling Contractor Certification
Certification in the remodeling industry is not the same thing as licensure, which is typically required by law. Bathroom remodeling contractors may opt to receive certification from professional organizations like the National Association of the Remodeling Industry (NARI). NARI offers a Certified Kitchen and Bath Remodeler (CKBR) program and awards certification for professionals who meet its business requirements and complete its training program and certification test.
While certifications can signify a commitment to upholding industry standards and a minimum level of experience and expertise, they are no guarantee of great work quality or professionalism.
Often the best way to find the right bathroom remodeling contractor is to ask for referrals from friends, family, and neighbors who have recently remodeled their bathrooms. In addition to getting access to the contractor's work in person, you can ask the customers about their experience with the contractor they hired and whether or not they would recommend them.
Here are some key questions to ask the contractor's former clients:
Did the contractor listen to you and follow through on your wishes?
Was the contractor punctual? Did they show up when promised and notify you when they couldn't?
Was the contractor easy to reach when they weren't working in your home?
Were the contractor and all subcontractors respectful of your home and property?
Was the work completed on time, per the contract, and within the budget? If not, what issues were involved and how were they resolved?
3. Check for Licensure and a Clean Background
Before you hire a contractor, make sure they have the appropriate licenses required by your state or local authority. Even if the contractor's website or business card says they are licensed, it's a good idea to verify that the contractor license is valid through the local licensing board or on your state's website. Here's an example from New York State.
Remodeling contractor Martin Flores and his spouse and business partner, Ediza Flores-Cordova, of Innovation Contractors LLC in New Jersey, advised us: "If you can, hire locally licensed contractors when possible, as they are more likely to be familiar with building codes and required permits in your area."
Also check the contractor's background for complaints or other grievances filed against them. You can do this through the Better Business Bureau (BBB) or contractor referral services they belong to, or the relevant licensing board. Pay attention to the nature of the complaints and how they were resolved. Not all problems are the contractor's fault, and complaints come with the territory, but it's important that contractors try to resolve issues fairly. A contractor ignoring complaints is a big red flag.
4. Look for Direct Experience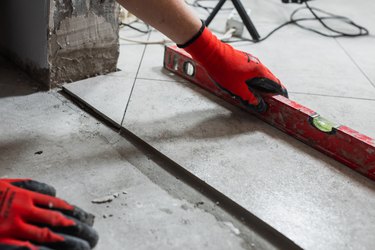 It's important to choose a bathroom remodeling contractor with experience in the type of project you have in mind. Whether you want a full bathroom remodel or just want to update the fixtures and faucets, look for contractors who have completed similar projects in the past.
An experienced contractor will be able to advise you on the best options for your bathroom space and should be honest about whether or not your plans are realistic in terms of timing and budget. If it seems like they're cutting you too many deals, chances are they'll try to meet those expectations by cutting corners.
5. Verify Insurance and Warranty
Before you hire a contractor for a bathroom remodel, ask about their insurance and warranty policies. Make sure they have liability insurance and workers' compensation insurance in case of accidents or injuries on the job. Ask about their warranty policy for their work, materials, and fixtures to ensure that you are protected in case of defects or issues with the work performed. Flores-Cordova adds, "Feel free to ask the contractor about the specific insurance, which should include the name of the insurance company, policy number, and policy limits."
Flores-Cordova recommends taking pictures and videos before, during, and after the job is complete in case you need them. Hopefully, you won't, and they'll just be a fun reminder of what came before your new bathroom!
Bathroom Remodeling Contracts
Warranty coverage and other project details should be clearly outlined in a written contract signed by you and the contractor. The contract should also include:
A detailed description of the scope of work to be done, including permit requirements
All materials used and fixtures installed and which party will obtain/purchase them
A complete work schedule, including and start and end dates
Plans for changes and how they should be reported and completed
Project costs in an itemized list
A detailed payment schedule and work that must be done or requirements met before each payment is made
Lien protection, as applicable
Read through the contract carefully. For a large project, you may want to have a lawyer read the contract before you sign it. Never agree to terms or make any payment without a signed contract!
6. Ask About Subcontractors
Some bathroom remodeling contractors and companies use subcontractors for specific aspects of the project, such as plumbing, electrical work, tile, painting, or cabinetry. Ask if the contractor you are considering uses subcontractors and whether those contractors are licensed and insured. You want to ensure that all subcontractors working on your bathroom remodel are just as qualified and reliable as your main contractor. Verify that the contractor is responsible for the work and actions of all subcontractors.
7. Discuss Project Management and Communication
It's important to hire a contractor who communicates effectively and manages the project well. Ask about their project management process, including how they handle changes, delays, and unexpected issues. Look for contractors who are responsive to your questions and concerns and who provide regular updates on the progress of your bathroom remodeling project. Handshakes or emails aren't enough to seal the deal.
Flores-Cordova says, "Get everything in writing before work begins, and make sure that contract is clear. Before signing anything, ask for the cancellation clauses in writing while keeping an eye out for penalties and reimbursement of any money if and when applicable," she says.
She adds that you should always anticipate delays due to weather, inspections, and materials not being available/supply chain issues.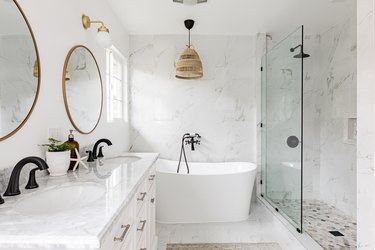 An experienced bathroom remodeling contractor should be able to provide ideas and recommendations based on your preferences and budget, but this may or may not meet your design needs.
For a small project or one that involves minor layout or other interior design changes, you and/or your contractor may be able to handle the design. But major renovations usually benefit from professional design expertise. Often, this comes from a bathroom designer or through working with a design/build firm, which handles all design and construction.
The important thing is to address design decisions up front. Don't rely on your contractor to choose your shower tile or vanity cabinets, and don't wait until work has begun before selecting your materials and fixtures.
If you decide that you need professional design help, spend some time on the website of the National Kitchen and Bath Association (NKBA), the leading professional organization of kitchen and bath designers.This is a good place to learn about bathroom design basics, bathroom designer certification, and how to find local designers for your project.
Before you hire a bathroom remodeling contractor, get quotes from at least three different pros. Compare the quotes to see which contractor offers the best value for your money. Remember that the cheapest quote is not always the best option, and neither is the most expensive or the most middle-ground. Be willing to pay a little more if you have a good gut feeling about that contractor and they come with solid referrals. Your final decision may require being a little open-minded with your budget and also realistic.
Tip
Marc Damsky, a homeowner with experience working with renovation contractors, offered these tips: "I believe that some good advice is that it generally takes 10% higher and 10% longer than your initial budget to get the job done. That's always for the renovation and construction, but then add another 5% for small decisions, like fixtures, cabinets, countertops, accessories, design, tiles, etc. Ultimately, the decisions that I made to spend less I kind of regretted, and the ones that I decided to spend a little more I was very pleased with."
10. Pay According to a Schedule
All payments to a contractor should follow the schedule outlined in the project contract. Contractors typically ask for 10% to 30% of the total project cost as a deposit or down payment. This payment is made when the contract is singed and before work begins. Scheduled payments are also commonly made at the following stages:
Work begins
Plumbing and electrical rough-in and drywalling are completed
Installation of major elements, such as plumbing fixtures and cabinetry
Work is completed
Final payment
Martin Flores offers this advice: "Some contractors may ask [for] as high as 50% up front, but the payment schedule can be different depending on the agreement. Regardless, the final payment should only be given once the work is completed, after all final inspections are done, and both parties are satisfied. Never give any payments [in] cash. Any changes to the contract must be done in writing, too. Make sure all parties sign the contract including and changes made to the original contract. Don't sign a contract with blank sections, either!"