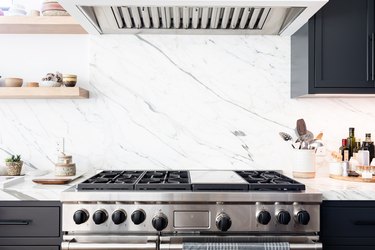 If you're remodeling your kitchen or are simply looking to upgrade appliances, there's a good chance you've spent some time considering kitchen ranges. After all, whether you enjoy entertaining a group, or cooking for one, food is an indispensable part of life.
Many people who are accustomed to a traditional kitchen range don't consider that the oven and stovetop don't need to be an all-in-one appliance. In fact, many homes are better suited to having a separate cooktop and a wall oven or two. If you're trying to decide if you would be better off with a new kitchen range or a wall oven and cooktop, you'll want to look at your kitchen layout and weigh the pros of each of these appliances before finalizing your plans.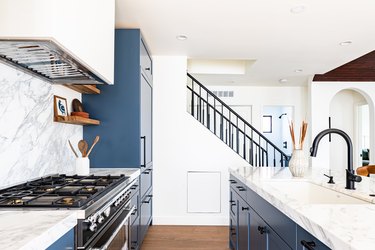 Since not everyone is aware of how a range differs from a wall oven or stand-alone cooktop, it's worth clarifying that a range is a multifunctional appliance with a stovetop and oven in one. There are many different types of ranges available, including:
A drop-in range that has no bottom storage drawer or separate broiler and fits directly into the cabinetry.


A slide-in range where the range is designed to go between two cabinets. The top is slightly larger than the oven so it can overlap the countertop, making cleaning easier.


A free-standing range that has finished sides so it can slide between cabinets or be installed at the end of a cabinet run. These do not have a top that overlaps the countertops, so cleaning can be more of a challenge.
Range controls can be located either on the front or top of the stove or built into a backguard. Aside from the aesthetics of having your backsplash partially obstructed, having all rear controls can sometimes be dangerous, as this design requires you to reach over hot pans of food to use them, which poses a potential burn risk.
Benefits of a Kitchen Range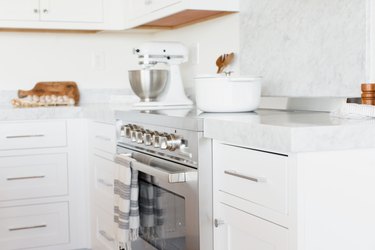 When trying to decide if a range is right for you, it's important to know exactly what you're getting yourself into. There are actually quite a few benefits that might make your decision easier.
Ranges come in a variety of sizes, colors, and finishes, making them both a decorative ​and​ functional purchase.
If your cook space needs a focal point or added contrast, an eye-catching range can ground it in a way that separate wall ovens and a cooktop just won't.
Ranges impart the appearance of a restaurant-grade kitchen which is important to some people.
Aside from their good looks, ranges are also better suited for spatially challenged kitchens. An oven and cooktop combo takes up less real estate than splitting them up into separate units.
There's virtually no distance from the stovetop to the oven which can be a real boon for avid cooks who transfer dishes from one to the other frequently.
Generally, an electric range is less expensive than its gas counterpart. According to NerdWallet, you should expect to pay anywhere from $380 to $1,800 for electric, and $400 to $2,100 for a gas range. For comparison, the price of a single wall oven often starts at $700, and a quality double oven may cost $3,000 or more. A wall oven will need to be paired with a cooktop, and these can start at $500 for electric models and more than $2,000 for an induction cooktop.
Benefits of a Wall Oven and Separate Cooktop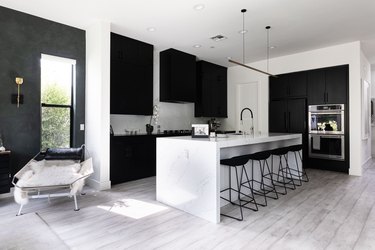 According to Consumer Reports, ranges don't provide nearly the same flexibility and convenience of a separate cooktop and oven. Some of the many benefits of having these two kitchen appliances apart from one another include:
They cut down on congestion in busy kitchens, particularly if you have more than one cook in the house. One person can use the stove while another uses the oven without getting in each other's way.


It's more ergonomic since wall ovens tend to be higher up than those on ranges. This can reduce back strain and reduce the likelihood that you'll drop a heavy dish full of hot food since you just have to turn to place it on the counter rather than lift it up and out of the oven.


If the cooktop is on a kitchen island, it will make it easier to socialize with your guests while cooking. It's worth mentioning that stovetops on islands should ideally feature induction burners — they are the safest option since they aren't hot to the touch.


You will have more design options. While a range requires the entire unit to be fit into one solid box, a cooktop can be set into your counters themselves, making for a more seamless look.


Increased oven space. While it's possible to find a double oven for your range — so you can cook multiple dishes at different temperatures simultaneously — one of these ovens will almost always be smaller than the other. With a double wall oven, you can actually increase your oven space.


Those who want two ovens don't need to add extra burners. On the other hand, those who desire extra burners don't necessarily need additional oven space. Similarly, many people prefer cooking with a gas range and an electric oven, which is easy to do with two separate appliances. Finding a dual-fuel range can be difficult, and these are often prohibitively expensive.
Layout Considerations for Wall Ovens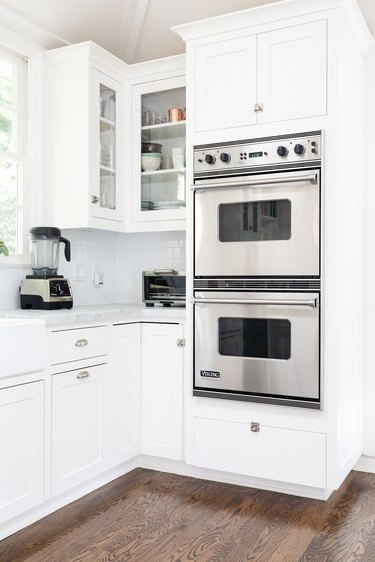 While not necessarily a pro or con of either option, it's important to consider your layout if you plan on installing a wall oven and a cooktop. While you can have more flexibility when it comes to design since your stovetop and oven can be set in separate areas, it's important to keep the kitchen workflow in mind. Most kitchen designers adhere to a design rule known as the "kitchen triangle." This rule states that the space between your range, refrigerator, and sink should form a triangle, with each leg measuring between four and nine feet and the sum of all sides being no more than 26 feet long. Also, kitchen islands should never intersect any leg by more than 12 inches.
When working with a separate oven and cooktop, the kitchen island rule should apply to the stovetop — but the oven should still be located within two to three feet of the cooktop — to ensure the kitchen is as functional as possible.
It's also worth recognizing that wall ovens require you to sacrifice counter space, which means ranges are generally a better option for those with small kitchens with limited workspace.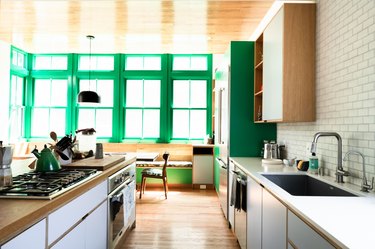 The cost of your kitchen appliances isn't the only expense you'll need to factor into your budget. Depending on which option you decide to go with, you'll also need to hire an electrician or plumber to move the gas or electric lines, and you'll need to rework your cabinets and countertops to accommodate the oven and the cooktop. Additionally, you'll need to add a range hood over the stovetop as well. Combined, these elements can add thousands to the installation price. While those who are already doing a full remodel or designing a new kitchen may not need to concern themselves with the expense of changing the layout, the costs of moving the hood and gas or electric lines can still add up.
Choosing the Right Option for Your Kitchen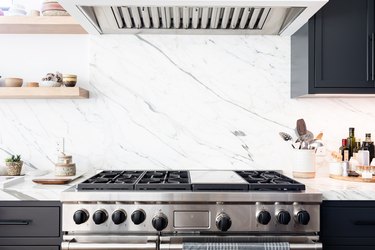 There's no single answer when it comes to whether a range or a separate oven and cooktop is better for your kitchen design. Ultimately, you'll need to take your budget, layout, and culinary needs into consideration. If you're on a tight budget, a range is almost always your best bet. If you're more concerned about making your kitchen as functional as possible, a separate oven and cooktop might be worth considering. Even then, if you have the space to make the layout work comfortably, you might find that a range is still the best option.