One benefit is that you can cook dinner while your family and friends take a seat around the island, turning your culinary space into a social hub. Also, if you fancy yourself a gourmet chef, a second cooktop in your kitchen will allow you to cook a lot of things simultaneously. However, your island will need to be super spacious to accommodate a stove. Also, if things boil over or gush, you won't have a handy backsplash to protect from stains. Instead, the liquid may end up on your countertop and any surrounding decor.
Now that we've given you some things to think about, these kitchen islands with stoves will give you even more to ponder.
1. Make it a seamless part of the design.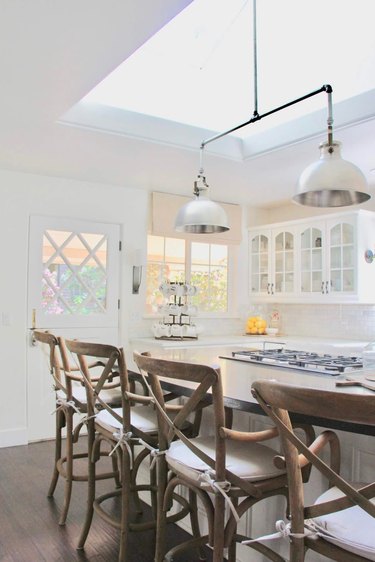 A stovetop in your island shouldn't overwhelm the entire countertop or the aesthetics of your space. For instance, in this kitchen belonging to Melaine of My Sweet Savannah, the stovetop is quiet and seamless among the other design details.
2. Pull up a seat (or three).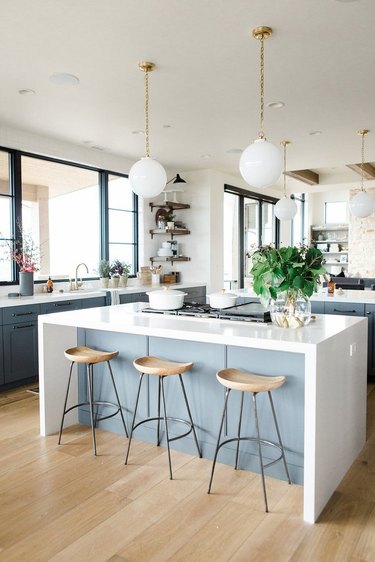 Opting for a kitchen island with a stove is an ideal choice if you want to foster a social vibe in your kitchen. Complete the setup by adding some stylish counter stools like Shea of Studio McGee did in this airy cook space. We love the combination of the light blue back panel, white waterfall countertop, and modern stools.
3. Mirror the hardware.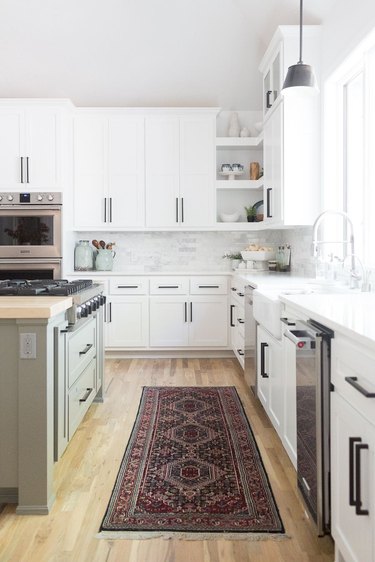 Just because a stove features large, metal burners doesn't mean it can't emulate the visuals in the rest of your kitchen. When CC + Mike added a stove to their kitchen island, they carried the look through with complementary black cabinet pulls.
4. For a minimal look, try a smooth top instead.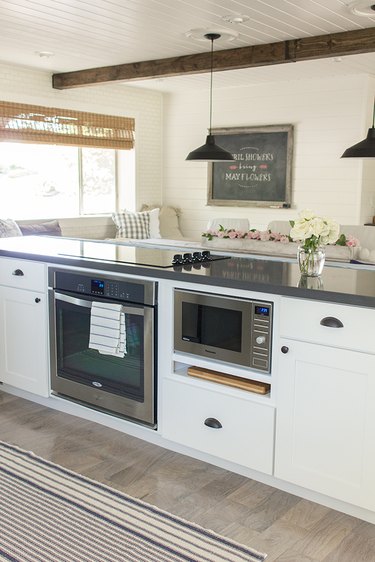 Maybe you believe that traditional burners will be too much for a kitchen island stove. In this case, opt for a smooth top to keep everything looking clean and polished. That's what Jenna of Jenna Sue Design Co. did when she designed this cook space.
5. Juxtapose black and white.
Kitchen island ideas can feature nearly every color of the rainbow these days, and any material you desire, too. For a kitchen island with a stove, we're partial to this high contrast look designed by Amber of Amber Interiors: a white waterfall marble top paired with a black cooktop immediately creates visual interest.
6. Create streamlined visuals.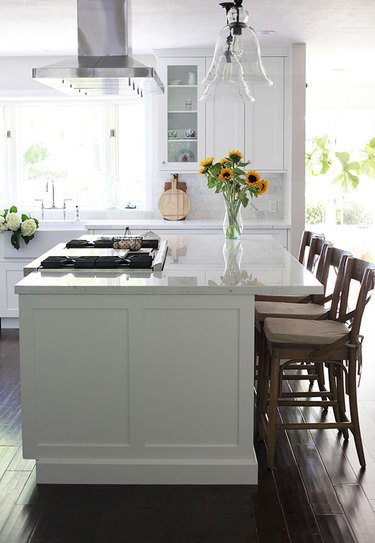 7. Don't forget about storage.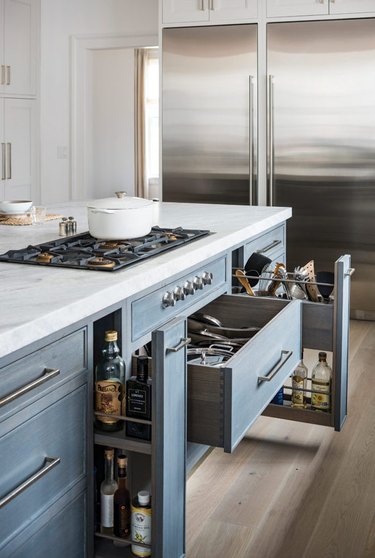 If you have a kitchen island with a stove, you should seriously consider storage that's within reach. It'll make things that much easier as you whip up your culinary masterpieces. In this space designed by Sarah of Studio Dearborn, drawers in varying shapes and sizes are at the ready and filled with cooking must-haves.