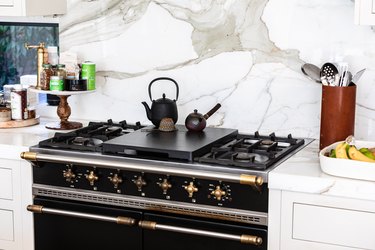 There are so many options out there when it comes to stove shopping so it's completely understandable if your head feels like it's spinning. As you weigh the choices during your kitchen renovation, here's one to zero in on: a gas stove with an electric oven.
Gas stoves have been around for a long, long time — over 200 years, actually. They're fueled by combustible gas and are outfitted with burners in which you can control the heat, turning up the flame as high or low as you prefer.
Electric ovens, on the other hand, are definitely a newer technology. They rely upon a heating element inside (typically at the bottom) to create heat within the oven. Some options also have a heating element at the top, otherwise known as the broiler.
The nice thing is that if you want the best of both worlds, you can purchase a gas stove with an electric oven, something that comes with plenty of benefits. Read on.
If you're sticking to an eco-friendly approach for your kitchen, you'll be pleased to know that a gas stove with an electric oven is an environmental pick. For the gas stove, you'll use the ideal amount of heat to cook your food. And in an electric oven, the temperature is consistent, so you won't need to open up the door, turn your food over, and let all of the heat escape.
2. It's good to your wallet.
When purchasing a solely electric stove and oven, you might see your electricity bill go up. One perk of buying a gas stove with an electric oven is that gas is cheaper than electricity, so you might save a little dough — no pun intended.
3. It'll provide better control.
As mentioned, a gas stove uses a spot-on amount of heat since you're the one controlling it. An electric oven also exemplifies a great deal of control as well, which means you'll have consistency no matter what you're cooking.
4. It'll add value to your home.
People in the market to buy a home typically gravitate toward dual ranges because they have lots of great features, and that translates to an attractive selling point for prospective buyers.
5. It's known for being tough and durable.
A gas stove with an electric oven typically incorporates cast iron grates, a porcelain interior, and stainless steel exterior — three materials that are definitely in it for the long haul.