Broiling in an electric stove is a quick way to prepare food, especially steaks, chops and fish, which require little cooking time. Unlike an outdoor grill that heats from below, an electric oven's broiler element heats from above at high temperatures. The meat rests on a broiler pan, which has corrugated edges and slots to catch drippings and keep the stove clean. Some smoking might occur as a natural by-product of broiling, so proper ventilation is necessary.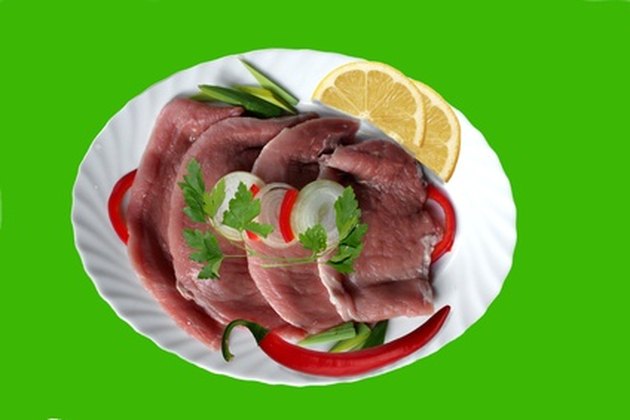 Step 1
Turn on the stove to preheat it by dialing the control knob or pressing the "On" button, depending on the stove model, then set the thermostat to "Broil." Preheat the oven for 10 minutes or until the indicator light comes on the control panel, if the stove is so equipped.
Step 2
Assemble the two parts of the broiler pan by placing the metal cooking grate with the angled slits on top of the pan.
Step 3
Place food, such as steaks, on the cooking grate and season the meat, if desired.
Step 4
Place the broiler pan with the steaks inside the stove on the top metal shelf and close the door.
Step 5
Broil the steaks for eight minutes, then flip them over with the tongs and broil an additional eight minutes on the other side for medium-rare steaks cut 1 inch thick. Broiling times will be less for foods such as fish (about five minutes per side for boneless fillets), or thinner cuts of steak.
Step 6
Remove the steaks and broiler pan from the oven and let the meat sit for five minutes before serving so the juices can settle.