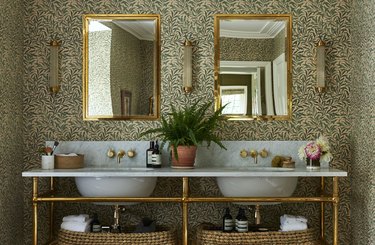 But perhaps the best part about arts and crafts design is that it's less focused on a rigid sense of style, and more attracted to a design philosophy. While many homes showcasing this aesthetic have a traditional vibe, the arts and craft movement leaves room to make it your own, whether that means sticking exclusively to natural elements, exploring color, or sprinkling in a touch of luxury.
1. Opt for brass hardware.
Nina Farmer Interiors adds a hint of luxury and glam to this arts and crafts bathroom thanks to brass hardware that acts as the jewelry of this space. To bring the look into your personal sanctuary, add depth and contrast with a dark painted vanity cabinet and colored subway tile, rather than traditional white.
2. Juxtapose modern amenities with traditional beadboard.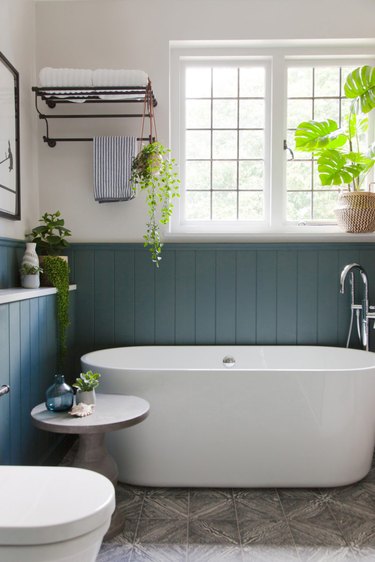 The painted beadboard in this arts and crafts bathroom designed by 2LG Studio is the perfect antidote to the modern freestanding tub, allowing the space to feel true to its traditional roots without feeling dated. Pro tip: Paint your beadboard in a contrasting color to further emphasize the architectural detail.
3. Make a statement with bold wallpaper.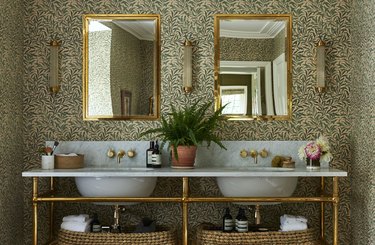 While arts and crafts homes are typically kept clean and simple, we love this departure to a more maximalist design by Ben Pentreath. The dynamic botanical wallpaper print manages to still feel grounded thanks to the traditional console vanity and brass fixtures.
4. Make wood tones a main feature.
Wood trim and wood built-ins are a common feature of many arts and crafts style homes, which makes this striking wood vanity in Jessica Helgerson's NW Johnston Street project feel all the more appropriate. The masculine and natural finish paired with feminine lines and brass hardware offer an ideal balance. Opt for a console sink with exposed plumbing to maintain an airy look in a small space.
5. Use vintage-inspired lighting.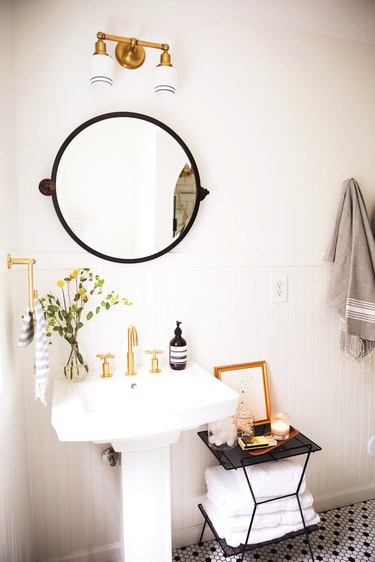 6. Give a nod to tradition with vintage tile.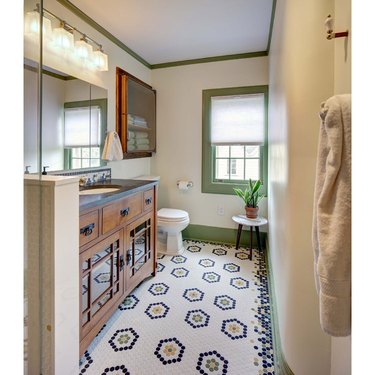 This arts and crafts bathroom designed by Tracey Stephens stays true to classic craftsman design with a wood vanity and vintage hex tile. To seamlessly tie in the colorful mosaic pattern, take a page from her book and match the paint for your wall trim to a color from your flooring. Just be sure to keep the walls neutral so they don't compete with one another.
7. Use painted wainscoting to add contrast and color.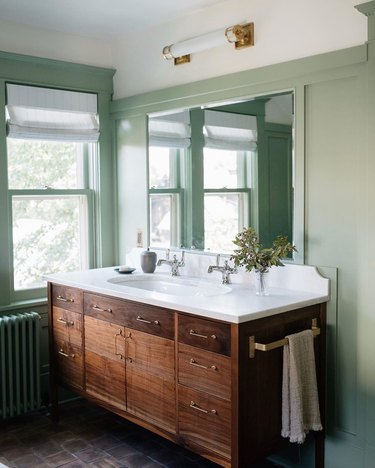 It's no secret that tall wainscoting is a popular feature in arts and craft homes, but Victoria from Prospect Refuge Studio upped the ante with a pop of color in this relaxing bathroom, and we're here for it. To recreate this look, mix in earthy textures — like a stone floor and wood vanity — for plenty of charm and added depth.