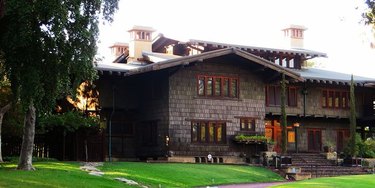 If you spend a lot of your time taking inspiration from vintage interiors and architecture, you're probably familiar with quite a few styles that have left behind a legacy. Take, for example, the Craftsman style, which definitely fits into the current popularity of modern farmhouse style. But Craftsman really calls back to the arts and crafts movement. So what's the major difference between arts and crafts versus Craftsman? Here's a quick look at what separates the two (equally stunning) styles.
For starters, the arts and crafts movement dates back to late 1800s Britain. During this time, "anxieties about industrial life fueled a positive revaluation of handcraftsmanship," writes Monica Obniski, Independent Scholar, for the Metropolitan Museum of Art. William Morris led the charge on this philosophy, putting the focus on makers. He not only make an impact as a thinker but as a creator himself. In the 1870s, his interiors company Morris, Marshall, Faulkner & Co. produced everything from textiles and wallpaper. In 1887, the movement got its official name, followed by an exhibition the following year.
Around the 1890s, the movement started spreading to the U.S., mostly through writings in newspaper and journals. Boston made history in 1897 as the first city in the U.S. to have a Society of Arts and Crafts. This continued the British movement's emphasis on supporting makers.
But as a term, arts and crafts really doesn't refer to a specific style. It comes down more particularly to a view of aesthetics and a philosophy of design. Craftsman, on the other hand, can definitely be defined as a more specific look.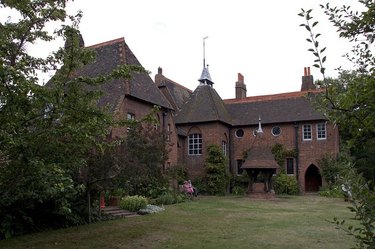 Designer Gustav Stickley is largely credited with setting up the major elements of Craftsman style and helping it gain popularity. As the publisher of the magazine The Craftsman — which operated from 1901 to 1916 — he influenced the definition of the ideal home. In the pages of The Craftsman, enthusiasts could find plenty of information for building their own stylish house. Primarily, the magazine included specific plans for one- and two-floor Craftsman homes. So the late 1800s ethos of arts and crafts made its way into early 1900s American Craftsman design and architecture — but they're not necessarily the same thing. You could technically incorporate the arts and crafts movement attitude into any home — with an emphasis on the handmade, natural materials, and simplicity — but Craftsman homes stand out for their specific characteristics. The major features of Craftsman homes — overhanging eaves, exposed wood, and front porches — often make them easily distinguishable from a distance.
William Morris' Red House, designed by Philip Webb, is an actual example of an arts and crafts home. It includes stained glass and metal work, things you likely wouldn't find in Craftsman homes. The Red House also put an emphasis on the outdoors; these houses' design was also meant to fit into natural surroundings without changing anything.
Craftsman, on the other hand, is often associated with the bungalow — and you can find these in plenty of major cities. In The Craftsman, Charles Alma Byers writes that the Craftsman bungalow is "definitely designed for a home that is both attractive and inexpensive." And while its interior might still include traditional features like wainscoting, many of today's Craftsman homes incorporate more modern decor.
The history of the arts and crafts movement definitely sheds light on how architecture and design in the early 1900s unfolded in the U.S. in certain areas. But Craftsman style refers to an American look that has been modernized in some way (like the modern farmhouse vibe, as we mentioned), while the arts and crafts movement originated with British thinkers and leans more towards the traditional. The two styles remain important and significant today, especially for anyone interested in a more simple, handcrafted living space.