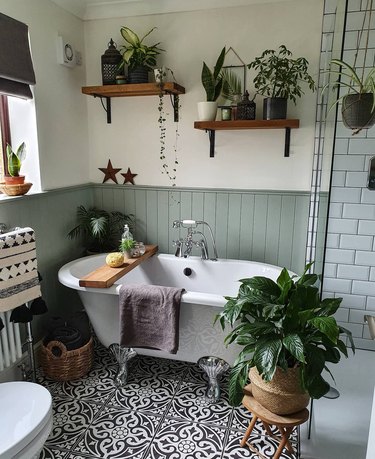 Bathrooms + bold design = a match made in decorating heaven. In fact, there's no better place to push the style envelope than a washroom because the limited footprint lets you go wild with patterns and colors without overwhelming your eyes.
Whether you prefer vibrant wallpaper, funky tiles, or a courageous color, here are nine ways to design a maximalist bathroom. Minimalists, beware: You just might be converted.
1. Experiment with florals.
Floral wallpaper is a classic, but this bathroom designed by Black Lacquer Design is less sweet and more punk. Glossy black subway tiles complement the crazy colorful design, as does a small brass mirror and white pendant light.
2. Non-committal? Pick a patterned shower curtain.
If you're apprehensive about committing to a totally bold look, a low-risk way to embrace a maximalist bathroom is to choose a patterned shower curtain. One like this Soleil option from the Jungalow would look stunning in a teal space or a white one. It's a take on a classic suzani fabric, which offers a big pow with minimal effort.
3. Turn your bathroom into a plant oasis.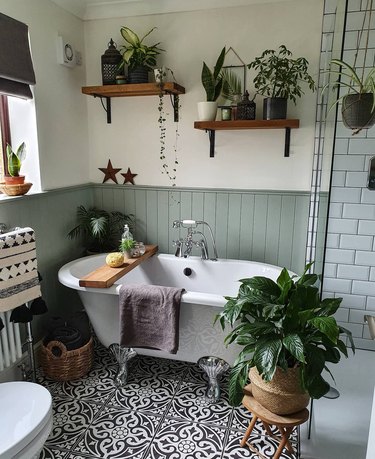 4. Use tiles to make a mosaic.
A maximalist white bathroom? It can be done. Ask Tonya Papanikolov of The Well Woman, who took an otherwise minimalist space and tiled on and around her bathtub for a mosaic design that's reminiscent of embroidery. She proves that it's possible to design a simple and ornate space.
5. Embrace bold with black paint.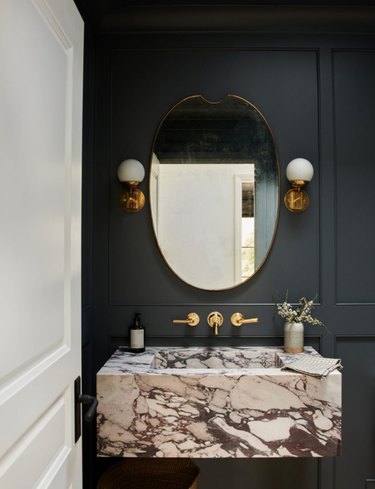 If there's ever a place that's perfect for black paint, it's a bathroom. With a couple of quick coats, you can make a big impact in a small space. Here, designer Amber Lewis paired black walls with a marble sink and sleek gold accents for an elegant maximalist design guests will probably clamor to see.
6. Go wild with jungle-themed wallpaper.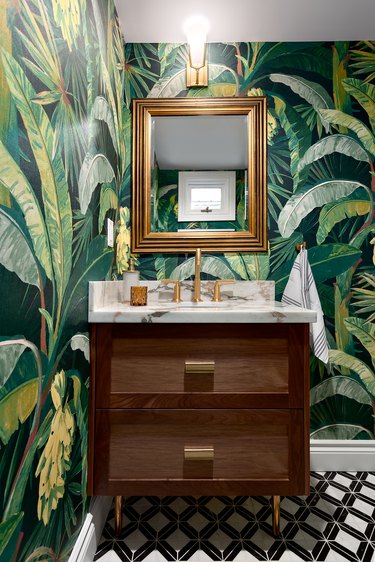 If you have a taste for the exotic, showcase a nature-themed wallpaper in your maximalist bathroom. Think animal prints, oversized botanical patterns, or jungle creatures. Here, Karin Bohn of House of Bohn paired this leafy design (can you spy the bunches of bananas?) with black and white tiles and gold fixtures.
7. Commit to a floor-to-ceiling monochromatic color.
8. Personalize the space with a hand-painted mural.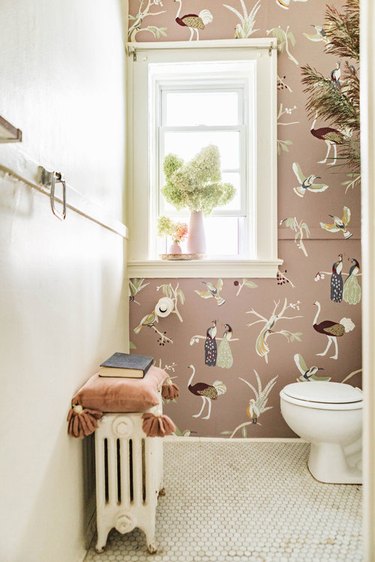 For a truly one-of-a-kind maximalist bathroom, enlist Minneapolis-based artist duo She She. They design custom and hand-painted wall art. And their murals can turn your favorite flowers, birds, or inside jokes into a unique bathroom wallpaper. Combine the vibrant wall art with statement-making tile.
9. Add tile to the whole wall.
And we're not just talking in the shower. Design firm Metal + Petal went wild in this bathroom, tiling the entire wall behind the sink to create a pattern-happy space. Touches of gold from the floating sink, towel holder, and light fixtures pick up the sunshine yellow in the tile.