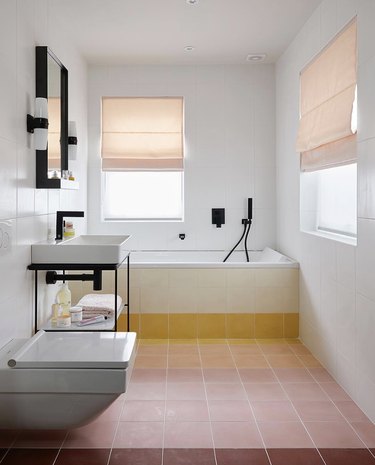 One thing every bathroom should be is clean. That's why minimalist bathrooms are so appealing. They have clean lines, clean countertops, and perfectly organized storage solutions. You don't just get clean in a minimalist washroom; your mind feels decluttered, too. Plus, even in small bathrooms, everything's simple and highly functional. Who doesn't want that?
We have no problem with maximalism in other areas of the home, though. Load up on tchotchkes in your living rooms and bedrooms. Layer in the personality. Some of the most calming bathroom interiors, however, are minimal with a touch of Scandinavian. There's no unnecessary furniture or excess decor — nothing to detract from your morning ritual or nightly relaxation. But how do you transition to a minimalist bathroom once you're ready to begin the interior purge?
Here are eight gorgeous ways to turn your washroom into a minimalist oasis.
1. Skip the shower door.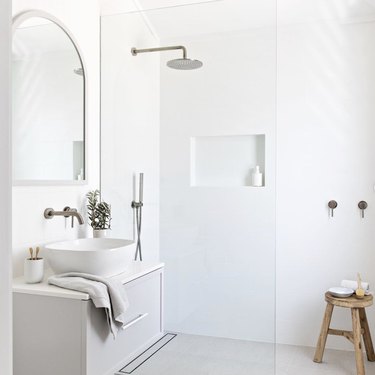 A doorless walk-in shower is a minimalist's dream. Typically, though, they only appear in luxurious, modern bathrooms because they're custom-built. But you don't have to give up on a similar look if you can't afford to splurge. Opt for a completely clear shower curtain while you save up. And in the meantime, use natural elements like weathered stools and plants that thrive in the bathroom to soften the space.
2. Keep it black and white.
Behold, the wet room — a triumph of function, form, and good feng shui. You can skip the tub in your own minimalist bathroom to create a lot more room. In this project in particular, the strong black accents on the mirrors, towel bars, and faucets create a striking visual when paired with all the negative white space.
3. Go with a floating vanity.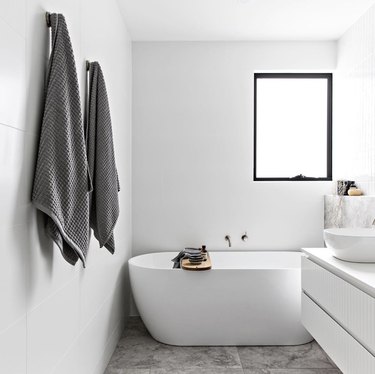 The floating vanity is another hallmark of minimalist bathroom design. In small areas, especially, a raised vanity gives the impression of more space and lets other design choices shine. Take this simple bathroom. It's accented with little more than a wooden bath tray, fluffy towels, and the marble floor. The room, however, is still completely impactful; just look at the standalone tub.
4. Highlight the period details.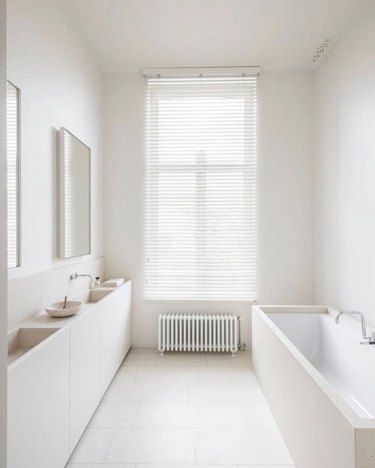 You don't have to strip all of the period elements from a room to make it minimalist. In this bathroom from Belgian architect Hans Verstuyft, the painted white radiator becomes a focal point. Everything else in the all-white bathroom — from the encased bathtub to the storage — is streamlined. But the vintage and modern coexist.
5. Embrace a little warmth.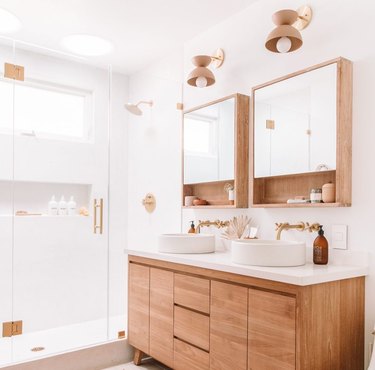 Minimalism can sometimes be associated with cold or masculine design, but your space doesn't have to be completely bare. Add in subtle texture to keep your minimalist bathroom from feeling sterile. You can even have a wooden, Scandinavian-inspired vanity and brass fittings. Just keep the space uncluttered, and keep your decor to a minimum.
6. Add pops of color.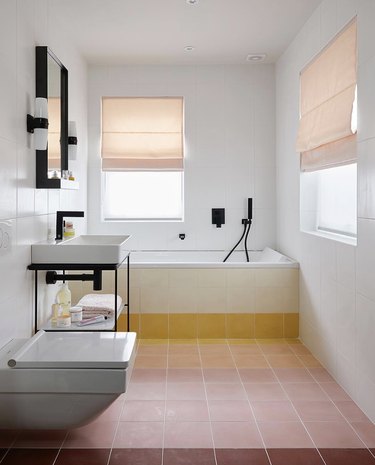 Minimal styles can incorporate color! The crisp lines and sparse decor in this minimalist bathroom by British designers Edwina Boase and Sophie Robinson become downright cheerful thanks to the ombre tiles. Restrict your color to one place, like the floor or a wall, if you choose to replicate this design.
7. Avoid white box syndrome.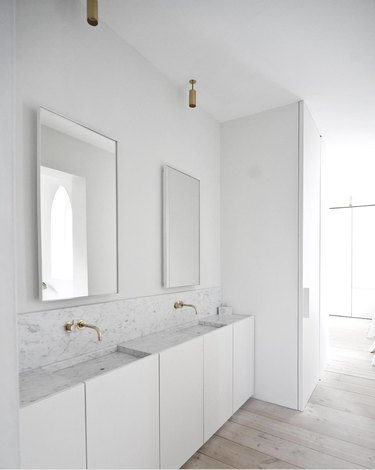 Even in minimalist bathrooms, you still want to avoid creating a room that looks like a plain box. That's why thoughtful touches — interesting fixtures, intentional wood floors — matter so much. This space shows how you can embrace the brass bathroom trend and refined marble countertops while still creating a calming and minimalist space.
8. Consider the gray area.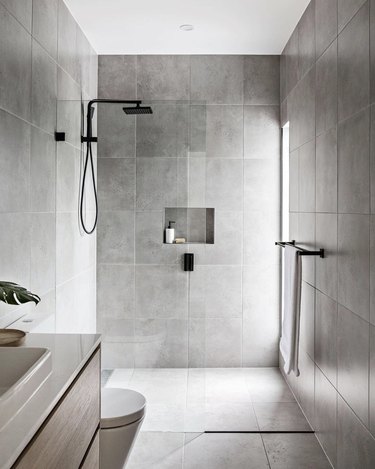 Want more proof that minimal doesn't have to equate to all-white? Here, in the Mandala Beach House, large gray tiles feel stark and moody at the same time. If you choose such a subtly impactful tile in your own bathroom, layer the same ones on the walls and floor. The cohesion will create a sort of cocoon you'll never want to leave. And you won't regret going with an open shower either.