"I just have too much bathroom storage!" said no one, ever. Bathroom real estate is a mighty commodity and one you just can't have enough of. If you're fortunate enough to design your loo from the ground up, you MIGHT have ample niches and drawers to suit all of your WC needs. Otherwise, you're likely looking for creative and stylish bathroom storage ideas. Good news: You've come to the right place, so read on!
Don't fight it ...
Why do you need to keep your bathroom organized? Of course you want to be able to find your favorite mascara in your mad morning dash to get ready, and if we've learned anything in the age of Marie Kondo, it's that being pared down and organized FEELS good and frees up mental space. But on top of all that, organization and cleanliness in the bathroom are paramount for hygienic reasons: expired medicine and makeup are always a "don't."
Where to start?
Before you begin organizing your space, you'll want to bid a guilt-free adieu to old lipsticks, mini bars of hotel soap you brought home from your last vacay, and all of the other various items you no longer need or use. There's really nothing quite like a clutter-free bathroom, so purge with abandon. This will make organizing much easier, give you a better sense of how much stuff you really have, and help you figure out if you need to purchase additional storage solutions. Assess your needs (do you have a lot of styling tools like curling irons, hair dryers, and brushes?) and your current storage options (have you been blessed with drawers, ample counter space, and built-in solutions?). No? Us either. So, you'll want to ensure you have plenty of baskets, trays, and apothecary jars. Now let the fun begin.
Consider your built-in storage options.
If you're embarking on a bathroom remodel, don't overlook spots with storage potential. If possible, add built-in niches to the walls next to your sink like designer Katie Martinez did in this space. Do the same for your shower to corral your shampoo, conditioner, and body wash. Additionally, if you have a floating vanity, add a shelf below it — it's a practical and attractive perch for baskets and extra towels.
Don't neglect your walls.
Add some furniture.
A built-in, or loose, piece of furniture can be a space-saver by occupying awkward real estate in a bathroom. Taylor Anne Interiors anchors an expansive wall in this narrow sanctuary with a floor-to-ceiling cabinet that's used to store towels and other self-care essentials. Plenty of drawers are perfect for keeping things within arm's reach but out of sight. We could go on and on about that incredible mosaic floor!
And speaking of drawers, abandon the junk drawer. Line your drawers with dividers for easy viewing and then sort your goods based on type and function. Remember: Everything in its place and a place for everything.
Last but not least, accessorize.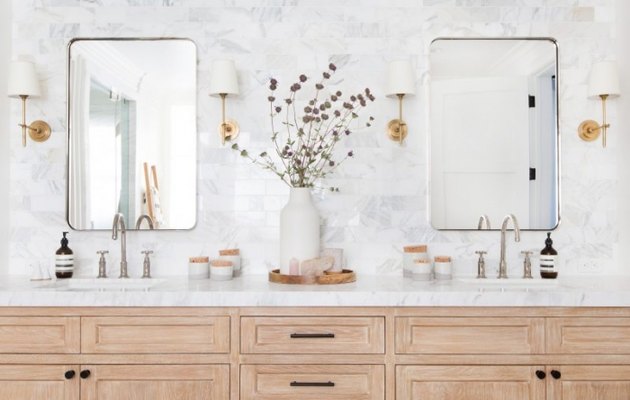 As far as we're concerned, there really isn't any clutter, in any room, that a tray can't bring some semblance of order and beauty to. Decorative trays of various sizes can do wonders in a bathroom, especially if you're short on drawer space. Add one to your countertop to organize lotions, potions, serums, and perfume, making their placement feel purposeful and organized. Add a small plant or vase, á la Amber Lewis of Amber Interior Design, for a welcome dose of greenery.
Stock up on baskets ... You can never have too many baskets. They're a workhorse item that bring texture and warmth to any interior design style. Use them under a vanity like Shea of Studio McGee does and stash towels, styling tools or extra toilet paper in them. Lidded baskets hide unsightly but necessary evils like dirty laundry.
Where to Shop for Bathroom Storage:
Their motto, "contain yourself," says it all. This is our go-to spot for bins, baskets, and drawer organizers. If it exists, the Container Store probably has it.
They have a comprehensive selection of on-trend bath accessories including jars and hampers at reasonable prices.
It's hard to beat the selection and prices at this outlet. Set aside ample time to browse their online inventory.