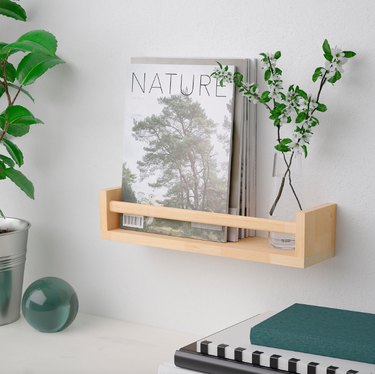 We will never cease to be amazed by the versatility of IKEA products — they seem to be infinitely hackable! One of our favorite items to modify is one of their simplest: the Bekvam spice rack (only $4.99 each). Yes, you can use it to store your spices, obviously. But it can be worked in so many other genius ways, from the nursery to your entryway.
1. By far the most popular hack? Installing several in a nursery to display children's books.
2. They also work well to house mini-succulents.
3. In fact, the racks can offer a great budget-friendly way to fill up a wall if you've got the plants and/or flowers to do it.
4. Mount the rack on its side, and it turns into a little rack with a shelf. Just enough room to hang a couple items on hangers, or a place for a towel or swimsuit to dry. Basically, a perfect idea for a guest room or vacation home.
5. Of course, there's no law preventing you from using an IKEA spice rack to just create a beautiful display.
6. If you're the nostalgic type and still have a huge collection of cassettes, turns out the Bekvam racks are the perfect size.
7. Of course, they are also pretty much perfect for storing makeup and skincare products as well. You can definitely create an artful display in a bathroom.
8. Rig them over a counter or stove, and you've got a place to stash lids and kitchen accessories.
9. Because the Bekvam is so easy to paint, you can make it look like a custom piece if you match it to a wall. Here it serves as a handy shelf for a changing table.
10. If you're crafty, they are just right for storing rolls of ribbons.
11. Speaking of crafts ...
12. Mount them on the back of a door to create a shoe rack for kid-sized kicks.
13. Put one near your front door to use as a place to stash keys and mail.
14. Here's another great kitchen idea: Use them to display pretty plates and cutting boards.