There's a reason why the IKEA Kura bed is incredibly popular: For $199, you get a piece that's perfect for a kids' room: the reversible bed that can become a bunk bed, loft, or basic bed in a matter of minutes. Its basic frame is a blank slate for any number of modifications, add-ons, and hacks. Whether you're a carpentry whiz or just want to deck out the aesthetic of the frame, here's a few Kura bed hacks that turn this boxy frame into something one-of-a-kind.
1. Upgrade the panels with wallpaper and add curtains.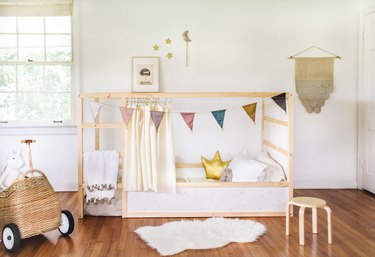 It's so easy to upgrade the plain white insert that comes standard with the Kura bed by adding leftover wallpaper. In this sweet makeover, Hunker contributor Trisha Sprouse used an adorable moons and stars print wallpaper for a dreamy vibe. The addition of cotton gauze curtains and a fabric flag garland will entice any child to hunker down in this cozy fort-like bed.
The problem with Kura beds is that the bottom mattress rests directly on the ground. This hack involves extending the bottom of the bed frame to create a pocket for the mattress to hide in. Create a rectangular wooden frame in the exact shape as the bottom of the bunk with a depth that matches or is slightly shallower than your mattress. Drill your new DIY frame into the bottom of the Kura frame, then sand, prime, and paint the new frame to match the bed frame. For full instructions, check out Lay Baby Lay.
3. Turn the loft into a playhouse.
We love this ingenious little "house bed." The Kura bed is built to completion with the addition of a three-sided house built around the loft portion of the Kura frame. The house is tall enough for a kid to stand in with windows for natural light to come through.
4. Fit a full-sized bed underneath.
Place the Kura bed parallel with the wall, and then insert a full-sized platform bed extending perpendicular from the wall and under the Kura loft. A flat platform bed without a headboard would work best. The IKEA Malm ($199) would also work because its headboard is so small.
5. Extend the frame past the loft.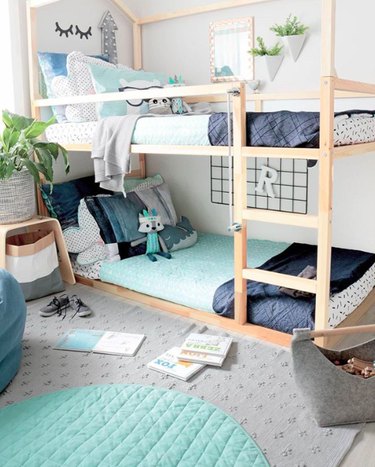 This image has spread like wildfire on Pinterest, but it's really a very simple add-on to the Kura bed. The side panels have been removed and the triangle house on top is built from standard two-inch thick pine you can get at any hardware store. The hand-rail on the ladder is a towel rack. More instructions on building this frame can be found here.