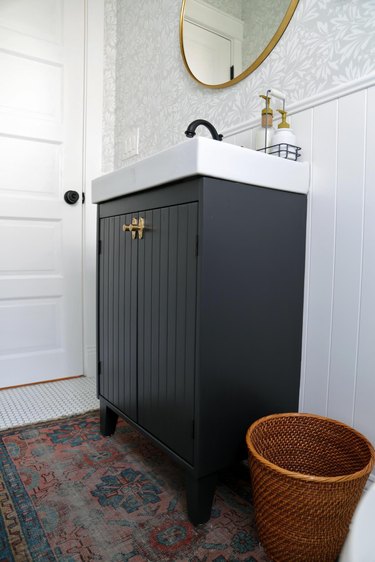 Let's be real: Ikea is like Disneyland for decor lovers — it even has the crowds to prove it. There's so much to discover and its prices are truly unbeatable. Since its designs are so simple, they make the ideal staples for your home and offer a great foundation for clever DIY projects. Enter ... these 11 brilliant Ikea hacks for your bathroom that are totally functional and will help you create extra storage (something every bathroom needs!) while enhancing your chic style.
1. Add extra storage space in small bathrooms.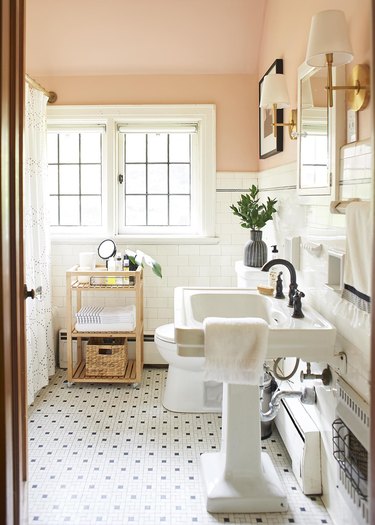 This rolling cart could be used anywhere in your home, but it makes great storage for small bathrooms that are lacking cabinets or counter space. Keep your daily essentials on the top shelf, stash extra hand towels for guests on the middle shelf, and keep back-up toilet paper handy in a woven bin on the bottom.
2. Organize your nail polishes with upgraded spice racks.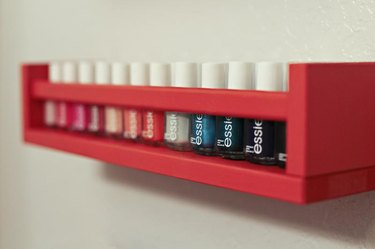 Get nail salon glamour at home by transforming this spice rack into a display for your ever-growing nail polish collection. Instead of cluttering up an entire drawer with your nail supplies, give this simple spice rack a coat of paint and hang it on your bathroom wall to keep your polish organized.
3. Turn a chest of drawers into a chic bathroom vanity.
Superfront wants to help you improve your Ikea furniture. This Swedish company makes the process easy by offering a one-stop shop for your hacking needs. From ultra-chic cabinet fronts, hardware, legs, countertops, sinks, and even faucets, you can get everything you need to turn a plain chest of drawers into a jaw-dropping bathroom vanity.
4. Turn a towel rack into decorative shelving.
Karianne from the blog Thistlewood Farms transformed this towel holder into an amazing leaning shelving unit for her bathroom, which adds a little bit of style and some extra storage.
5. Give a simple towel bar a high-end makeover.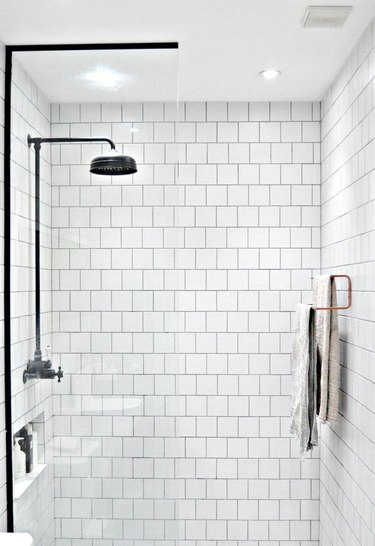 Update this simple towel bar with a coat of copper spray paint to achieve this high-end look. Then, install it in your shower to keep towels and washcloths on hand at all times. How fancy! See the DIY here.
6. Revamp a vanity to better suit your personal style.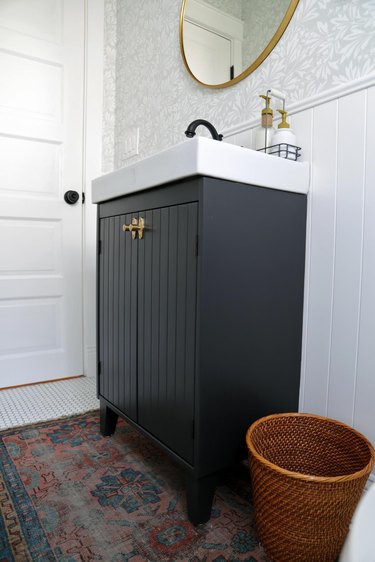 You'd never believe what this vanity looked like before Jules from the blog IKEAhackers got her hands on it. With a little paint, some new hardware, and a couple of tapered legs, this vanity went from rustic to uber-chic without even breaking a sweat (Okay, there might have been a little sweat involved.)
7. Breathe new life into a simple step stool.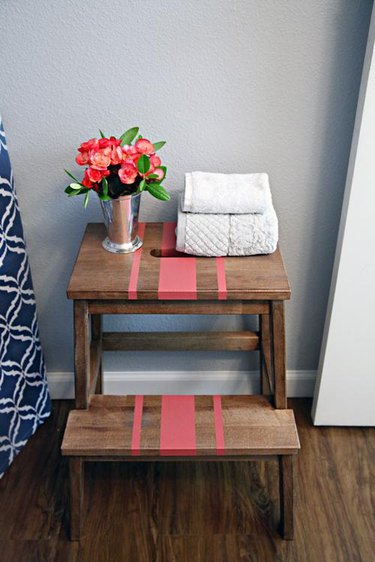 With just a few simple stripes, the this lucky step stool got a whole new look — not to mention a whole new purpose. Instead of using it as a step stool, Jen from the blog I Heart Organizing, uses it as convenient tub-side storage.
8. Use butcher block as a rustic bathroom countertop.
Bring a rustic, laid-back vibe to your DIY bathroom vanity with this butcher block countertop. Just cut it to size, carve out a hole for the sink, and install it on top of any vanity base you choose — like this one built by Traci and Cy from the blog Beneath My Heart.
9. Create the ultimate storage wall from simple bed slats.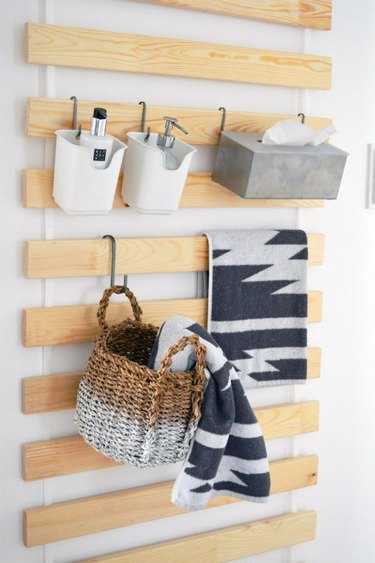 Who would've thought to use bed slats as wall storage? They're the perfect solution for keeping your countertops clear. Plus, you can easily cut the slats down to fit your space. Use S-hooks to hang baskets, bins, or wet towels from each slat.
10. Add a chic storage solution to your bathroom.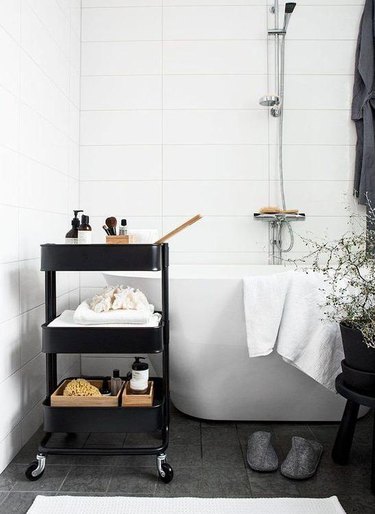 Not sure if this is a hack per se, but it's a genius storage solution. You no longer have to stand up to reach the shampoo in the middle of your relaxing bubble bath. Just take this handy rolling cart out of your office, and use it to store your luxurious soaps, plush towels, and relaxing reading materials so they are easily accessible at all times.
11. Or, opt for this DIY bathtub tray instead.