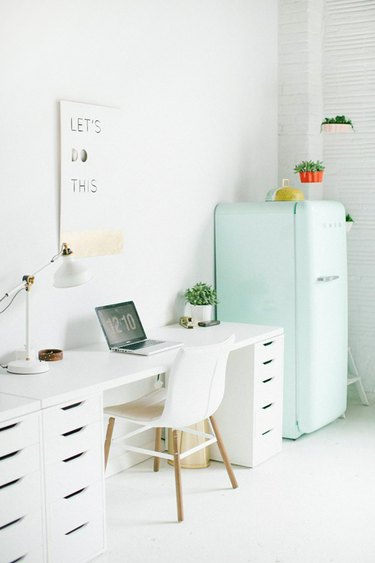 The best part of working from a home office: no corporation controls your desk space. Here, you can do anything you want. Design anything you want. Craft your office intentionally. But if you're not sure how you want to glam up your work-from-home space, you might find #workgoals inspiration from a surprising spot: Ikea. Mixing and matching their storage units, desktops, chairs, and office accessories can create a customized oasis — and the perfect spot to achieve your dreams. These Ikea home office combinations might just inspire your next remodel.
1. Vision in Gray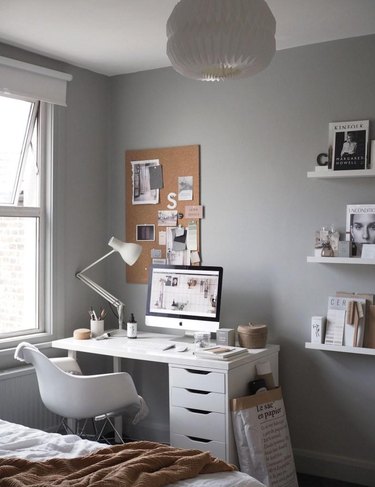 We might have Ikea to thank for our love of all-white color palettes, but news flash: Their furniture looks ultra-chic when surrounded by gray, too. Blogger Cate St. Hill combined higher-end pieces like a classic Eames chair with a few popular Ikea staples like this drawer unit ( $79 ) to create a cozy workspace in a small bedroom.
2. Glitz and Glamour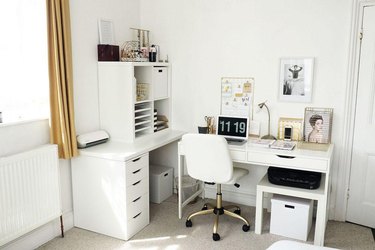 Claudia from the blog Beauty and the Chic gave her home office a glamorous upgrade with a little help from Ikea. Pairing white basics like this simple desk ( $129 ), with glitzy gold accents makes this a worker's haunt worth hustling for.
3. Cozy Minimalism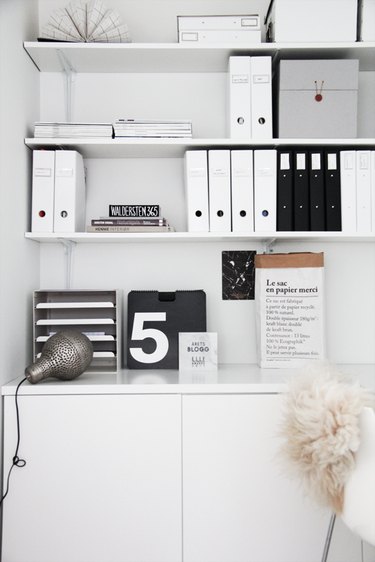 Black and white color palettes might seem stark, but draping soft furs over crisp-white desk chairs softens the effect. A home office with a minimalist aesthetic, like interior designer Elisabeth Heier's workspace, makes focusing simpler — fewer doodads on your desk means you'll get more work done. Right?
4. Colorful Accents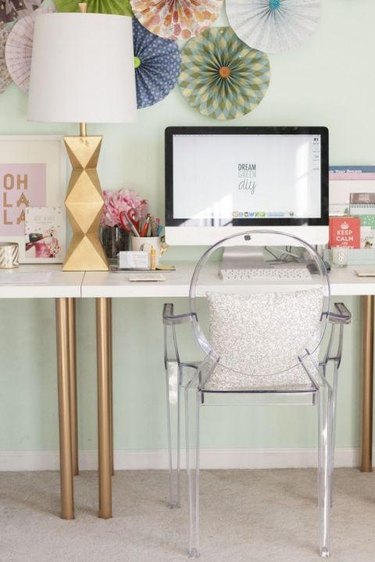 Ikea's myriad of options allow you endless opportunities for customization. But with so many white and plain-wood offerings, we won't blame you if you're jones-ing for some color. Carrie from the blog Dream Green DIY jazzed up her home office with a little gold spray paint and brightly colored homemade pinwheels for a burst of midday inspiration.
5. Wall-to-wall Perfection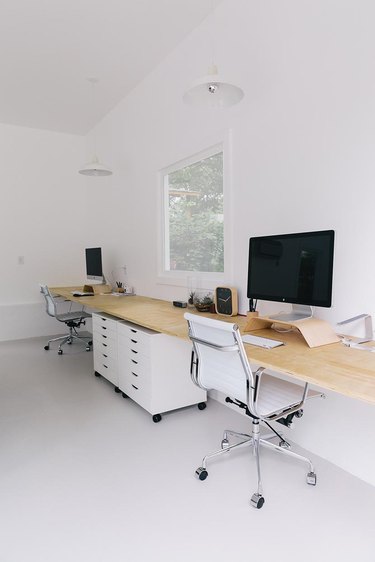 Does your workspace need to accommodate more than one? Take notes from bloggers Mike and Megan Gilger's studio whose desk stretches across an entire wall. This linear setup allows two people — and all the office supplies they could ever need — to feel perfectly at home.
6. Neon Plus Pastels
We're so used to seeing hairpin legs spray-painted gold. This colorful Ikea hack from the creative bunch at Style Me Pretty tries a sweeter tack: mint desk legs attached to a plain-white desk ( $44.99 ). Combined with a bold yellow articulating lamp and nearly-neon artwork, this workspace is a haven for creative minds.
7. Double Up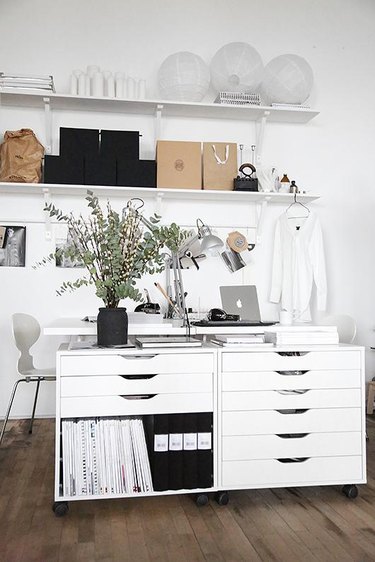 There's a reason Ikea's furniture gets so much home office love: it's so stinkin' versatile. Frida from the blog Trendenser put two drawer units ( $119 ) side-by-side for double the storage, double the surface area, and (sorry) double the fun.
8. Cluttered Cohesion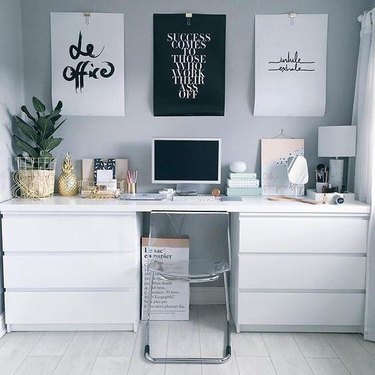 Two white drawer chests ( $99 ) placed beneath a long, glossy desktop create the perfect base for organized chaos. This workspace may be stuffed with accents galore — from gold pineapples, to broad-leafed plants, to a mirror — but somehow, it all feels cohesive.