Your bathroom vanity is rife with design potential — it just takes the right decor. To help, we scoured the web and gathered some of the sleekest bathroom vanity decor ideas we could find. From pivoting mirrors to scalloped pendant lights and more, here are 10 goofproof ways to dress up your bathroom vanity in style.
1. Double up on cool mirrors.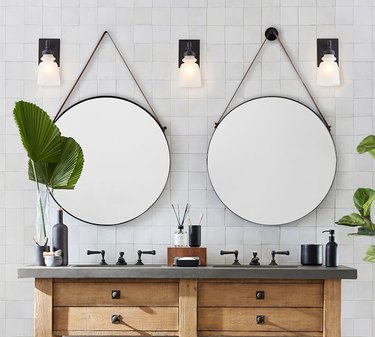 The only thing better than a good-looking mirror above your vanity is two. Hang a pair of shapely round mirrors above a double sink vanity to score twice the functionality in your bathroom.
2. Buy an eye-catching vanity light.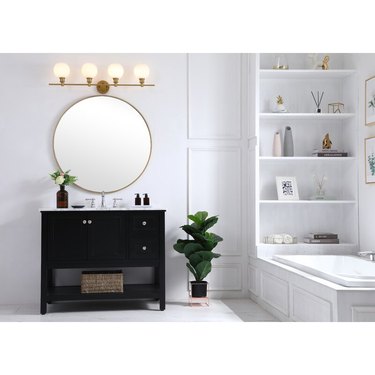 Nothing brightens up a bathroom faster than an attractive vanity light. Search for a clean-lined style with a metal frame and glass shades to dress up your bathroom vanity without overpowering the space.
3. Buy a pivoting mirror.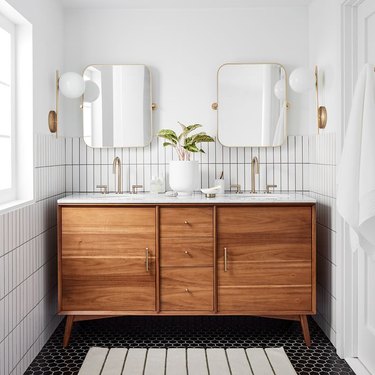 Dreaming of a bathroom vanity that's every bit as versatile as it is sleek? A pivoting mirror with a gold-finished frame tilts up and down so you can position it however you need.
4. Lay down a fun rug.
Searching for an affordable way to warm up your bathroom with texture? A colorful accent rug instantly livens up a bathroom vanity scene and won't cost you an arm and a leg.
5. Show off a pair of pendants.
Why buy a humdrum vanity light when you can have a pair of sparkling pendants in your bathroom instead? Flank your bathroom vanity with brass-accented pendant lights on either side to create a glamorous display in seconds.
6. Score some floating storage.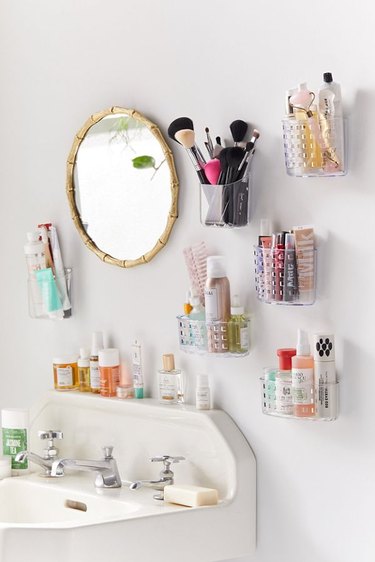 If you aren't working with a ton of bathroom vanity space, then we have the storage solution for you. These compact acrylic storage cubbies mount directly to your wall and provide extra room for stashing toiletries that won't fit on your bathroom sink.
7. Try LED sconces.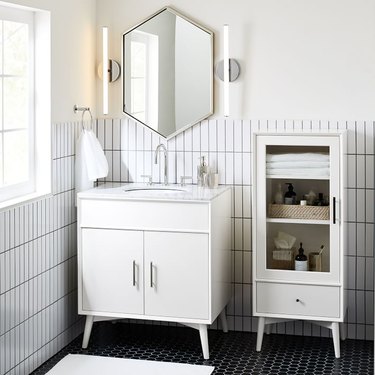 In the market for bathroom vanity lighting that's easy on your pocket book and the environment? Energy-efficient LED lights provide an eco-friendly alternative to traditional bathroom vanity lights while saving you money on your electric bill.
8. Hang an oversized mirror.
Not a fan of double mirrors in a bathroom? No problem. A single, oversized mirror with a modern silver frame enhances both the functionality and style of your bathroom.
9. Find a medicine cabinet with built-in vanity lights.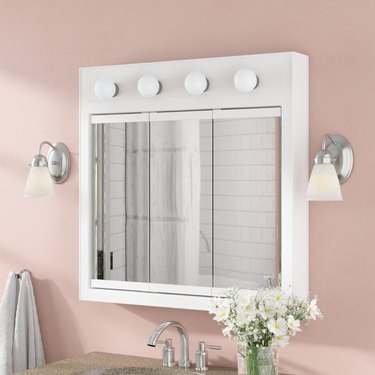 Prefer your medicine cabinets with a little more oomph? A bathroom medicine cabinet with built-in vanity lights provides plenty of task lighting and makes a sophisticated statement to boot.
10. Mount a few sconces.
A few chic wall sconces can go a long way near a bathroom vanity. Install some petite, shaded sconces around a pair of double mirrors to score lots of beautiful and ambient bathroom lighting.