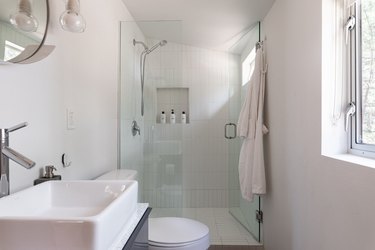 If you have a speck of a bathroom, it's hard to think about installing a walk-in shower when it seems like you only have enough room for a toilet and a sink. But with just a little bit of strategizing, you can remodel your existing bathroom and include this luxury. Get ready to be creative with your layout's configuration, and start thinking about how you can use glass, tile, and hardware in innovative ways. Don't worry if you're not sure where to start — here are 12 ideas that'll give you a plan.
1. Do something different with glass.
Glass doors are a staple for walk-in showers, but making the shower open to the rest of the bathroom makes it seem more spacious. Plus, the continuation of the tile floor without a shower lip helps a lot.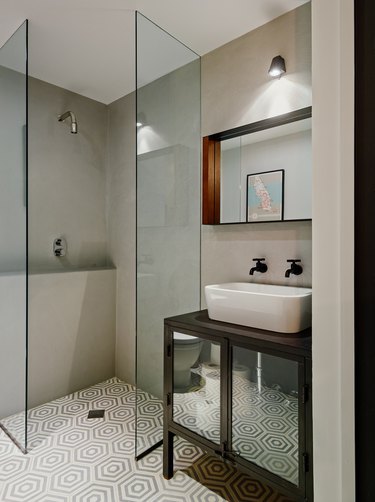 White is a timeless color for a bathroom, and going with all-white walls and matching tiles helps create a soothing palette that makes the space feel more airy and open. A half-wall of glass also protects the rest of the bathroom from puddles.
When you only have just enough room to pass between the shower, toilet, and sink, you need to consider unconventional ways to bring attention to design details in a walk-in shower. Going with a tinted glass door is a perfect example.
4. Play with shower tiles.
Just because you don't have a lot of square footage doesn't mean you can't take advantage of a tall ceiling. Stacking rectangular tiles up toward the ceiling elongates the space and makes it feel higher.
When you're researching, look for smaller, rectangular shower pans instead of large square ones. You'll still get the luxury of a walk-in shower without having to give up surface area.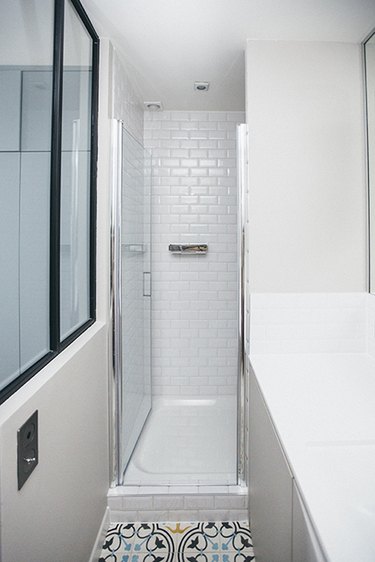 6. Consider a non-glass wall.
A half-wall for a shower guard is a pretty brilliant idea. You get some privacy, and it gives you yet another place to put some plants. It's also a good separator from the rest of the bathroom.
7. Get strategic about placement.
Keeping the layout in mind is key for maximizing square footage for a walk-in shower. If your bathroom has any kind of angle, put the shower around the corner and line up the sink and toilet on the long wall.
Installing a gorgeous ceramic or concrete tile is a surefire way to trick everyone into thinking your bathroom is palatial. Geometric patterns with lots of detail are the way to go.
9. Pay more attention to the hardware.
Let's face it — you know that if you install gorgeous hardware, you're not going to worry if the shower's square footage is on the small side. Add in enough shelving for your toiletries and you're golden.
10. Be creative with a stall situation.
Installing two panels of glass around the hardware is a genius way to pop a shower into a small bathroom. This works well for a bathroom that's long but not very wide.
Putting a built-in bench inside the shower is not only a convenience, but a great functional choice. It adds to a wall that's already being used, and gives you an opportunity to introduce a new tile.
12. Skip a door all together.
If privacy's not an issue, go with a completely open shower to maximize the space. You don't have to worry about squeegeeing, and the feeling of just walking straight into the shower after a long day at work seems unbelievably liberating.