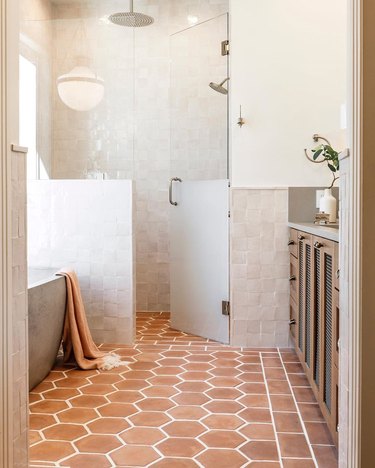 Designing a shower from the ground up means that you have a chance to get creative with more than just wall paint. Goodbye, boiler-plate designs and so long, snoozy materials. It's time for a refresh that will up your bath's cool factor. Looking to the contemporary styles we're loving right now, there are a whole suite of ideas to help refresh and modernize your space. Think of the aesthetic as anything that's new and current or simply, what's popular right now. Spoiler alert: There are a lot of ways to approach this.
Graphic or colorful tile (and don't forget the grout) are easy ways to invite a bold splash of personality to an otherwise tired scheme. Beyond that, there are the fixtures (Pro tip: Skip traditional polished chrome and go for brass or matte black for more oomph), which are far too underrated and maybe even a plant or two. Regardless of the direction you choose to go, it's all about a thoughtful curation of decor that speaks to you.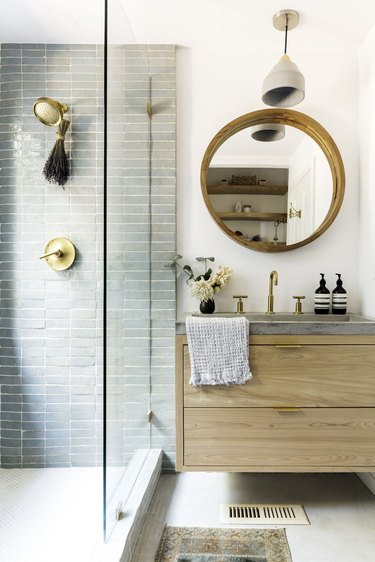 When it comes to the wall tile in a contemporary shower, a classic rectangular shape is always in style, but we're loving this fresh update featuring a soft green option from Clé that evokes a sweet, bucolic finish. Coupled with brass fixtures that complement the muted palette, and a sleek glass partition that lends modern edge, the combo feels down-to-earth yet chic.
Contemporary showers are more or less synonymous with creating a spa-like retreat, and a tinted limewash finish reserved for the walls is a foolproof way to start. The textured treatment is essentially a combination of water, limestone bits, and natural pigments for color — and it's all the rage these days, too. The end result is a chalky, two-tone effect that's best reserved for an alcove shower, like this stunning scene spotted on Rose Uniacke.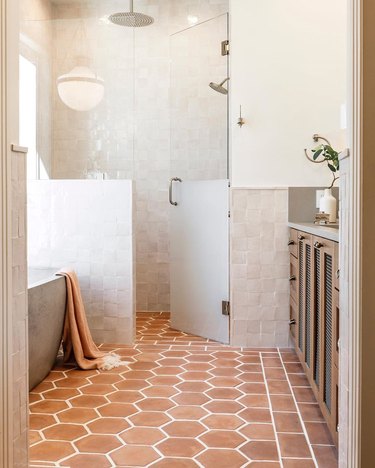 Terra cotta tile adds a splash of warmth and a textured effect that has the ability to balance out the modern lines of a contemporary shower. Interior designer Emily Seeds outfitted this luxe bath with a hexagon-shaped tile that doubles as a high-contrast complement to the neutral zellige tile on the walls. The matte rainfall showerhead above — similarly muted and cooler in tone — allows the surrounding details to shine.
If you can't decide between a shower and a tub, and lack the space for both, a combination of the two is a contemporary shower idea that we can definitely get behind. Cue this dreamy design spotted on A1000xBetter that shows just how well the duo works together. A clawfoot tub paired with a ceiling-mounted shower curtain rod, exposed piping, and matching hardware contribute lustrous details and old-school charm. Last but not least, a subtly textured linen curtain ties it all together.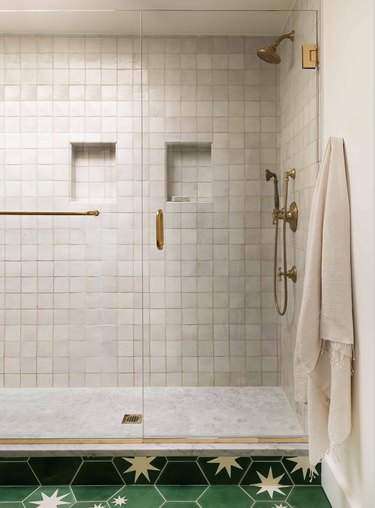 Zellige tile has been a breakout decor element as of late (though they've been around for ages), so naturally, they're a staple of contemporary style. The ceramic pieces are hand-molded and cut, so each tile is one-of-a-kind. Heidi Callier's use of the material in this shower is a prime example of how statement-worthy it can be. And fixtures flaunting a warm metal finish simply go without saying.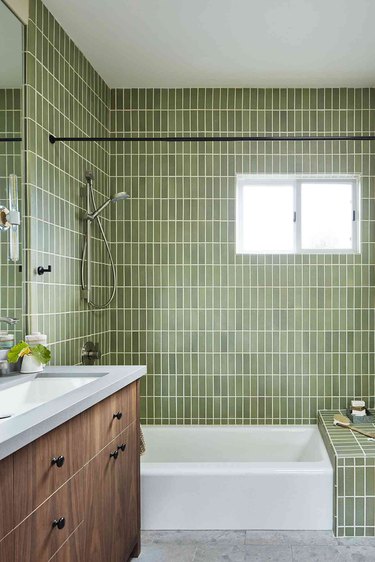 When it comes to a contemporary shower, blues and greens take the lead on the color palette front. Cue this charming farmhouse bath. Narrow subway tile positioned vertically (as opposed to the classic horizontal layout) not only visually extend the height of the space, but they also impart a linear and modern detail as well.
8. Embrace maximalist style.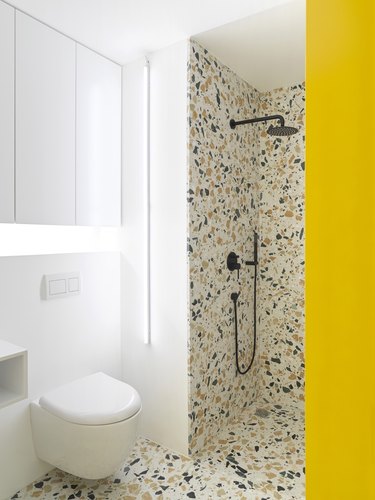 We're not holding our breath in anticipation of terrazzo going out of style anytime soon, and this contemporary shower pretty much confirms our suspicions. Take notes if you want to score maximum impact with little effort, and designate patterned tile for the walls and floors, while keeping the rest plain. We guarantee the end result will make a lasting impression.