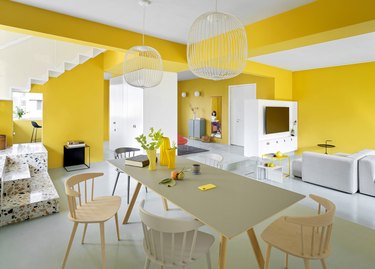 When a couple with two young children set out to renovate their home in the north of Beijing, they wanted to create a sunny space — and there's nothing quite as sunny as a bright yellow hue. Situated in the top two floors of a townhouse, the apartment had plenty of potential, so the couple turned to MDDM STUDIO to help them create a simple yet impactful space. "The previous owner subdivided the floors in many rooms, substantially reducing the natural light in the inside," says Momo Andrea Destro, co-founder of MDDM STUDIO. Destro reworked the floor plan to bring in natural light and take advantage of the views from the large windows.
The first floor was designed as a series of white boxes, which help divide the kitchen, dining area, and living room while maintaining the open flow. Destro offset the white elements with terrazzo surfaces and saturated emoji-yellow walls. "We studied many different color combinations for the built-in furniture and the surrounding wall. The yellow was the solution that brought a positive energy in the house and preserved a certain minimal touch with the white furniture and staircase," says Destro. "As a result, the openness of the first floor is irradiated with a warm light during the entire day." Thanks to the bold dose of color, this home stays sunny on even the dreariest winter days.
---
Elizabeth Stamp is a freelance writer in Los Angeles. Her work has appeared in Architectural Digest, Elle Decor, and CNN Style.