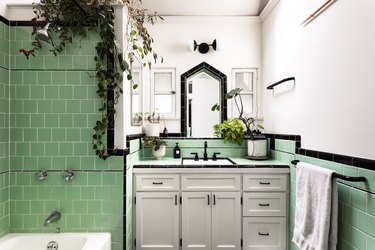 Fun shower tile ideas can take your bathroom from boring to bold. But so many homeowners neglect their tile. Or, worse, they opt for an all-white basic style because they're afraid to make a mistake. Your bathroom should be your sanctuary, though. You deserve good lighting, useful storage, and great feng shui. And when you combine those things with visually impactful shower tile, you'll never want to leave the room.
So how do you pick the perfect pattern? First, it's helpful to know all of the options. We collected some of the best shower tile ideas to help you finally create the bathroom of your dreams.
1. Choose muted hues.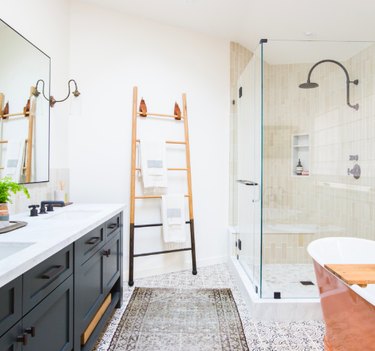 Don't you just want to bask in this Amber Interiors bathroom forever? It's interesting without feeling busy. To get a similar aesthetic, go for a simple shower tile idea that includes a shelf. Just keep the color palette muted. That way you can have fun with patterned rugs and a modern double vanity. If you have the floor space, spring for a freestanding tub, too.
2. Don't neglect the classics.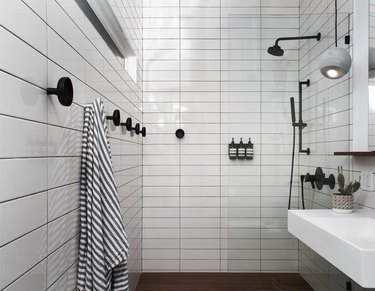 Yes, we've seen subway tile in bathrooms before. No, the classic look is not out of style. In fact, there's a reason this look is so popular. You just can't beat its versatility. And when paired with matte black shower fixtures and minimalist accessories, subway tile sings. Use it in small bathrooms to make the space feel more open.
3. Let midcentury tile shine.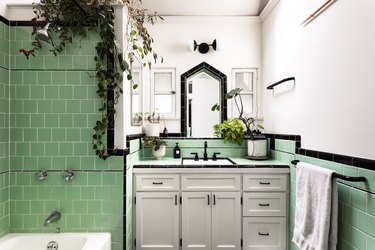 Midcentury modern bathrooms are trendy, but they're timeless, too. And ceramic shower tiles in those varying shades of mint green, baby blue, and pink (you know the ones) emphasize a vintage aesthetic. But you can keep them feeling fresh with dark accents and crisp white wall paint, even if you're in a rental. Interior decorating duo Stephanie and Scott Cleary completely nailed the look and added plants, too.
4. Look for vintage accessories to match.
5. Don't be afraid of metallics.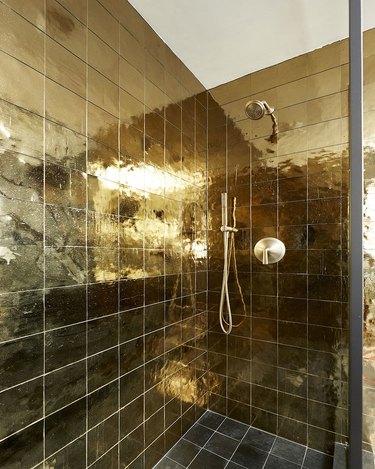 Metallic shower tile ideas may seem a little unconventional. But trust us, you won't regret incorporating some polished bronze, steel, or copper in a small or open shower. Talk about luxury. The gleaming metal will appeal to even your least design-interested bathroom guests.
6. Splurge on a bit of marble.
Despite its ubiquity, you just can't quit marble when it comes to shower tile ideas. The luxe material elevates everything. In this bathroom, we especially like how the Hazel and Brown Design Company continued the shower tile onto the marble counter and backsplash. The combination of black and white looks a little art deco and a lot chic.
7. Go for wall-to-wall color.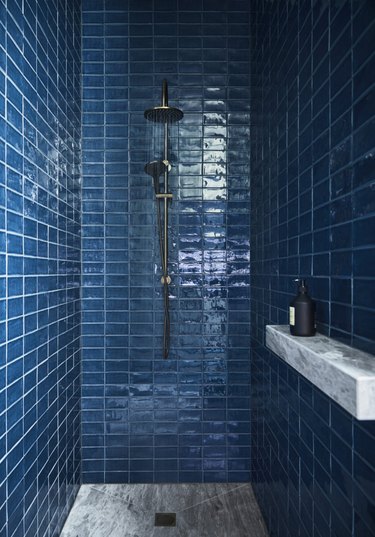 If you love blue as much as we do, go all out with the vibrant color in your bathroom. In this Flack Studio wet room, the glossy tiles actually extend beyond the frameless shower, making the room seem more expansive and modern.
8. Look for patterned shower tile ideas.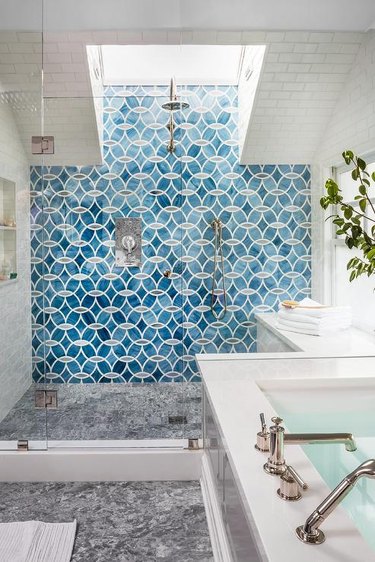 Here's a modern take on patterned shower tiles in a master bathroom. The uniquely-shaped tiles in varying shades of blue are restrained to one wall, while the floor and ceiling are quite neutral with a modern twist. If you recreate this look, we recommend coordinating the colored tiles with white ones.