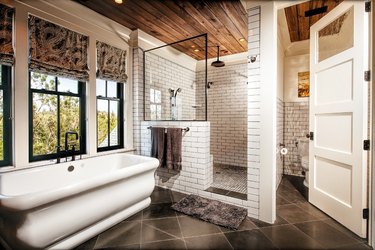 Just because your shower serves a strictly utilitarian purpose — you know, to keep you clean — doesn't mean it can't be stylish, too. If you want to give your nook a fabulous top-to-bottom appeal, it's about time you factor the ceiling into your design.
The right shower ceiling idea can turn your bathroom into a well-appointed, spa-like sanctuary; however, it's not the first thing most style-conscious dwellers consider when revamping their shower. To help bring your style to new heights, check out seven shower ceiling ideas that make you want to look up.
1. Set in Stone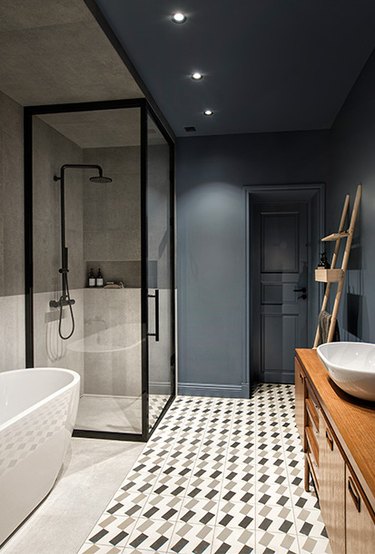 Reimagine your shower ceiling in natural stone like granite, limestone, or even cement. While a stone shower ceiling can exude a sleek, minimalist vibe, it has its pitfalls, too. In fact, you may find it hard to maintain natural stone in a shower. But if you're willing to put in the time and labor, this is one of the many shower ideas that won't skimp on style. Don't believe us? Just look at this ultra-beautiful bathroom by INT2 Architecture.
2. Floor-to-Ceiling Cohesion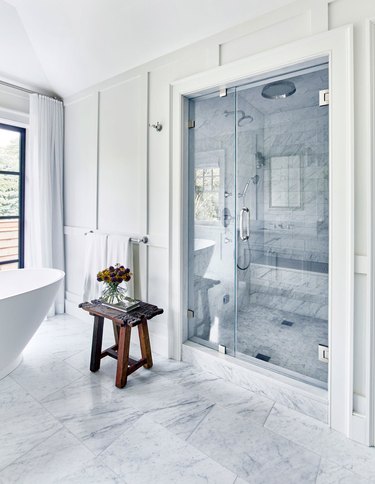 Depending on your setup, a tiled ceiling might be just what your shower needs. If you're installing a steam shower, tile can reportedly keep your walls from getting exposed to too much moisture. Plus, if you choose the right type of tile, it can be one of the many shower ceiling ideas that oozes luxury. In this bathroom by Chango & Co., the floor-to-ceiling marble tiles keep the space looking oh-so-luxurious. It's the perfect blend of form and function.
3. Mix and Match
With so many tile styles to choose from, choosing just one for your bathroom can be easier said than done. So why not mix and match your favorite styles into one small space? For this farmhouse bathroom, interior designer Jennifer Bunsa embraced her bold streak by adding a different tile style to the ceiling. While the tile styles don't have the same pattern, the similar color palette keeps this space cohesive.
4. Wow With Wood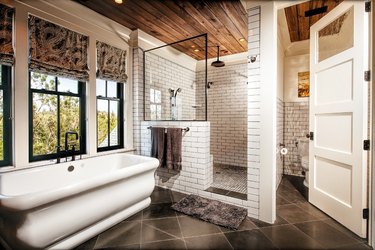 As far as we're concerned, a farmhouse-inspired shower is an easy way to up your bathroom's cozy factor. And what better way to infuse rustic charm into your bathroom than with a wooden ceiling? Not only is a wood ceiling incredibly durable, but it also packs on the style. Custom home builder Cook Bonner teamed up with Spivey Architects to infuse plenty of rustic charm into the bathroom. Paired with sleek, white subway tiles, the wooden ceiling warms up the space without appearing gloomy.
5. A Farmhouse Flair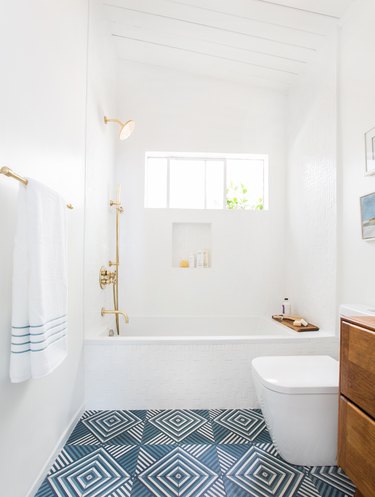 If you want to strike a balance between cozy and chic, consider adding some white shiplap to your ceiling. Interior designer Emily Henderson walks the line between subtle and statement by adding pristine white shiplap to matching walls and tiles. The result? A modern bathroom that's full of character.
6. Do It With Drywall
If you want to let your statement backsplash or rain showerhead do the talking, reimagine your shower ceiling ideas with a versatile drywall. While drywall is typically used for non-shower areas, a slab of moisture-resistant drywall (or green board) can be a suitable material for your cleansing corner. For her One Room Design Challenge, designer and photographer Erin Kestenbaum kept her shower ceiling idea simple by filling her ceiling with Roxul installation, adding a layer of drywall, and sealing the deal with a few coats of crisp white paint.
7. Color Me Happy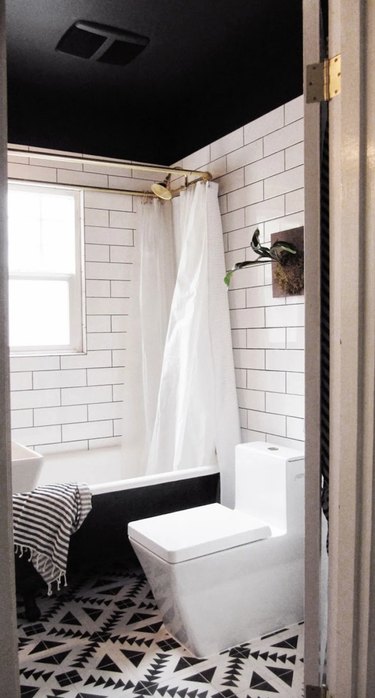 Just because you aren't bringing tiles or wooden panels into your shower ceiling ideas doesn't mean your space has to be boring. Instead, reimagine your drywall ceiling with a fresh coat of paint in a dramatic hue. Not only does the black hue used in this city apartment give the space a moody flair, but it also pairs nicely with the bathtub and printed tiles, creating floor-to-ceiling cohesion.
---
Kelsey Mulvey is a freelance lifestyle writer and editor. Her work has been featured in Lonny, Apartment Therapy, and Wallpaper*, among others.
View Work