On the hunt for a shower that's equal parts clean, chic, and oh-so-cozy? Look no further than a farmhouse shower. Known for rustic flair and use of natural materials, the farmhouse look can bring a warm, welcoming feeling to your bathroom.
The farmhouse aesthetic puts comfort and charm at the forefront. The style oozes a delightful, homey feel, thanks to raw wooden and iron elements and classic silhouettes. Whether you bring the great outdoors inside with some plants, play up the texture, or embrace the modern farmhouse look with a contrast color palette, one thing's for sure: There's plenty of farmhouse shower ideas to go around.
1. Get Green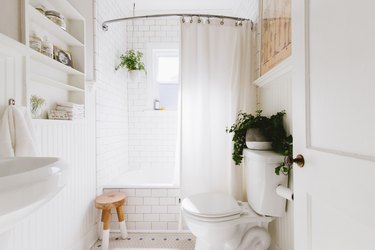 Why not embrace the farmhouse aesthetic by bringing a little bit of the outside into your shower? Garrett and Cathy of the Grit and Polish breathe some life into this all-white bathroom by affixing a planter to the shower ceiling and adding a few leafy greens outside of the shower.
2. A Sliding Style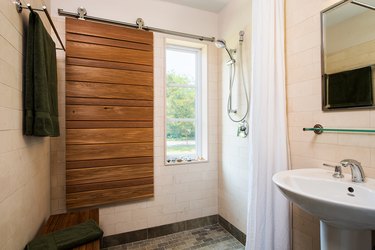 In case you missed the memo, a sliding barnyard door is integral to the farmhouse look. This style won't suit all spaces, but if you've got the right setup, it's a completely unexpected and perfectly on-topic idea. Go ahead, let Always by Design show you how it's done.
3. Sparkle With Shiplap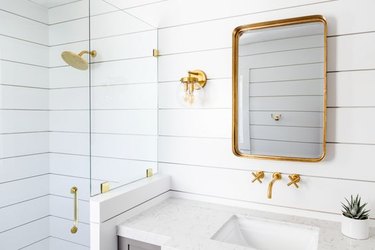 Anyone who has binge-watched Fixer Upper (um, guilty) can tell you shiplap is synonymous with the farmhouse style. But did you know it can also be the foundation for some of the greatest farmhouse shower ideas around? Susan of Savvy Interiors recreated the shiplap look for her farmhouse shower by piling water-resistant PVC boards next to each other. A glass door and gold, matte hardware rounds out the look, giving this shower idea a fresh, farmhouse flair.
4. Wood That Wows
As this bathroom from McIntosh Design Build Restore proves, there's more to a great farmhouse shower than what's inside the closed space. Turns out, the facade of the shower is just as important. The British-based firm takes a rustic approach by adorning the outside of the shower with raw slabs of wood. Inside the wooden facade is a caged sconce and colorful bath mat, making this one shower that looks good from every angle.
5. Keep It Simple With Subway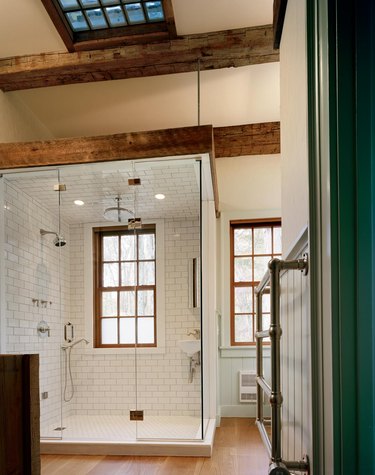 When it comes to tiles, the subway look is one of the most relevant, popular styles around — and for good reason. Known and loved for its versatility, subway tiles pair nicely with just about every bathroom style you can think of. Take a page out of Heritage Barns' stylebook and stock up on subway tiles, STAT.
6. Patterned to Perfection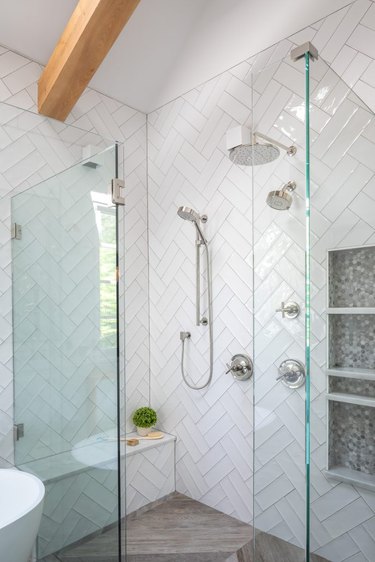 Want to shake up your subway tiles? Take a cue from Clearcut Construction & Co. and fashion your tiles into a punchy pattern. In this bathroom, a herringbone motif gives an otherwise ordinary shower a nuanced, textured feel. As if this textured approach didn't scream "farmhouse" on its own, the shower is completed with an exposed wooden beam and wood-inspired flooring. Swoon.
7. Create Contrast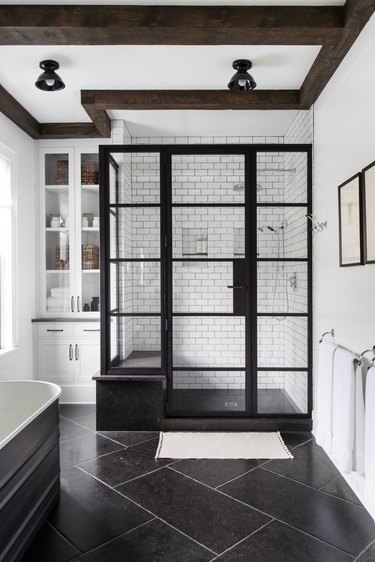 If you want to give your farmhouse shower a modern approach, opt for a contrasting color palette. As this bathroom from Chango & Co. proves, a light-colored bathroom that's peppered with black accents can give any space the farmhouse flair.
8. Fantastic Floor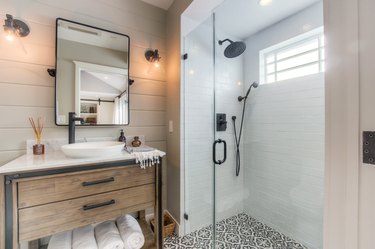 Looking for another way to go dark without making your farmhouse shower look, well, dreary? Add patterned tiles, as Spazio Designs did to this Santa Monica garage conversion. This look offers up some visual intrigue without making the space appear gloomy — especially when paired with a white backsplash and matte black hardware. Plus, the shiplap and wooden counter increase the farmhouse vibes tenfold.
9. The Textured Treatment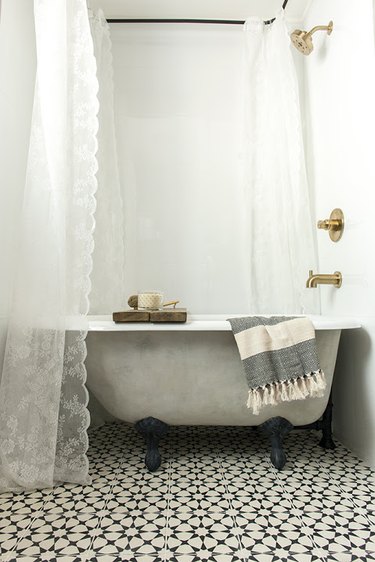 Never underestimate the power of great texture — just look at this space from Jenna Sue Design. Sure, wooden accents might be the texture du jour for most farmhouse shower ideas; however, the mixture of the woven towel, wooden tray, and sheer curtain prove that more materials is merrier. Layering textures for the first time? Take a cue from Jenna and stick with a cohesive color palette.
10. Tootles, Tile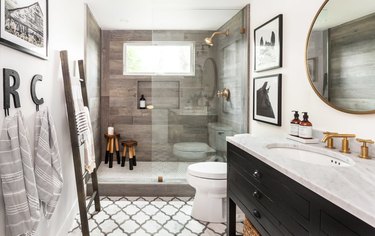 When it comes to your shower backsplash, you might think tile is the way to go. But Juxtaposed Interiors gave this bathroom a fresh, farmhouse approach by adding decorative wall planks to the shower alcove. Not only is this option a suitable alternative to traditional tiles, but it also pairs nicely with the wooden stools and a leaning ladder that oozes a farmhouse appeal.