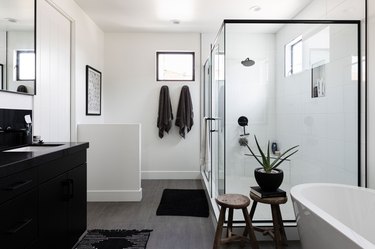 In an era when it feels like you can fill your bathroom with any print, pigment, or texture your heart desires, sticking with white tile in your shower feels, well, safe. One false move and your space could veer into stark, ubiquitous territory, right? Not quite.
Truth is, opting for white tile does have its perks. Not only can white offer soothing, spa-like vibes, but it also encourages dwellers to experiment with the shape, size, and texture of the tiles themselves. Best of all, this is one bathroom trend that will never go out of style.
1. White Subway Tile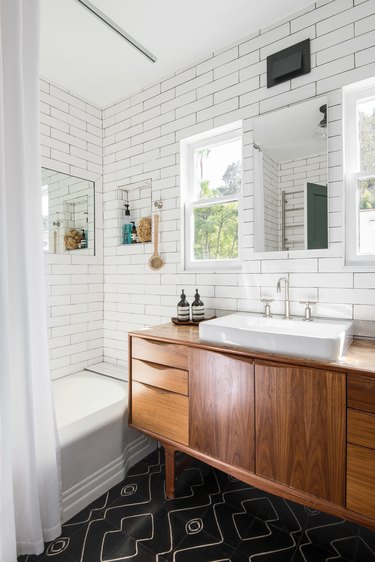 Consider this sleek subway style the apple pie of white shower tile ideas. Simple, yet insanely versatile, subway tile can withstand the test of time and fit nicely with virtually any bathroom design style. Of course, just because subway tile is simple doesn't mean it has to be boring.
2. Scalloped Tile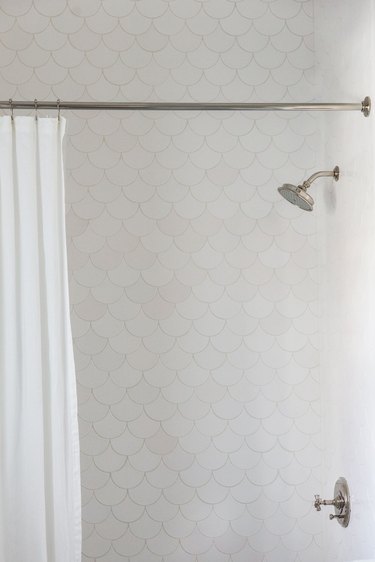 Want to embrace your feminine side? Take a cue from Studio McGee and opt for a sweet scalloped style. While bold or candy-coated scalloped tiles run the risk of looking juvenile, sticking with a white color scheme is mature and gives the space an Art Deco feel.
3. Square Tile
As British-based design firm 2 LG Studio proves, it pays off to think inside the box. In this East London apartment, square, grid-like tiles provide a delightfully retro feel, offering a slight nod to Op-Art. If showering in a grid feels overwhelming, add a plant or water-resistant piece of art to warm up the space.
4. Stacked Tile
As interior designer Emily Henderson proves, it's not which type of tiles you choose, but how you decide to place them. For this bathroom renovation, Henderson placed slim, handmade subway tiles in a "double-stacked and staggered" pattern.
5. Vertical and Horizontal Subway Tile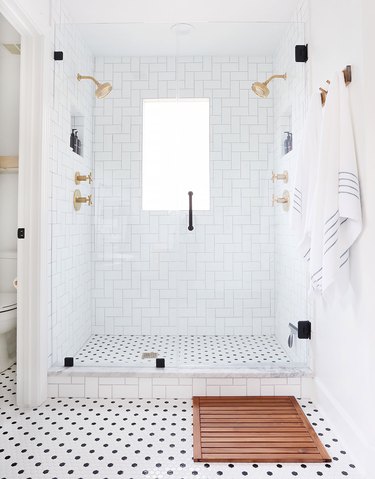 For her master bathroom, Sunny Circle Studio's Erin Wheeler fashioned her subway tiles in a herringbone-like pattern. The result? An updated, innovative twist on a classic tile style.
6. Sleek Slab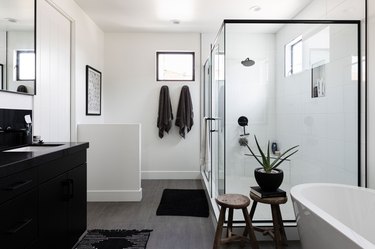 Craving a light, airy bathroom that oozes a modern charm? Go big or go home. If you play your design cards just right, larger tiles can create the illusion of a single, ridiculously sleek slab. Between the large square tiles and white grout, this bathroom hits all the right notes.
7. Penny Tile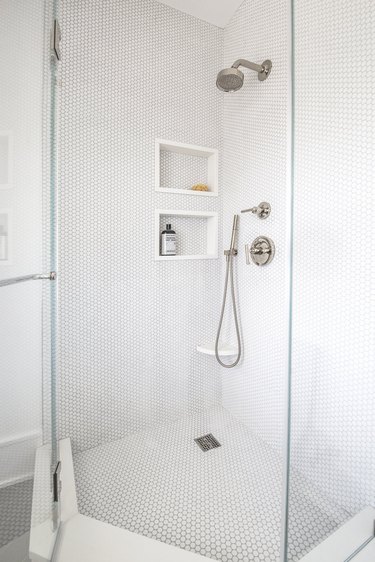 Never underestimate the power of penny tiles. Sure, the tiny tiles are a common option for bathroom floors; however, they can pack a punch in a shower stall. In this bathroom from Salt Design Co., floor-to-ceiling penny tile offers plenty of texture to keep such a small space visually appealing.
8. Mix and Match Tile Sizes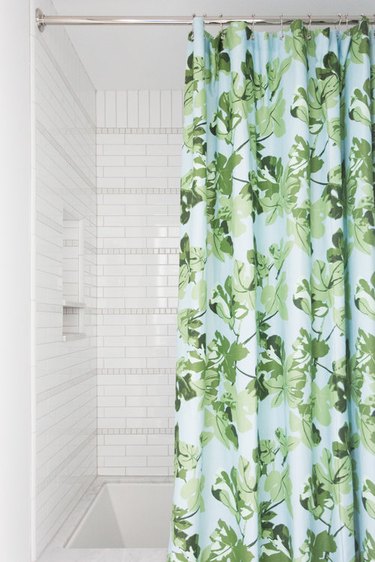 Why settle for one tile style when you can decorate with a few? If you're torn between styles — or simply want to up the design ante in your bathroom — create your own unique pattern with two different types of tiles. Let interior design firm Studio McGee show you how it's done.
9. White With a Pop of Color
Just because you want to give some white shower tile ideas a try doesn't mean your shower has to be all white. Blogger Anita Yokota ushers in an appropriate pop of color by reimagining the shower niche in a bold aqua hue, giving this bathroom a warm, approachable flair. An ornate rug and an abstract shower curtain round out the space, making this bathroom feel equal parts quirk and effortless.