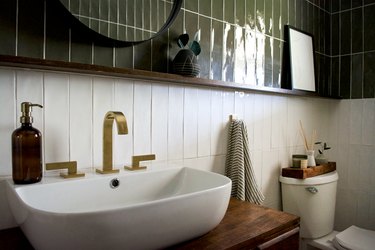 White backsplash for a bathroom? It might not feel like the most groundbreaking idea, especially when white bathrooms seem to be the status quo these days. Yet, there are advantages to using a white backdrop for your bathroom backsplash. First, white tile is one of the most widely available bathroom materials — meaning you can create cost-effective designs with it. And second, white is a great, basic backdrop to build on — no matter the theme or style of your bathroom. Need more convincing? Read on for our white bathroom backsplash ideas.
1. Subway Tile Backsplash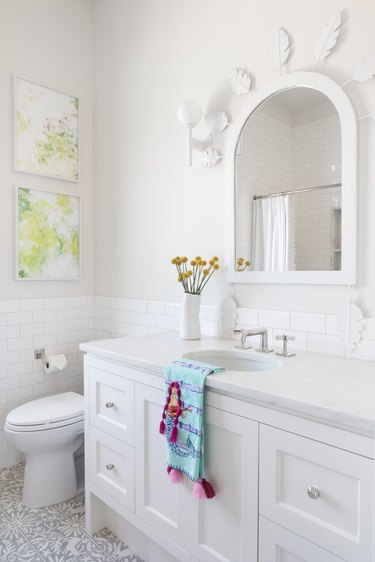 Consider subway tile the white T-shirt of bathroom backsplashes. Versatile enough to go with just about every type of bathroom, this is one tile that can withstand the test of time. Take a cue from interior design firm Chango & Co., who took the all-white bathroom a step further by matching the tile's color to the grout.
2. White Marble Backsplash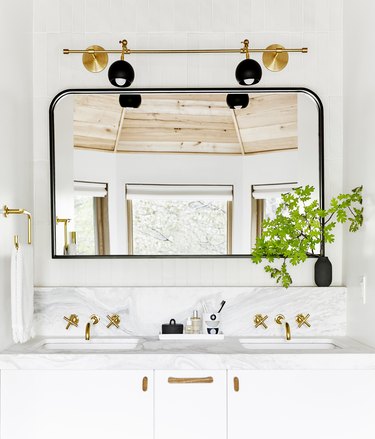 If a traditional subway tile isn't quite your vibe, a white-tone marble can give your space a luxurious flair. Interior designer Emily Henderson ups this bathroom's fancy factor by pairing the marble backsplash with gold hardware, matte black accessories, and a vanity sconce with a twist.
3. Tile Backsplash With Contrasting Grout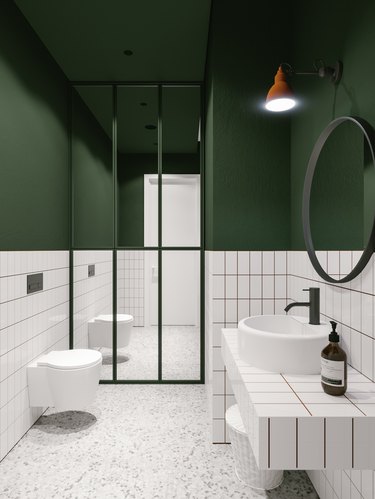 Want to give your white bathroom backsplash a modern appeal? Rethink your grout. In this beauty salon bathroom, designer Evgeniy Bulatnikov coupled the classic white tile with a dark, moody grout that complements the olive green paint. The result? A modern bathroom that teeters nicely between subtle and statement.
4. White Penny Tile Backsplash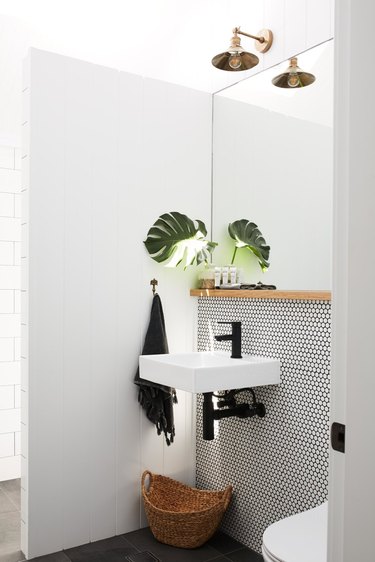 Never underestimate the power of penny tiles in the bathroom. While these pint-sized tiles may seem like the dark horse for a white bathroom backsplash, BAM Constructions Group makes a case for the unexpected style. Add some black matte hardware, woven accessories, and a lush monstera leaf to round out the look, and you've got a bathroom with Insta-worthy flair.
5. White-on-Color Tile Backsplash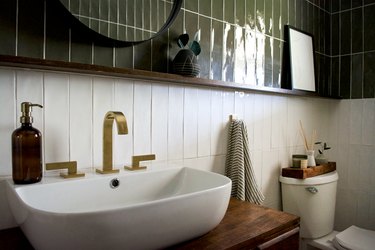 Why settle for one tile choice when you can choose a few? If you like the practicality of a completely tiled wall — but still want to create the illusion of a proper backsplash — it's time to go double duty. Bre of Brepurposed achieved the best of both worlds by using one type of tiles in two contrasting colors. A slim floating shelf separates the two colorways.
6. Vertical Subway Tile Backsplash
As this bathroom from Casework proves, the only way to go is up. If you want your subway tiles to make a statement — or, at the very least, keep them from looking ubiquitous — stack them vertically for some visual intrigue.
7. Mini Tile Backsplash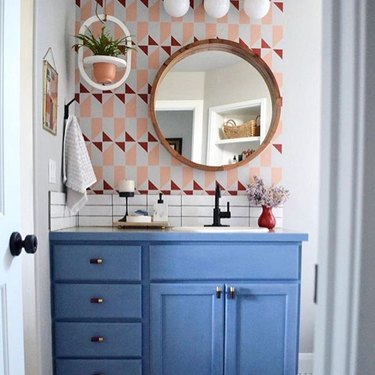 Remember: A backsplash doesn't need to be the defining feature of your bathroom sink area. It can also be a completely functional feature, as seen in this bathroom by Rufus & Henrietta, which employs the bare minimum of backsplashes. This example is also a great reminder that if you're going for a maximalist look in the bathroom, a white backsplash might be just the thing to temper it.
8. White Shiplap Backsplash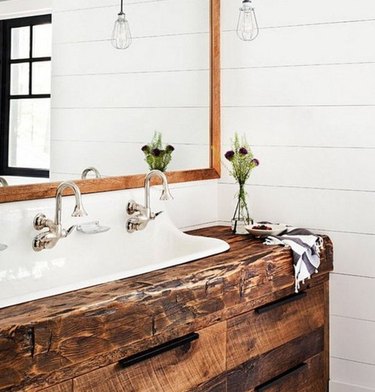 Best Places to Shop for White Bathroom Backsplashes
Turns out, heaven does exist and it's called Clé Tile. The San Francisco-based design destination has virtually every type of tile you can think of, from pint-sized penny, to simple subway, to a slab of sleek marble. Plus, Clé Tile regularly partners with designers from brands like Eskayel, Timorous Beasties, and Joy Cho of Oh Joy!. Translation? Your white bathroom backsplash will receive the design world's seal of approval.
Love the idea of a white bathroom backsplash, but haven't decided which type of tile you want to buy? Let The Tile Shop help you make this decision. The Tile Shop has been around since 1985, so you can trust this retailer knows a thing or two about creating a white bathroom backsplash. Not only does this destination have plenty of styles to choose from, but you can filter your options by color, making it all the easier to find the white bathroom backsplash of your dreams.
When in doubt, head to The Home Depot. It doesn't matter if you want a glass, ceramic, porcelain, or marble backsplash, The Home Depot has something to appease every aesthetic. While you're at the renovating destination, go ahead and buy a new bathroom sink, light fixtures, or shiny hardware.