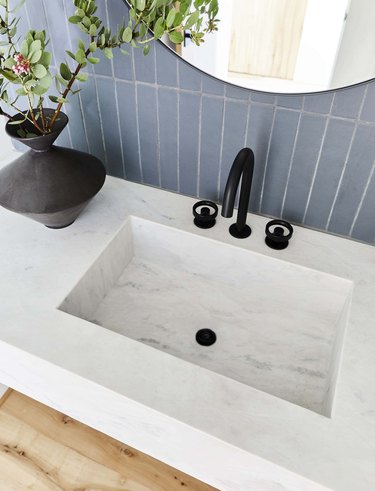 If you're thinking of remodeling your bathroom soon — or just giving it a little zhuzh — don't forget about it while you're busy planning the rest of the elements. A backsplash can turn a bathroom into something totally modern and elegant when you decide to experiment a bit.
Here, we've gathered a few budget bathroom backsplash ideas to inspire your next design move.
Idea #1: Subway Tile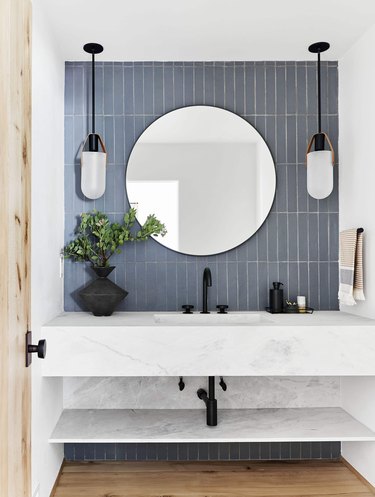 Subway tile is having a moment, especially because of the creative ways bloggers and designers are using them. In this très chic bathroom, Emily Henderson uses Clé Tile artisanal terracotta tile with a silky matte finish. She stacks them vertically instead of horizontally to create visual interest. You can find similar types of subway tile from places like The Home Depot. Keep your costs low by focusing just on the backsplash area. And don't forget to think about grout — the color grout you choose will affect the overall look of your space.
Subway tile basically refers to a type of ceramic first used in stations in New York City back in the early 1900s. They're usually glazed but come in a wide spectrum of finishes.
First off, subway tile is relatively inexpensive and easy to find. And because of its storied past, it feels classic in whatever space you use it. You can also experiment with layout, arranging your tiles horizontally, vertically, symmetrically, or asymmetrically. They're also pretty easy to clean.
It takes a lot of planning beforehand to get the perfect subway tile look. During the installation process, you'll need to be extra careful that your pattern is level. And when it comes to grout, you need to pay close attention to its consistency and color.
Idea #2: Shiplap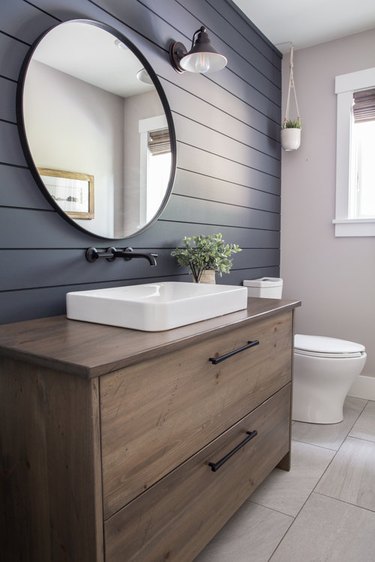 If you often take notes from Chip and Jo, then you can probably recognize a farmhouse bathroom when you see one. We love the use of industrial materials and minimal color palettes for a simple yet stylish look. One of the most popular elements of farmhouse rooms: shiplap. And it can make a unique backsplash for your bathroom as well.
Technically, shiplap is wood paneling that has normally been used to construct something, like a shed, not necessarily for decorative purposes. But the modern farmhouse look definitely has turned it into something else.
Because it's meant for construction, shiplap is a pretty durable material. And it's not too expensive, either. In modern spaces where we've seen it, shiplap really lends a timeless look to a room. And, of course, it fits right in if you love Magnolia-style decor.
Using any type of wood runs the risk of moisture ruining it. Keep an eye on the product details for the type of shiplap you use. This Lowe's shiplap, for example, specifically states that it is moisture-resistant. This shiplap from The Home Depot is intended to resist warping that would naturally occur in wood.
Idea #3: Peel-and-Stick Tiles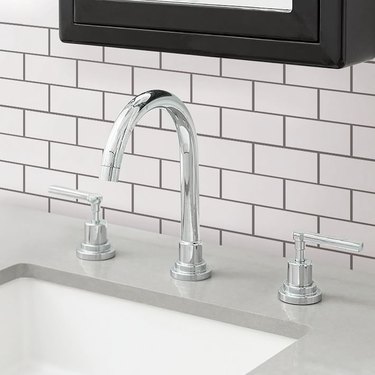 If you love the look of tile but don't want to actually deal with the process of installing it, you can always opt for the affordable option of peel-and stick-tiles. Many retailers now carry a range of styles that look a lot like regular tile. You can use these to create a chic backsplash for your bathroom without the usual mess.
What are peel-and-stick tiles?
Peel-and-stick tiles are basically self-adhesive tiles (made of materials like vinyl) that you can add to a surface to give the illusion of tile. The designs often mimic materials like marble and stone. But not all tiles are entirely vinyl — these tiles, for example, are made from real mirrors.
Pros of peel-and-stick tiles:
The ease of the process makes peel-and-stick an appealing DIY-able option. Instead of dealing with grout and fighting to remove old tiles, peel-and-stick just requires you to clean the surface and then adhere. There are plenty of videos you can find online to guide you through the process. They're also pretty affordable. You can find them at retailers like Joss & Main for $13 per square foot; Clever Mosaics for $23 for a pack of six; Lowe's for $8 per square foot; and The Home Depot for $4 per square foot.
Cons of peel-and-stick tiles:
You can't use peel-and-stick tiles everywhere — using them on surfaces like uneven walls and ash walls will result in a strange look. If you're installing on surfaces like concrete, you'll need to make sure it's as smooth as possible before starting. And you should always make sure that the tiles you buy are water-resistant and okay to use in the bathroom. Finally, you get what you pay for: Peel-and-stick tiles don't always look convincing or professional, and you run the risk (especially in a backsplash situation) of the panels destabilizing and becoming wonky, or detaching from the wall.