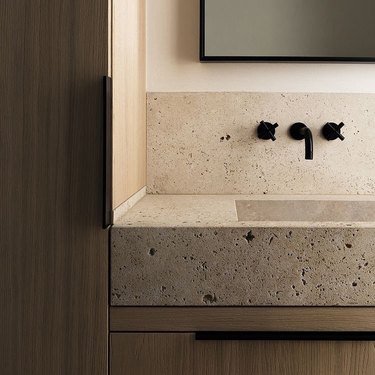 A travertine bathroom backsplash is a way to bring even more one-of-a-kind flair to the space. As a type of limestone discovered in hot springs, it can run the gamut of colors, like white, cream, gray, and even rust.
Pros of Travertine Bathroom Backsplashes
Travertine comes with a surprising amount of pros. First of all, it tends to be less expensive than marble or granite tiles, which means you can install natural stone in your bathroom and still stick to your budget. Also, since it is stone, it's generally very durable and will last for years and years. Lastly, since it's a stone that comes right from the earth and doesn't need to be manufactured, it's fairly eco-friendly.
With its myriad color options (not to mention its natural patterns and patina), you can create a backsplash that will make your bathroom stand out. The installation process is simple enough that you can do it yourself, and you can choose a distinctive pattern, too.
Travertine is available in a variety of shapes such as subway tile, Moroccan-inspired silhouettes, and squares, which translates to a world of patterns you can try out. We personally love the look of rough-hewn travertine arranged as a classic subway tile backsplash.
Cons of Travertine Bathroom Backsplashes
But then there are the cons to consider. It's actually a very porous material, which can make it extra prone to additional wear and tear. And, that porousness can lend itself to tons of maintenance since it's vulnerable to stains. It'll definitely require specific products that seal the surface and protect it against these imperfections.
Travertine Bathroom Backsplash Installation Ideas:
Sink-Backsplash Combo
If you desire a backsplash and accompanying sink that have slightly more character than cement, look no further than travertine. It can have a warmer tone than many natural stone bathroom materials, and those holes, scratches, and grooves will make your bath look perfectly imperfect, capturing the wabi-sabi trend that's seen in today's homes. This sink and backsplash chosen by Catherine Moggio Interiors is a stunning example of travertine in its au naturel glory.
Floor-to-Ceiling Travertine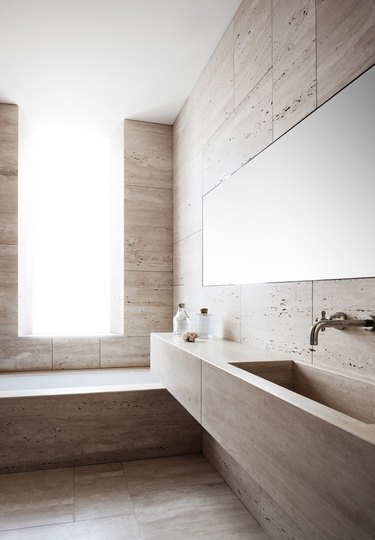 Travertine has the ability to not overwhelm a space, even when it's installed throughout an entire bath. Its quiet elegance is ideal for minimalist interiors or bathrooms that incorporate touches of nature. In this light-filled bathroom designed by Quincoces-Dragò & Partners, travertine looks polished, minimal, and contemporary.
Mixed Textures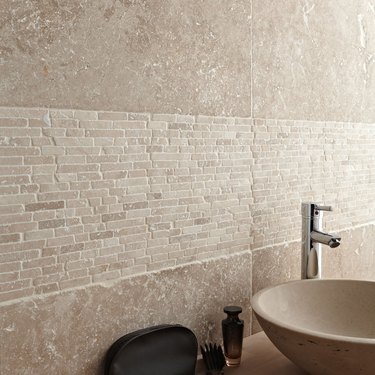 French tile manufactory Leroy Merlin offers a way to make travertine feel even more tactile — by inserting thin-cut horizontal tile panels in between larger travertine slabs. The effect gives a bathroom an almost ancient, castle-like feeling.