Just because you might be renting the place you're living in, doesn't mean you can't personalize the space to make it feel like it's your very own. Bathrooms see a lot of traffic and a well-appointed one goes a long way in creating a welcoming retreat. But, let's be honest, rental bathrooms can leave much to be desired (often outdated, dark, and lack ample storage). Don't despair: There are plenty of affordable upgrades that can transform your commode if it's in less than perfect shape.
But before you embark on any changes, we suggest that you get the greenlight from your landlord; although many don't care if cosmetic alterations are made, you might be on the hook for your security deposit. Stay away from anything overly ambitious or permanent, hint: tile, sink, tub. Read on to learn a few bathroom design ideas that can go a long way in helping you create your very own dream oasis.
Rental Bathroom Idea #1: Dress up wall surfaces.
One of the most common rental bathroom complaints usually involves old, cracking paint. If you get the "OK" from your landlord, painting your walls can really go a long way in sprucing things up. It's affordable and with a bit of prep work, can be tackled as a DIY project.
Rental Bathroom Idea #2: Swap light fixtures.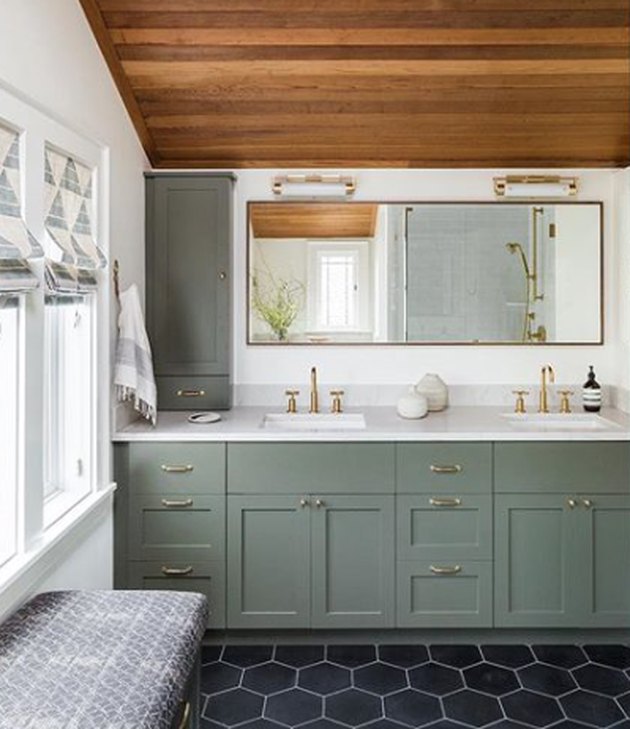 Shadows be damned ... no need to settle for a poorly lit vanity that will have you applying makeup in your car. Highlight your mirror by swapping your dull vanity light with something streamlined, yet stylish, like the pair of brass lovelies that Heidi Caillier selected for this soothing space. An outdated flush mount (dreaded boob lights come to mind) can be replaced with something vintage inspired without breaking the bank, or consider a statement-making pendant light if you have high ceilings. Note: Call an electrician for this one.
Rental Bathroom Idea #3: New fixtures.
Who says you have to live with the bathroom fittings your landlord installed? Make a big impact on the way you start your day by indulging in a new showerhead or faucet. Save water, control pressure, and infuse personality with any number of available styles and finishes. Emily Henderson chose an eye-catching collection in brass for an old-world counterpoint to the graphic tile and midcentury wood vanity.
Rental Bathroom Idea #4: Maximize storage.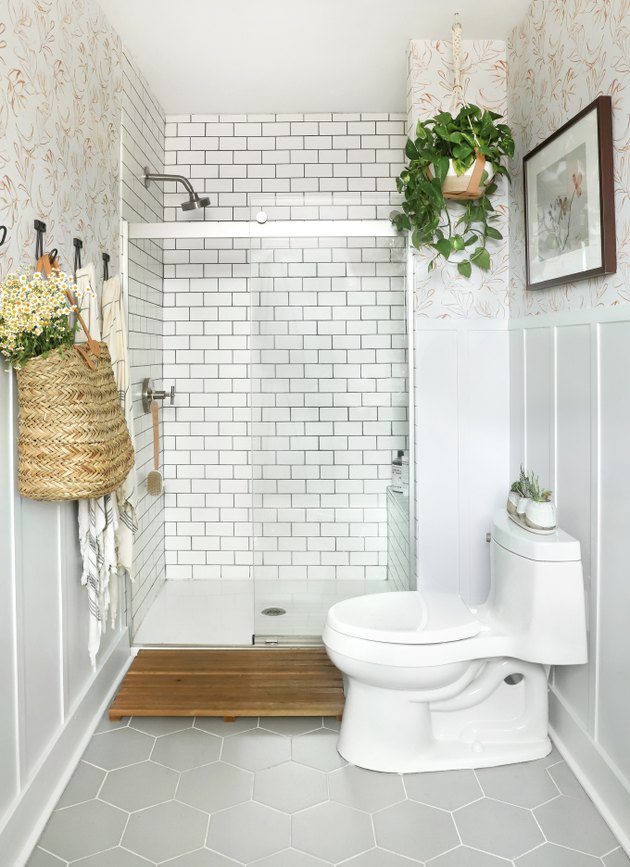 Rental bathrooms aren't known for having ample storage, but a few clever modifications can go a long way in creating extra spots to stash all of your essentials. Don't overlook wall space: add shelves or, for European flare, a traditional train rack above the toilet. Blanket racks or ladders have been making the rounds on Pinterest for a while now and are perfect for storing extra towels in particularly narrow spaces. A line of hooks (and more hooks) as seen in this white bathroom by I Spy DIY is a practical and rustic addition. They can hold towels, robes, or a woven basket full of flowers.
Paring down and being organized is paramount when you're short on space. Edit your cosmetics, create a storage system, and then stick to it. Acrylic drawer dividers and trays make it easy to sort makeup, perfume/cologne, hair products, or shaving must-haves while still being able to see everything.
Rental Bathroom Idea #5: Channel your green thumb.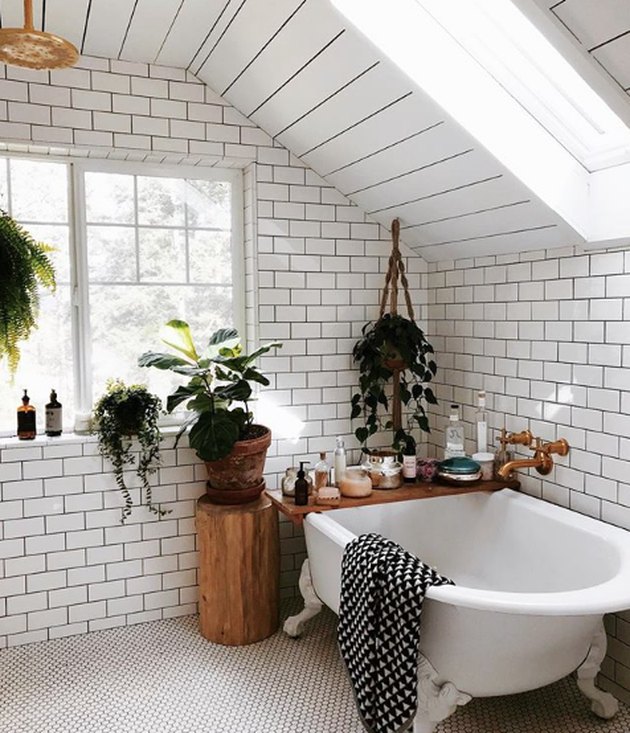 Channel your green thumb with a little greenery that does wonders, breathing new life (literally) into a tired bathroom. If you have a spacious countertop, add a vase with fresh flowers or a plant in a small vessel. Sara Parsons creates a virtual greenhouse in her light-filled space by adding a variety of hanging and potted plants. Plenty of wood accessories warm up the all-white look while a clawfoot tub is big on charm.
Rental Bathroom Idea #6: Add an area rug.
Does your bathroom floor leave a bit to be desired? A throw rug can work (carpet) magic. OK. Clearly this isn't a builder-grade bathroom. On the contrary: It's a gorgeous Cali-cool escape. We love the clean lines, earth tones, and gold hardware, but the Moroccan rug Molly from Almost Makes Perfect uses in her master bathroom takes it to the next level, adding texture, warmth, and a welcome dose of pattern.
Rental Bathroom Idea #7: Replace your shower curtain.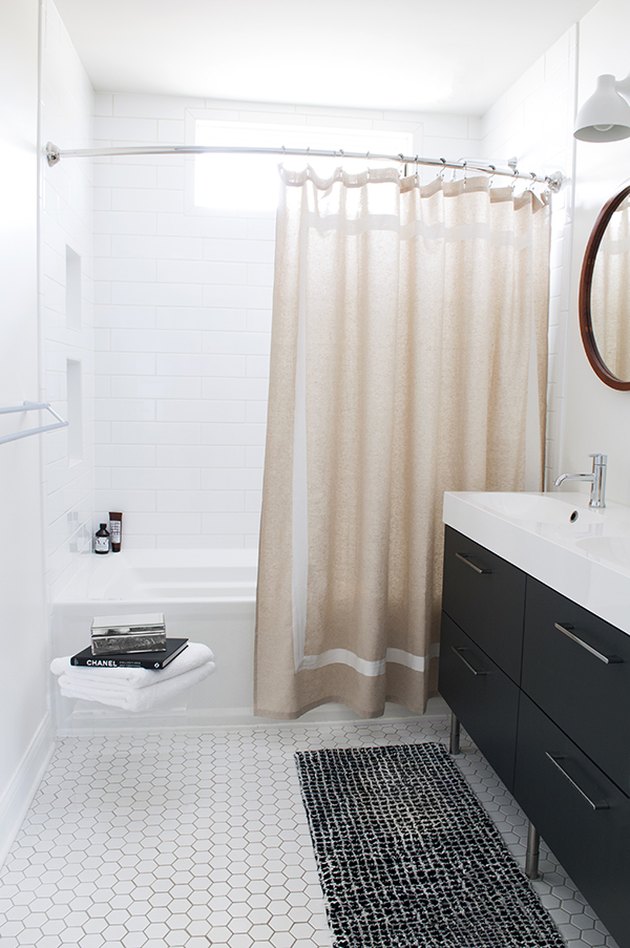 Rental Bathroom Idea #8: Update your hardware.
A relatively easy hardware swap can transform the look and feel of the most basic vanity. Knobs and pulls come in a range of finishes, styles, and price points and will go a long way in personalizing your space. Shea of Studio McGee juxtaposes modern pulls with a traditional deep-blue cabinet. And don't be afraid to mix metal finishes: Here, a brass mirror and a tray with simple apothecary jars look current paired with nickel hardware, wall-mount faucet, and sconces.
Rental Bathroom Idea #9: New towels don't hurt.
Sumptuous towels are a great distraction from a less than perfect bathroom. Keep a stack within arms reach for a spa-worthy experience even in a less than ideal bathroom. Raili Clasen uses broad-striped towels in neutrals to add a measured dose of pattern.
Rental Bathroom Idea #10: Add a decorative mirror.
Mirrors are a bathroom necessity, and most rentals come with pretty basic versions. If you're able to remove it, replacing the existing one with something more decorative is a great bathroom upgrade idea. Katie Hackworth uses an elegant rectangular mirror with ornate border to infuse personality and dimension to a one-of-a-kind powder room. A woven wastebasket, bud vase, and high-end soap also add a dose of luxury.