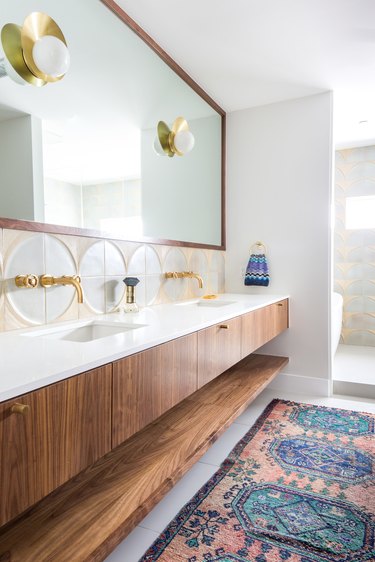 It's surprising how home remodeling projects can get expensive in a hurry. When refreshing a bathroom, you might have visions of real-deal Carrara marble, fancy brass hardware, and custom cabinetry, but those numbers will add up quickly, especially if you're trying to be budget-minded.
The good news is that you can still achieve that modern, luxurious look you envisioned at a fraction of the cost. All it takes is a bit of ingenuity and open, creative thinking beyond the initial design and realizing there are more cost-effective ways to nail a similar aesthetic.
Luckily, you don't have to come up with all of these easy-on-the-wallet ideas on your own. We've asked six savvy designers to share their go-to budget bathroom remodel solutions. We promise the results will still make guests do a double take and ask, "Where did you get that?"
Budget Bathroom Remodel Tip #1: Punch up your grout.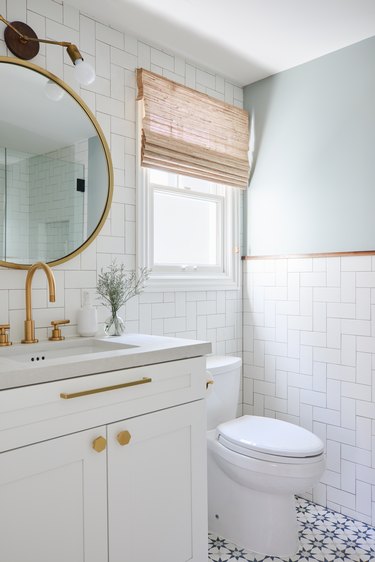 "If your budget doesn't have room for fancy tiles, consider adding color by way of grout. There are so many grout color options to choose from that it could be a fun way to spice up your bathroom without breaking the bank. Choose a tile pattern that you like, pair it with a beautiful grout, and complement it with a wall paint color so it feels unique and cohesive." — Mandy Cheng, principal designer at Mandy Cheng Design and senior designer for Homepolish in Los Angeles
Budget Bathroom Remodel Tip #2: Buy a ready-made vanity with a countertop.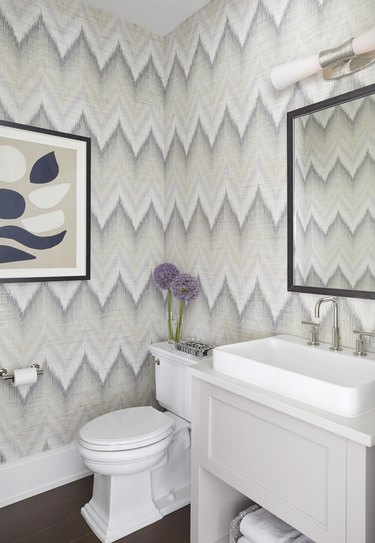 "Selecting a stocked vanity can really help your budget and is one of our favorite tips for designing a bathroom with a budget in mind. Retailers like Pottery Barn and Restoration Hardware have a great selection. They also often come with the option to purchase a countertop, which can be a major cost saver since fabricating a custom countertop can get pricey. This is a great way to save money while keeping style and function!" — Meghan Hackett-Cassidy and Erin Hackett, founder/lead designer and partner/project manager at Hackett Interiors
Budget Bathroom Remodel Tip #3: Opt for classic subway tile.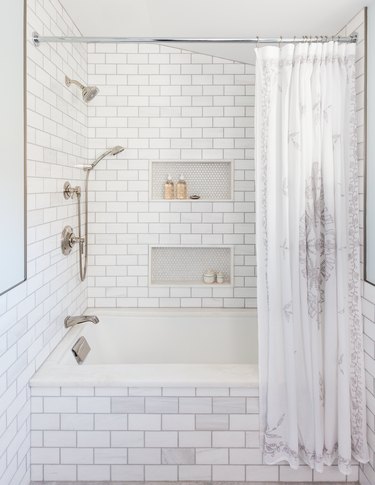 "There is nothing better than good old subway tile to save on cash and have a timeless look. We recommend going with a light-gray grout rather than a white grout to give the walls a bit of a pop and also to keep the look of the tile up longer. White grout is hard to clean once it has worn over time and the gray keeps it looking fresh longer." — Jess Cooney, CEO and founder at Jess Cooney Interiors
Budget Bathroom Remodel Tip #4: Look for deals on vintage lighting.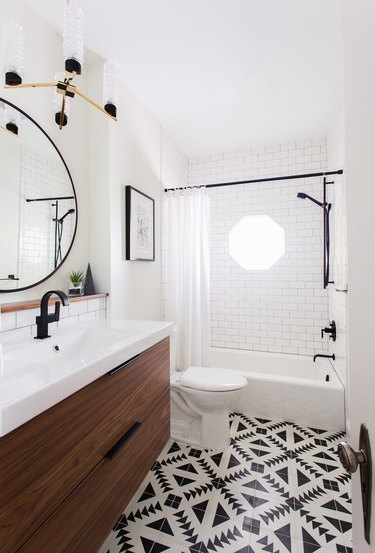 "Vintage lighting is my favorite finishing piece in a bathroom. It's a fun way to add personality, and if you shop carefully, there are many bargains out there. Just be sure to budget for rewiring if the fixture is really old or from overseas." — Erin Williamson, interior designer at Erin Williamson Design
Budget Bathroom Remodel Tip #5: Paint makeover.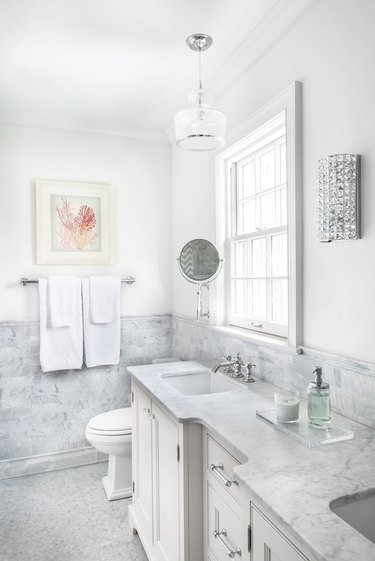 "Paint can totally transform a space! I recently completed a bathroom renovation in which we were able to completely gut and update the shower, but the rest of the space needed a facelift without major construction. We painted the walls, trims, and cabinets all in Sherwin Williams Cityscape, a gray that beautifully complemented the original countertops as well as the new marble shower. We updated the cabinet hardware, towel hooks, and tissue holder, and the space feels completely new! I highly recommend utilizing paint to transform a space on a budget." — Mel Bean, interior designer at Mel Bean Interiors
Budget Bathroom Remodel Tip #6: Mix metal finishes.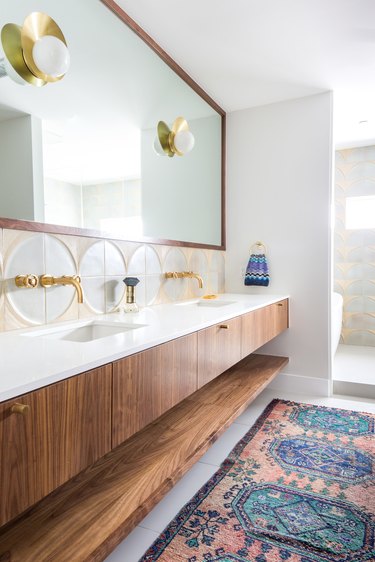 "Don't be afraid to mix metal finishes for your plumbing fixtures and cabinetry pulls in one space. I would stick to only two different metal finishes though in one room. Since not all plumbing brands make an entire suite of fixtures in the one finish you like, it's OK to spend the bigger bucks on higher-end brands and finishes like matte black or satin brass on the sink faucets that you and your guests will be looking at most often and go more standard chrome and middle-grade on the shower and tub faucets that won't be as public." — Natalie Myers, owner/principal designer at Veneer Designs