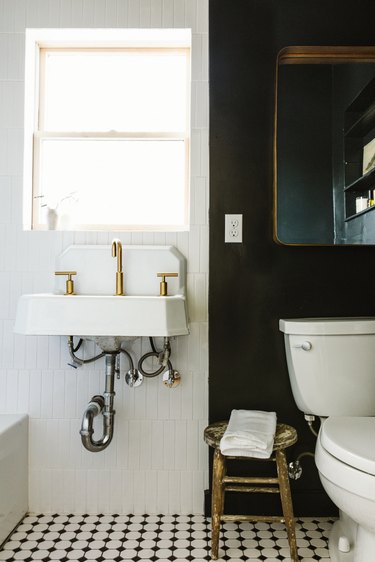 Those of us who haven't quite committed to owning our own humble abode, for one reason or another, know the woes of rental life. One of the most common fears is not getting the security deposit back (the struggle is real). Thankfully, with just the right touches, you can update your rental so it feels more "you" without putting an entire month's rent — or more — on the line. Seeing as this type of design challenge calls for expert advice, we decided to tap some of our favorite interior designers for their apartment bathroom ideas. From tiny tweaks to larger overhauls, this is how the pros add personality to a rental bathroom without upsetting a landlord.
1. Change up the hardware.
"Since most landlords won't allow you to knock down walls and make any permanent changes, you need to work with what you have and still allow yourself to get creative," says Bre Bertolini of Brepurposed. She suggests bringing in new hardware in the form of vanity drawer pulls, sconces, and even sinks and faucets (but keep the old ones). "Don't forget to mix metals — bringing in a new color with hardware can help modernize the space!"
2. Add an accent wall.
"One challenge with rental bathrooms is that there's only so much that you can update because [they] come pre-furnished, so to speak," says Homepolish designer Liz Lipkin. "There are always creative solutions, though." One apartment bathroom idea in particular is removable wallpaper, which lets you add fun patterns and color without having to commit (or harm the walls). Pick a design that really speaks to you and makes you happy — after all, you will be seeing it every day. Lipkin likes to think of it as putting your stamp on an otherwise impersonal space.
3. Look to lighting.
So many of our experts sounded off about updating light fixtures, which is key when it comes to apartment bathroom ideas. "This is the room where you wash your face, get ready for the day, and check how you're looking, so it's important to have that light as flattering and realistic as possible," explains Tamara Kaye Honey, designer and owner of House of Honey. Other than achieving soft, warm light, from an aesthetic standpoint, she says that sconces are a great way to try something a bit trendier without having to spend a lot of money. Pro tip: vintage lighting is always chic.
4. Update your medicine cabinet.
Whether you have no medicine cabinet to speak of or simply don't like the one that you do have, selecting a new design can add major wow factor to your space (and double your storage options). "Choose a medicine cabinet in a unique finish like reclaimed wood or zinc to add character to an otherwise simple bathroom," say Caroline Grant and Dolores Suarez, the New York-based design duo behind Dekar Design. They particularly love adding this industrial Restoration Hardware version to spaces they work on … it's actually a reproduction of a 19th-century pharmacy cabinet.
5. Hang a new mirror.
"Almost all bathrooms I come across could use a little personalizing: mirrors are one of the easiest and affordable ways to do so," says Homepolish designer Crystal Sinclair. She says that in order to create a designer look in your apartment bathroom, all you need to do is choose a mirror that makes a bold statement. You can do that by playing with scale: go really small with your mirror or narrow and tall. Sinclair swears by this Room & Board Infinity Mirror, which she says she's used countless times to update rentals.
6. Play with paint.
Paint is probably the fastest and easiest apartment bathroom idea. Granted, you will have to go back to all-white walls when you move out, but a fresh coat can instantly give your place a facelift. "Most renters are hesitant to pay for any changes or renovations if they do not own the property, but if you are planning to stay for at least two years, updates are worth the investment," says Homepolish designer Ana Claudia Schultz. Regardless of exactly how long you'll be in your rental, paint is not overly costly and allows you to totally switch up the look of your room. Fun fact: Schultz sometimes wallpapers one wall and paints the others to keep costs low and the style factor high.