A security deposit is like a nice present you give yourself when the time comes to say farewell to your rented abode, and there are a number of things that you can do to make sure you get it back. The first — and most essential — step consists of knowing what you can and can't change when you initially go about turning a rental into your temporary home. As long as you don't leave any surprises behind for your landlord when your lease ends, getting your security deposit back should be a non-issue. But just in case, we took the liberty of boiling down a crash course in rental etiquette to the following eight tips and tricks. Stick with us and keep your security deposit from becoming a parting gift to your landlord.
1. Protect the walls.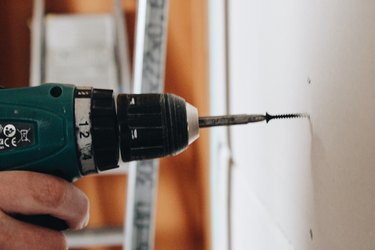 One of the best parts of moving to a new place, is that you get to deck out a completely clean slate. Before moving in, you've already planned out where you'll install open shelving and hang your favorite artwork. But before you start drilling holes, a little preparation will go a long way toward making sure you get your security deposit back. Most rentals have plaster walls, so after you've made your measurements, mark the spot where you'll be drilling and put down a piece of masking tape to keep the plaster from splitting. And when you get ready to move, run down to your nearest hardware store, pick up some caulk, and fill in the holes to restore your walls to their original state.
2. Clean the floors.
Many lease agreements specify that it's the renter's responsibility upon vacating the property to leave each room "broom clean." To make sure you get your full security deposit back, take "broom clean" at face value, and actually sweep, mop, and vacuum the floors. Any excess dust or debris left behind after you move could translate into a 'housekeeping' deduction from your security deposit. Leave the place as spotless as it was when you arrived to keep your security deposit intact.
3. Notify your landlord.
If you want to make sure you get your security deposit back, you need to notify your landlord of any damage to the property as soon as you notice it. This includes any damage that occurs due to natural 'wear-and-tear' in particular, which is the landlord's responsibility to repair. Forgetting to notify your landlord of damages when they occur could mean paying for them to be repaired, right out of your security deposit.
4. Don't leave things behind.
When they say "broom clean" they literally mean take a broom and clean everything out. If you want your full security deposit back, make sure you don't leave anything behind, including miscellaneous moving materials — so make sure you do a walk-through after your movers are done.
5. Take "before" pictures.
One of the smartest things you can do as a renter is take "before" pictures as soon as you move in. When the time comes to move out, it's also a good idea to take pictures of everything before movers arrive to protect yourself against any damages they may cause. When you've got "before" pictures to work with, you know exactly what you have to do — or rather un-do — so that you leave your rental the way you found it when you moved in. You should always get permission from your landlord before making any cosmetic changes to the property, and when you do, find out whether or not they'll need to be un-done before vacating the space.
6. Don't lose your keys.
The cost of key replacement varies, but it can definitely get pricey, so do your best to hold onto them. Particularly if you live in a building or community that uses an electronic security system, replacing the key fob or garage door opener can put a sizeable dent in your security deposit. Depending on how high-tech your lock is, you might be able to make a copy at your local hardware store for a reasonable price, but the more complicated the lock, the pricier the key, so try not to lose it!
7. Double-check fixtures.
If any of the cosmetic upgrades you made to your rental include new plumbing fixtures, door knobs, cabinet hardware, or light switch plates, make sure that you hold on to the originals. Before you move, be sure to put everything back the way you found it with the original fixtures neatly in place.
8. Clean any and all appliances.
It should go without saying, but it's best not to leave any mess behind when you vacate a rental, especially when it comes to the appliances. The "broom clean" concept pretty much applies across the board. If the landlord has to hire someone to scrape the remnants of your world famous lasagna out of the oven, you better believe that it's coming out of your security deposit.