Home renovations are a monumental task, and they often come with monumental price tags. That said, there are definitely ways to save without sacrificing quality or style. We chatted with contractor Matt Blashaw, the host of HGTV show Professional Grade, to find out his best tips for saving during a renovation — and where it's actually worth splurging. (Within your budget!)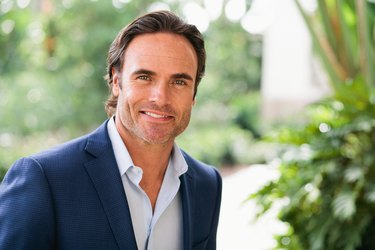 "When it comes to home improvement, it's hard to stick to a budget sometimes," Blashaw told us. So before you even think about swinging a sledgehammer into your kitchen, you'll want to come up with a budget. As you start crunching numbers, definitely keep these seven tips on where to save and where to splurge in mind.
1. Save: Paint your existing cabinets.
Custom cabinetry might look pretty, but is it necessary to revamp your kitchen or bathroom? Not really. You can easily improve upon what you already have with a coat of paint and new hardware — nothing that's going to bust your budget.
"I love painting cabinets," says Blashaw. "If you like the door styles, just simply take the doors off, go down to your local spray booth — there are a lot of companies that can spray the cabinets for you so it looks professional. You can install the doors yourself and add new pulls."
2. Save: Skip the hardwood floors.
We know, we know — hardwood floors are beautiful and oftentimes high in demand. But real talk? They're expensive. Unless you have your heart set on hardwood, you can find alternatives that look much better than the linoleum in your grandma's house.
"One of the most cost-efficient floorings that I've used is called luxury vinyl, and it's a click-together, floatable vinyl floor that has the look of wood, but it's very durable and very cost efficient," says Blashaw.
You won't even have to hire a professional to install it — it's simple to do on your own. (TBH, it's probably easier than building IKEA furniture.)
3. Save: Opt for a simple backsplash.
"People used to put in big granite backsplashes and spend a ton of money on beach glass," says Blashaw. "A backsplash just has to be nice and clean — its function is just to splash guard."
Instead of getting all flamboyant with it, save the money and pick a simpler, cheaper tile. "Just make it light enough to reflect light from the space back into the kitchen itself," adds Blashaw.
4. Save: Don't actually take the sledgehammer to the kitchen.
Kitchens are one of the most expensive parts of a home renovation, especially if you're redoing the layout. "If you don't have to move a wall, don't," says Blashaw. "That's where about $25,000 comes in, in structural."
If you can keep the floor plan the same, you'll save a ton of money. On top of that, you can take our earlier advice (painting the cabinets and installing a simpler backsplash) for even more savings. That way, you'll have more wiggle room in the budget for important upgrades, like countertops and lighting.
5. Splurge: Lighting makes all the difference.
"A light fixture in a home really sets the tone for an entire space," says Blashaw. So, instead of loading your space with floor or table lamps, spend on a statement ceiling light to create a focal point that ties a room together.
6. Splurge: Natural light makes all the difference, so fix up your backyard.
Blashaw advises renovators to spend money on outdoor space. "To a buyer's mind, if your backyard isn't done, they automatically think it's going to cost them $80,000, $90,000 to fix up," he says. "But there are cost-saving solutions you can do in the backyard. Maybe instead of putting hardscape or pavers down, you use a compacted decomposed granite or gravel, and then put in a nice dining room table, sofa, chairs, and a fire."
7. Splurge: Go HAM in the master bathroom.
"The master bathroom is a good spot to invest in," says Blashaw. "I do see that the renovation dollars you put into a master bathroom will bring you back the value in terms of resale."
Though you should spruce up your master bath to the best of your ability, you can still apply some cost-cutting techniques, like painted cabinets, which might make room for a bigger spend like a clawfoot tub.