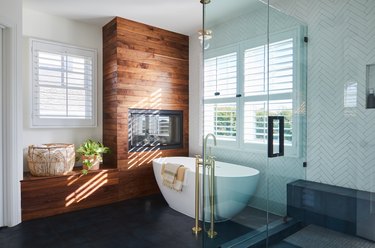 While we're partial to timeless, all-white bathrooms (please see exhibits A, B, and C), bold bathroom designs like this one featuring striking canary yellow walls and this one boasting bright green sunburst-patterned tile have us reevaluating our affinity for muted (aka "safe") decor choices in the space. Needless to say, however, renovating a bathroom is a pricey endeavor, and we definitely don't want to invest in a trend that's not going to be around for much longer.
To find out which bathroom trends are officially on the way out, we turned to the pros at Homepolish, an online interior design service that provides personalized support for making over any room. Here, Homepolish designers Nina Jizhar, Mandy Cheng of Mandy Cheng Design, and Cindy De Luzuriaga weigh in on the overdone bathroom trends that they're retiring — and share the up-and-coming trends they're endorsing instead. From floating vanities to statement-making mirrors, these are the bathroom trends you'll be seeing more of this year, according to the experts.
Trend to Retire: Bold brass fixtures.
"I think we've saturated the design world with bold, yellow brass fixtures and accessories," says Los Angeles-based designer Mandy Cheng of Mandy Cheng Design. "It's time to mix metals and add some depth with various metal finishes."
Trend to Try: Mixed metal hardware.
"If you love a more muted bronze-y, brass finish for your fixtures, don't feel the need to custom plate all your bathroom accessories because they aren't the exact same color," offers the designer. "Introduce other metal colors and embrace the depth it brings."
Trend to Retire: White-on-white bathroom designs.
"It's more difficult to keep clean, clients obsess over white grout turning yellow/brown, and it can feel sterile if not pulled together properly," explains Cheng.
Trend to Try: Texture and color.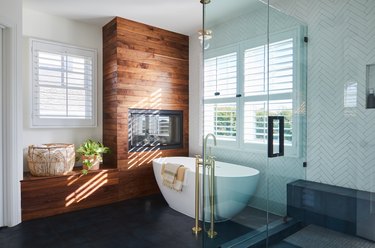 "Introduce some texture and color to your bathroom walls with shiplap, tongue, and groove paneling, exposed brick, etc. and don't be afraid to paint it if you want," says the designer. "It will give the bathroom an added element of design. Don't be afraid to bring color in with your fixtures, too!"
Trend to Retire: Basic bath mats.
"They look worn out easily, even after just a few uses or washes," says San Fransisco-based designer Nina Jizhar. "Instead, opt for vintage or authentic rugs. They add flair with pattern and color."
Trend to Try: A floating vanity.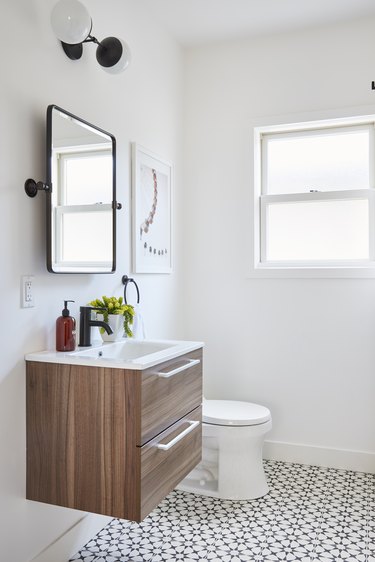 "It works great in small bathrooms since it takes it off the floor," divulges the designer. "They're easier to clean under and airier in general."
Trend to Retire: Copper and rose gold fixtures.
"As pretty as they are, they have a very specific look and feel so it's not for every bathroom style," explains Jizhar. "It's harder to coordinate other accessories and fixtures as well."
Trend to Try: Marble (or marble-looking porcelain slab) in the shower.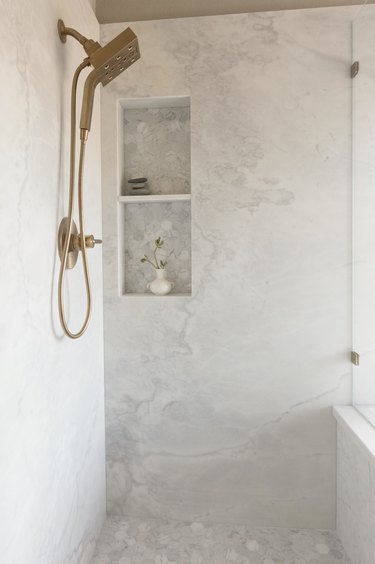 "Say goodbye to grout once and for all," advises the designer. "Choose one with the rich veining to achieve the abstract art look."
Trend to Retire: Anything cookie cutter.
"Bathrooms offer a great opportunity to try something different and have a little fun," says Cindy De Luzuriaga. "It's an area that's not always seen or not a major focal point so homeowners don't have to feel as committed. But it is also an opportunity to make the bathroom a memorable space that should be seen!"
Trend to Try: Bold mirrors.
"Mirrors with details help define the style of a bathroom," points out the designer. "They don't have to be very bold just not something basic that blends into the wall. Treat each item as something special and don't ignore the small details. Details are what matters in a bathroom."
Trend to Retire: Lacquered brass hardware.
"Brass feels unoriginal at this point," confesses De Luzuriaga. "If you are going to do brass hardware have it unlacquered so it ages with time and has character."
Trend to Try: Unique hardware and fixtures.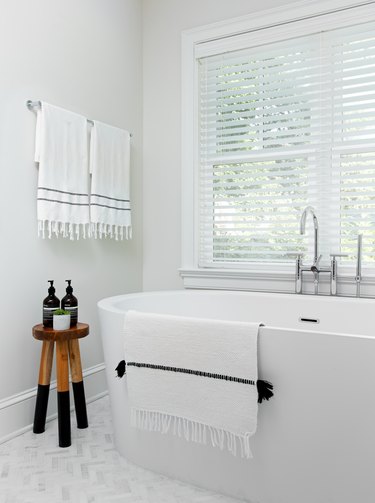 "Fixtures speak volumes about the tone and style of a space," says the designer. "They are often glazed over in the design process but these are moments where you can change the entire look of a space."