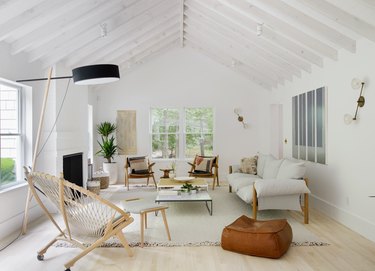 '90s nostalgia might be at an all-time high in fashion and entertainment. But when it comes to interior decor — let's just say we're not ready to go there yet. So when a family found a home in Amagansett, New York that was peak '90s, they said, as if!, and hired the team at Jessica Helgerson Interior Design to create a decidedly up-to-date space that would be functional, beautiful, and reflective of the relaxing, beach-friendly area.
After a remodel that stripped away the passé architecture and added more bedrooms and social areas, the designers channeled Scandinavian and Australian beach houses. The color palette is natural and restrained, with a reliance on texture and different materials — like wood, leather, marble, and brass — to create a sophisticated look. What a Betty.
---
Elizabeth Stamp is a freelance writer in Los Angeles. Her work has appeared in Architectural Digest, Elle Decor, and CNN Style.
View Work