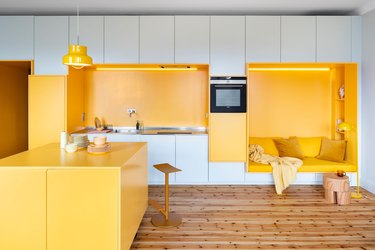 A century-old apartment in Stockholm had been through the ringer in terms of renovations. The last one, back in the '70s, concealed many of the original, 1920s-era architectural elements — including the hardwood floors.
The guiding principle of the most recent overhaul, led by David Lookofsky of Lookofsky Architecture (based in Copenhagen and Stockholm), was to knock down walls and replace them with storage systems that would maximize space, add character, and let the classic details shine. The defining wall — a 23-foot stretch in the kitchen — offers not only function, but also style with its built-in reading nook.
Above all, though, Lookofsky's design is a study in color and particularly proof that if you want to work with a bold hue — like canary yellow — all you need to do is work with clean lines and a defining base.