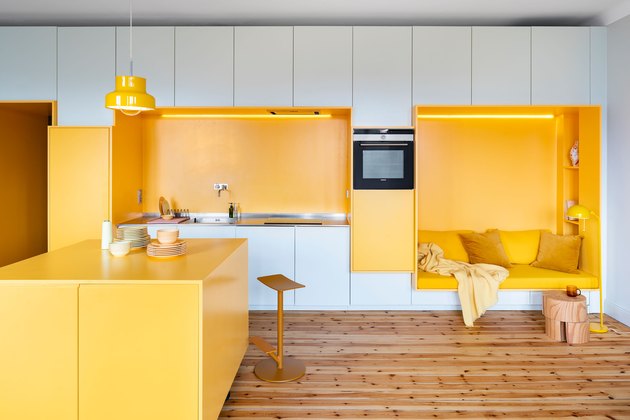 A century-old apartment in Stockholm had been through the ringer in terms of renovations. The last one, back in the '70s, concealed many of the original, 1920s-era architectural elements — including the hardwood floors.
The guiding principle of the most recent overhaul, led by David Lookofsky of Lookofsky Architecture (based in Copenhagen and Stockholm), was to knock down walls and replace them with storage systems that would maximize space, add character, and let the classic details shine. The defining wall — a 23-foot stretch in the kitchen — offers not only function, but also style with its built-in reading nook.
Above all, though, Lookofsky's design is a study in color and particularly proof that if you want to work with a bold hue — like canary yellow — all you need to do is work with clean lines and a defining base.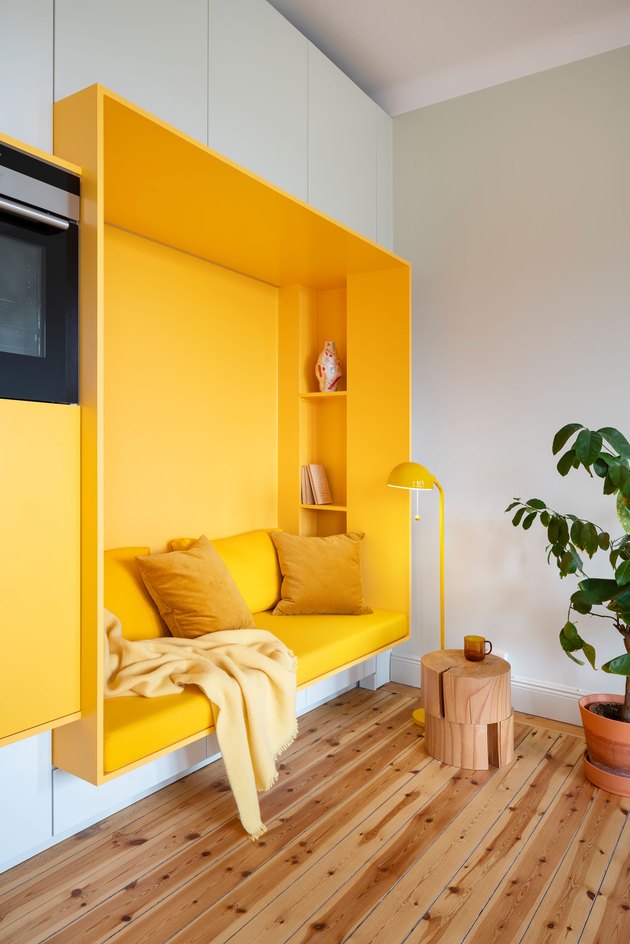 1 of 9
Living Area
With furniture artfully arranged by stylist Hanna Tunemar, the 860-square-foot apartment went from cramped to an organized and playful home. Custom walls were built by Maldini Studios, who was able to work with the design team's budget.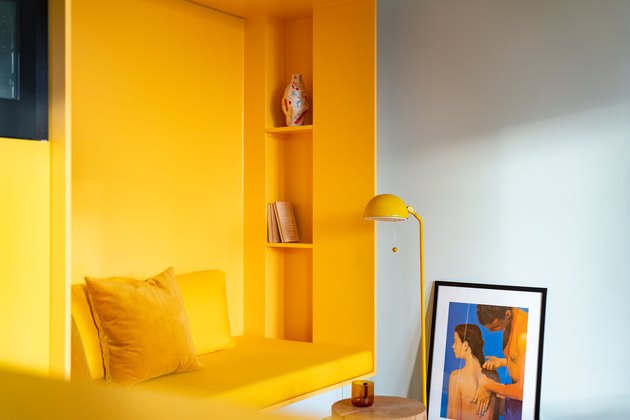 2 of 9
Living Area
Decor in the apartment is minimal, which lets the adventurous color palette sing. The accessories in similar shades — like the floor lamp, pillows, and throw — give the home a modern, monochromatic feel. Custom-built cubby holes are part of the multifunctional wall shared with the kitchen.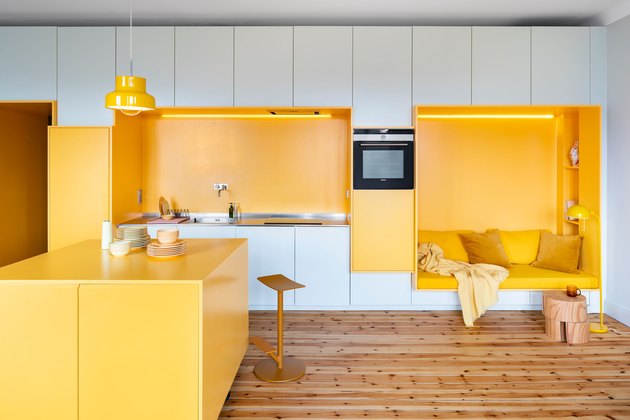 3 of 9
Kitchen
Whereas the original kitchen was dark and stuffy, the new kitchen offers a bright and spacious open concept. A Siemens oven is tucked between custom cabinets for a minimalist appeal.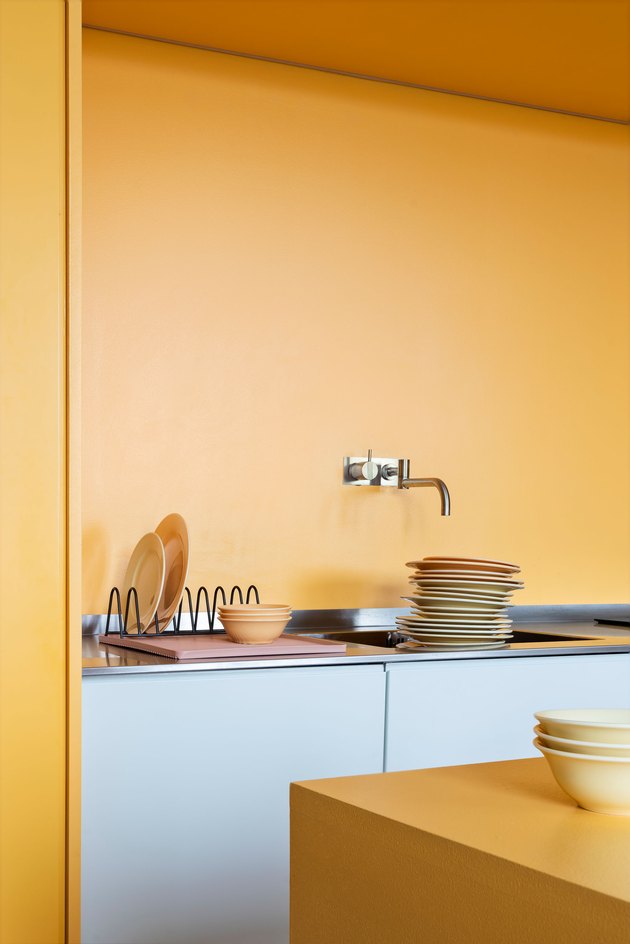 4 of 9
Kitchen
The sleek, barely-there faucet and the stainless steel countertops make the kitchen feel just slightly futuristic.
5 of 9
Dining Area
"In the kitchen, the main concerns were the removal of the existing partition wall and getting all the depths and heights for the single function boxes correct while making space for all appliances and storage," says Lookofsky.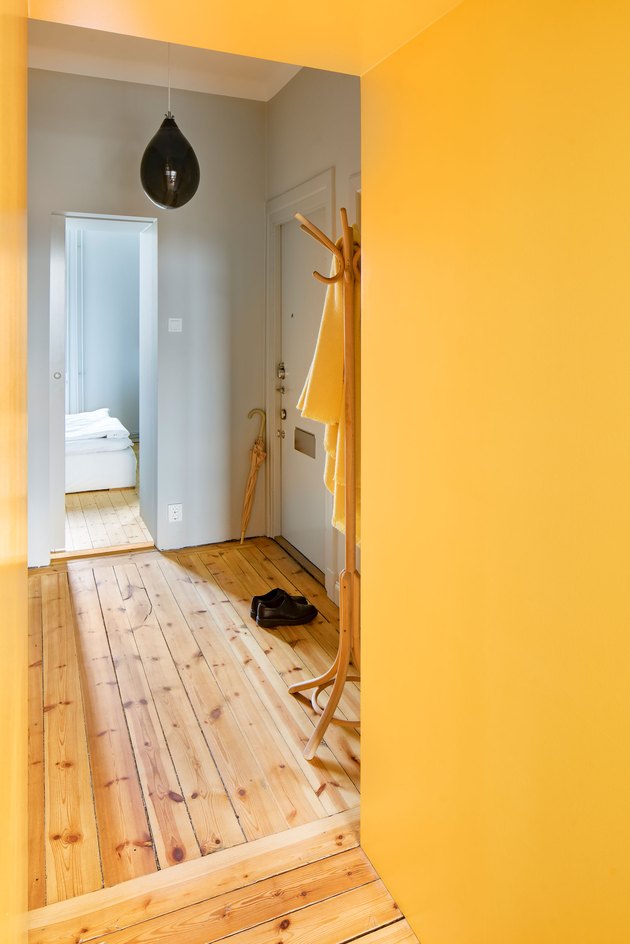 6 of 9
Hallway
The small entryway offers a neutral contrast, slowly introducing visitors to the vibrant color that defines the rest of the apartment.
7 of 9
Bedroom
Foam board and MDF were used to build the bedroom's custom walls, which contain storage units that extend from floor to ceiling.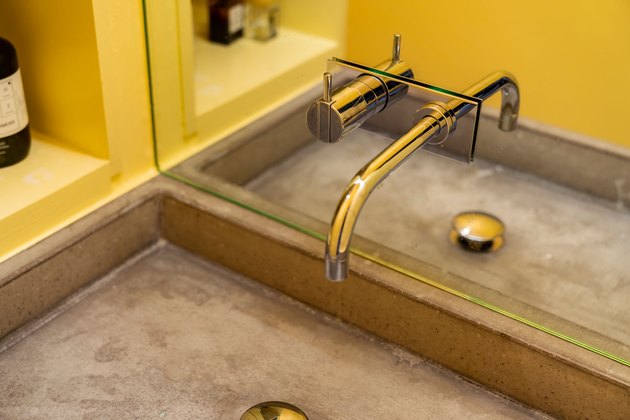 8 of 9
Bathroom
"Creating the function wall in the bathroom, with all fixtures, pipes, and ventilation inside was a bit of a challenge," says Lookofsky. "We had to do parts of the bathroom function wall in a hard styrofoam board so that it could withstand moisture."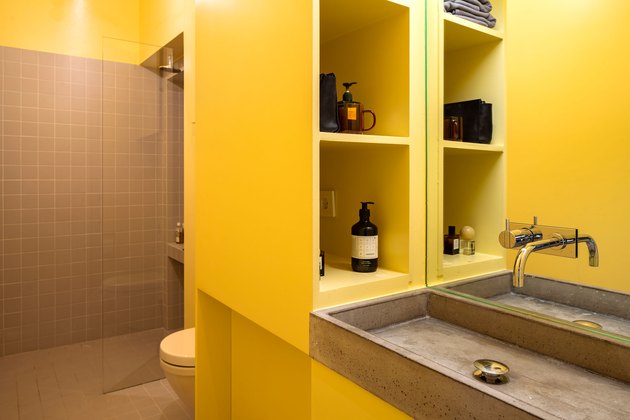 9 of 9
Bathroom
The concrete trough sink complements the wall and floor tile. With limited space in the bathroom, built-in nooks help to shelve essentials.
---
After interning at Dwell magazine in San Francisco, Kate began writing about arts, design and culture for other national publications. She is based in Los Angeles and San Francisco.
View Work