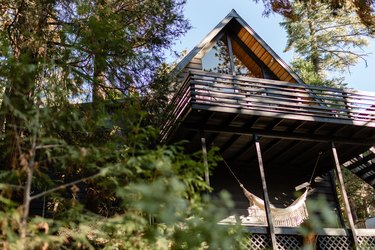 Who: Christopher and Anna Pearson
Where: Idyllwild, California
Style: A-frame minimalism
In the blaze of summer, you'll find that it's a lot cooler if you travel a mile high into the San Jacinto Mountains. That's why the Cahuilla Indians summered there long ago, and why these days, snowbirds from the surrounding desert communities are drawn to mountain towns like Idyllwild — the kind of magical little locale where the official mayor is a golden retriever named Max. (He was just re-elected for the fifth time.)
Christopher and Anna Pearson, of Los Angeles, discovered a bit of that magic on July Fourth, four years ago. "If you visit on the Fourth of July you'll probably get hooked, like we did," says Anna, who works in the music business. "The town parade is so cute and a real All-American experience."
In the ensuing months, the Pearsons searched the area for the perfect A-frame. "My grandfather built one in the '60s and I have many memories of going there as a child," says Chris, who owns the interior design and staging company, Echo Ranch. "It has been burned into my mind as the perfect mountain structure."
In March of 2018, they found something that, with a lot of love and energy, could work. "I didn't really want to take on such a huge project at the time, but one thing lead to another and we just decided to jump in and see what we could do," says Chris.
The transformation from "total basket case" to what Chris calls "Mountain Modern" took about six months. (The A-frame Airbnb pairs nicely their other Airbnb, which they call Mojave Modern). The aesthetic is fairly minimal, modern but with bohemian touches — and lots of pine. The pulled out carpet, took out bulky kitchen cabinets, renovated the bathrooms, and painted the exterior a bold black. Now, it cuts a striking image in the woods.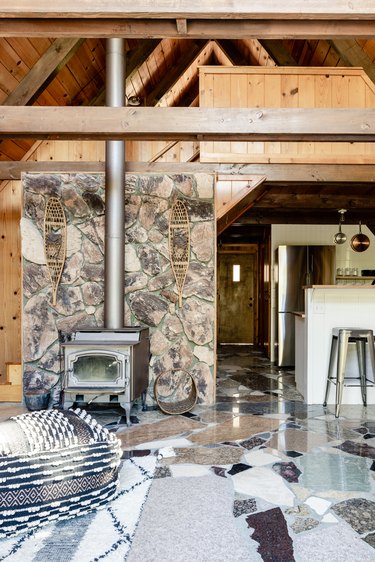 Currently, work and career keep the Pearsons rooted in L.A., but the A-frame in Idyllwild offers a vision of what could be, in the not so distant future.
"Cabins are an escape from modern life," says Chris. "Away from the pollution and din of the city. Away from your everyday duties. A place to be in the trees, breathe the fresh air, and get connected to Mother Earth."
1 of 10
One of Chris's favorite pieces is the Modernica rocking chair. "I guess when they weren't popular anymore in the '80s and '90s, the Modernica masterminds were smart enough to buy the then disused, massive machines," he explains. "I saw them in action at the LA Modernica factory. It's really something."
Image Credit:

Paul Anderson
2 of 10
The Pearsons decided to keep the quirky mosaic marble floors downstairs, which had been installed by the previous owners' "French artist friend."
Image Credit:

Paul Anderson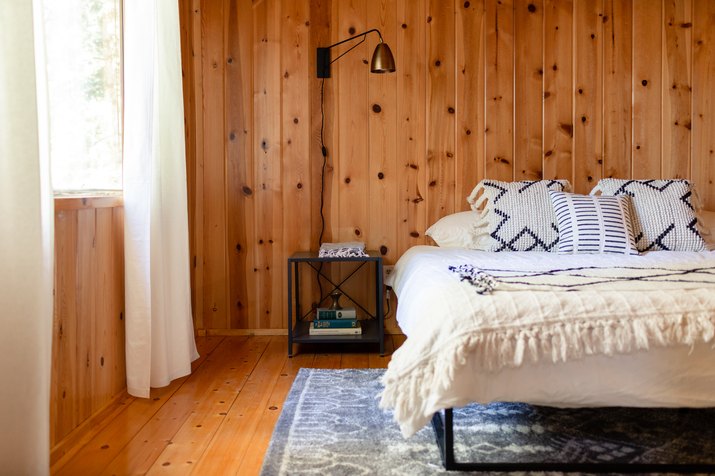 3 of 10
Chris tore out the carpet in each of the two bedrooms and replaced it with simple 1-by-6 pine boards.
Image Credit:

Paul Anderson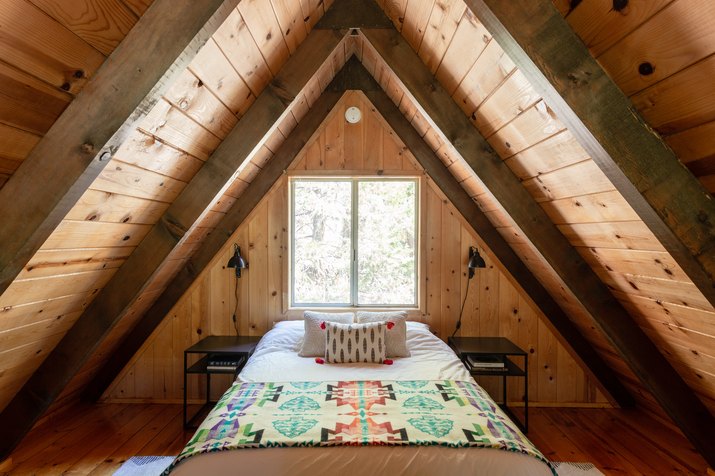 4 of 10
In the loft, the Pearsons discovered original tongue-and-groove floorboards, which they refinished by hand.
Image Credit:

Paul Anderson
5 of 10
The Pearsons kept the kitchen updates simple, tearing down upper cabinets in favor of floating shelves and tile.
Image Credit:

Paul Anderson
6 of 10
The bathroom renovations were non-negotiable. "We did feel forced to do the bathrooms because the previous owner had painted them some sort of green that made me seasick," says Chris.
Image Credit:

Paul Anderson
7 of 10
"There's a big trend right now of white washing the inside of old A-frames," says Chris. "We also thought long and hard about doing just that. It's tempting because everything looks so clean and is a nice blank canvas for modern day interior decorating. But you can't go backwards after you go white."
Image Credit:

Paul Anderson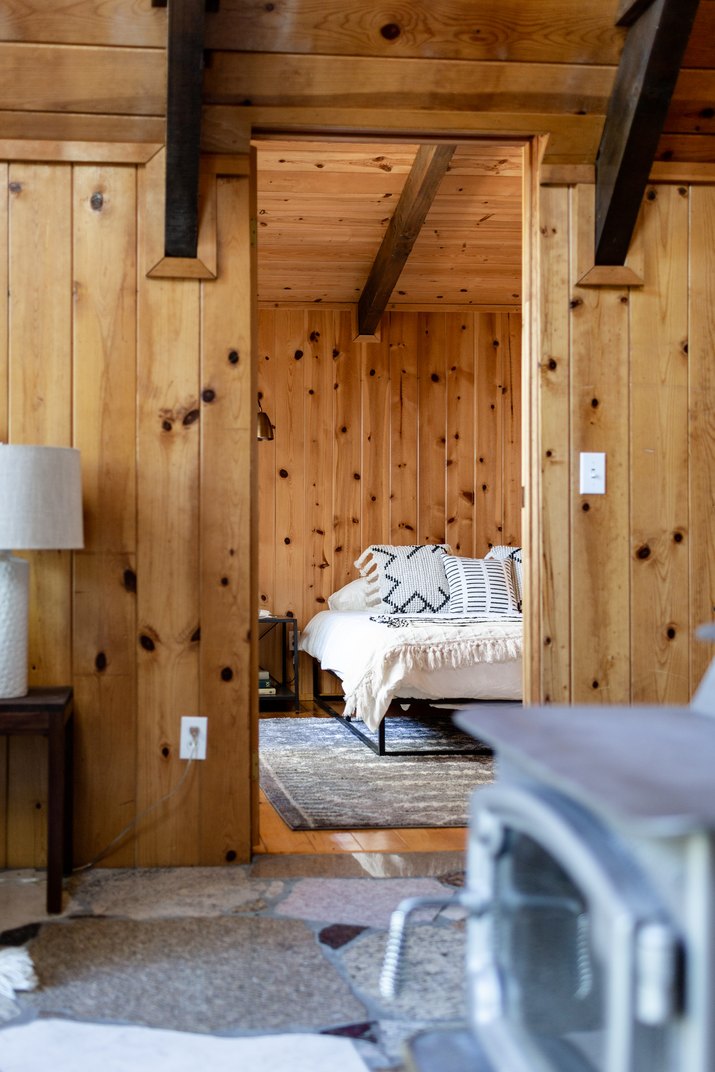 8 of 10
The A-Frame leverages a lot of knotty pine. "Because I grew up going to my grandfather's A-Frame in Idaho, I just couldn't [cover it up]," says Chris. "We're paying homage to him and my childhood."
Image Credit:

Paul Anderson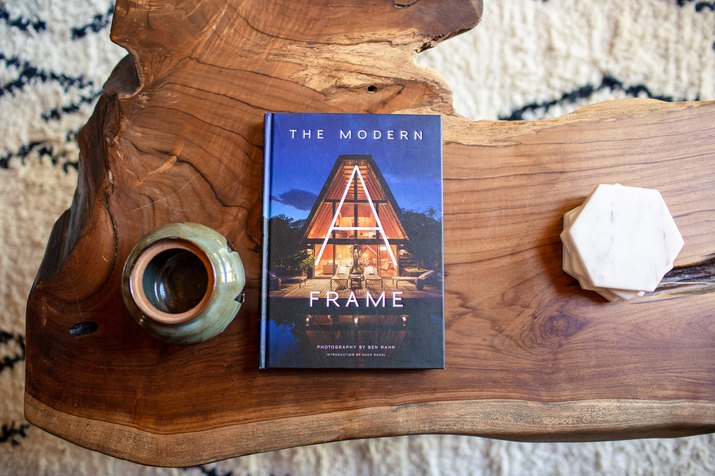 9 of 10
Small accents throughout the cabin reinforce the modern mountain vibe.
Image Credit:

Paul Anderson
10 of 10
A-Frame-living is the perfect antidote to modern life. "The loft reminds me of how simple and fun a sleeping area can be," says Chris. "Like you're eight years old again."
Image Credit:

Paul Anderson
---